How to Import Gmail to Thunderbird? – Manual and Direct Solution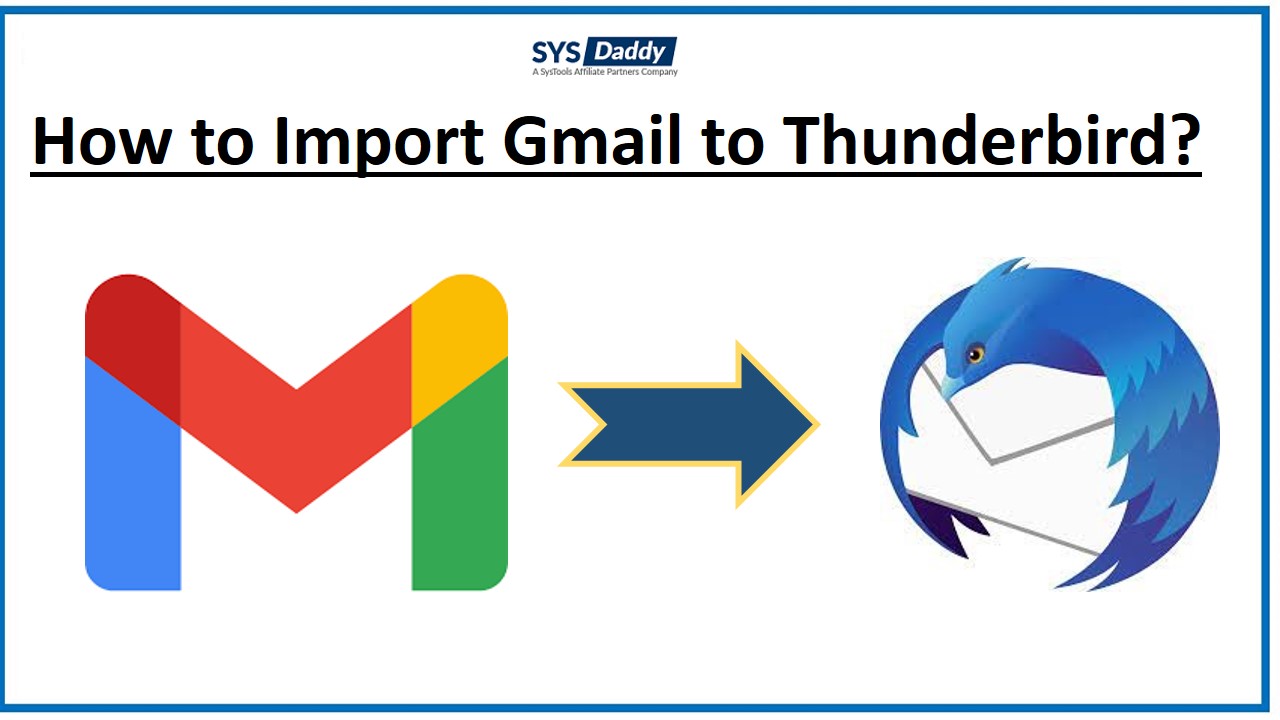 Summary: In this article, we have explained how to import Gmail to Thunderbird application. Here, we have also introduced the manual and the direct method to help you out. The direct method is more secure and reliable for conversion efficiently.
Gmail is one of the most demanding email services which is used by normal users and by professional users. Almost everyone uses this service for sending and receiving emails. And on the other hand, there are a few email clients also available for free. From which the Mozilla Thunderbird application is the most used email client.
Also, the thunderbird has some amazing features like it can capable of maintaining an email local copy offline. So that, you can use it anytime as per your requirements.
If you are planning to use the Thunderbird application then you must import the Gmail mailbox to it.
Before moving further to the techniques let's know why the thunderbird application is approachable.
Reasons Behind Transferring Gmail to Mozilla Thunderbird
Mozilla Thunderbird is a desktop-based email client that gives you an option to access different emails on a single platform. You can easily configure any account in this single email client. Some of the reasons are-
You can access data on the Thunderbird platform after saving them on your machine whenever you want.
Also, the thunderbird data is hard to destroy by any external sources.
Moreover, you can share the Thunderbird data files anytime whenever is needed.
After reading the reasons, let's discuss about the techniques that you can use to import Gmail contacts and emails to Thunderbird application.
Solutions to Import Gmail to Thunderbird
However, there are two top methods that you can use to transfer Gmail emails to Thunderbird application. These methods are-
Now, we will learn the step-by-step guides to know both the methods in a precise manner.
Transfer Gmail Emails to Thunderbird Manually
In order to import Gmail emails to thunderbird with contacts, first, you have to configure the Gmail account to Mozilla Thunderbird and then import the emails. To do so, follow the below steps-
First of all, download and install the Mozilla Thunderbird application on your system
Then, open Gmail email. Go to settings >> All Settings
Now, select the Forwarding and POP/IMAP options
Then from the IMAP section, choose Enable IMAP and then hit the Save Changes
After this, open the Thunderbird application and go to the Tools > Account Settings option

Next, a new pop-up appears. Click on Account Actions >> Add mail account

Mail account setup dialog box will appear. In this window, enter the username, email address, and password. Now, click on the Continue option

Then select IMAP and then click the Done button
Click the browse option to modify the directory. Press the OK button to finish the process to export Gmail emails to Thunderbird
At last, you will get configured the email properly. Further, double-click on it and select the Read Messages to view all Gmail emails in Thunderbird .
Import Gmail Contacts to Thunderbird Manually
Now, in this method, we will be going to learn how you can import contacts from your Gmail account to the Mozilla thunderbird application. Follow the steps as discussed below-
Firstly, open your Gmail account and then select contacts. By selecting them, you can now view all the contacts on the current Window
Now choose CSV format, and save it
Then click the Export button to proceed further
Now, just download the file to a location on your computer anywhere
When the download is completed successfully, open the Thunderbird application
Go to the Tools menu option
Then from the given options, select Import > Address Books > click Next icon
Now from the new dialog box, select Text file (LDIF, .tab, .csv, .txt)
Finally, click the Next button and select the data you wish to transfer. Hit the Ok button.
Drawbacks of the Manual Method
The manual method is a bit lengthy process as per email.
To import Gmail emails with contacts to Thunderbird process you must have the technical knowledge, but if you are skilled enough to use this method. You will not be able to process the import process successfully.
Moreover, there is a risk of losing email data as if by chance any email deleted from the Thunderbird it will get removed from the Gmail account as well.
Therefore, for your benefit, we are going to provide you with the best and safest method by which you can easily import Gmail emails to Thunderbird along with contacts.
Transfer Gmail Emails to Thunderbird Using Alternative Method
You can easily import emails and contacts from Gmail mail to Thunderbird application using a method that is safe and reliable to process. You should try SYSdaddy Gmail Backup Wizard for Windows and Mac.
This is well-designed software with advanced features that allow you to transfer all Gmail mailbox to Thunderbird application in just a few steps.
You can try the trial version of this wizard and know how this tool works.
For Windows
For Mac
Steps to Import Gmail to Thunderbird are as follows;
Just download and run the application on your system. Follow the steps in order to transfer Gmail emails to Thunderbird
In the first step, sign in with the Gmail account details

Now, from the appeared window, select the MBOX File

Afterwards, select the destination by clicking on the Browse button

At last, hit the Start button to initiate the download Gmail emails to Thunderbird with contacts process.

By doing this, you can now import resultant MBOX file in thunderbird application
With these four simple steps, you can easily import emails from your Gmail account to Thunderbird anytime.
Key Features of the Application
It is such a quick and easy method to complete the import Gmail to thunderbird process. Within no time you can use all your Gmail emails to Thunderbird.
Also, there is no technical knowledge is required in order to initiate the process.
In addition to this, you can download the report of the entire process to use it as a reference in the future.
Moreover, it is the most secure and risk-free application, because you can delete your all account details after downloading all the emails.
Wind Up
However, nowadays most of you may want to use the desktop-based client email like Mozilla Thunderbird. Or some of you want to take the backup of the Gmail account to your desktop. In this article, we have introduced the best way to import Gmail to Thunderbird application.
Moreover, the manual method is quite lengthy and technical knowledge is needed. So, to protect yourself you must go for the direct approach of SYSDaddy Software that we have mentioned above. Because with the help of this tool you can easily transfer Gmail emails to Thunderbird application.