Riddle Out Thunderbird Not Showing All Emails Error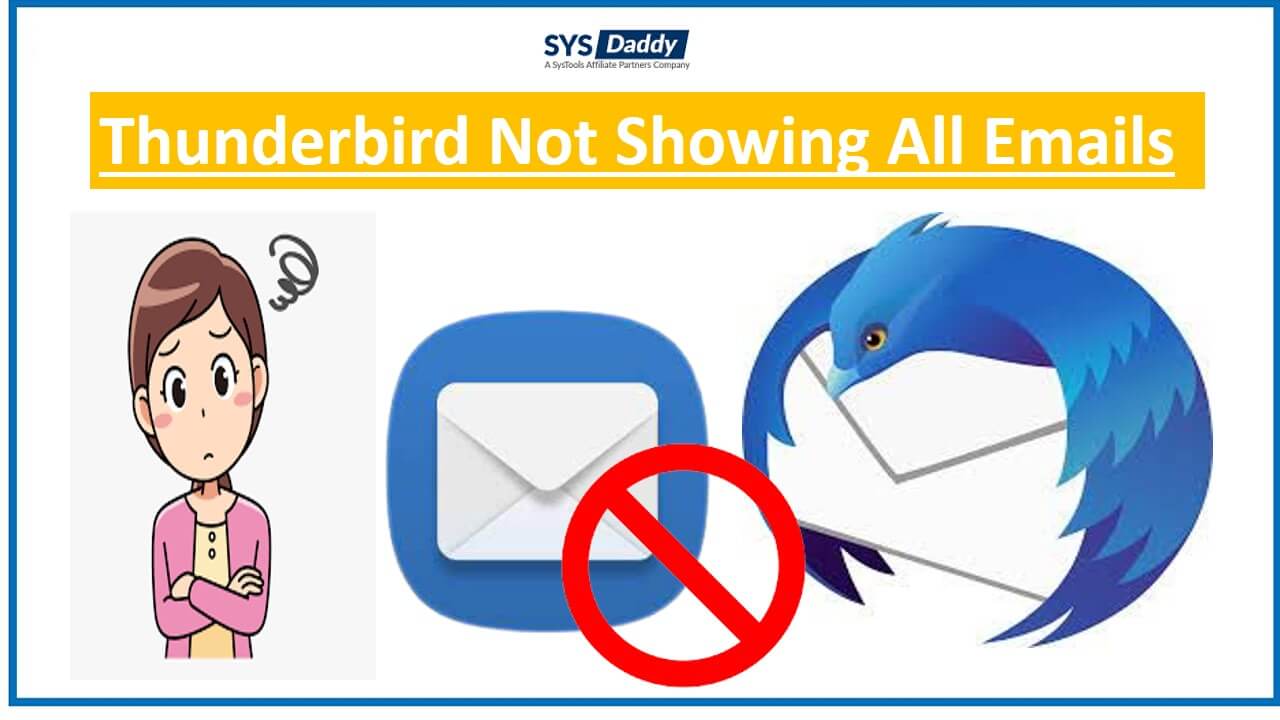 Are you searching for a solution to resolve Thunderbird not showing all emails error? Or Do you want to view emails in inbox folder of Thunderbird? If this is your same issue, then you are on the right page. Here, we will be going to share the manual methods to get rid of such a situation.
However, we all know the Thunderbird application is the most useful by all of us. But, everything has some loopholes. Sometimes many of you may be facing a situation when Thunderbird does not show all messages. It becomes a severe issue when you need those emails urgently.
Quick Solution for MBOX File Conversion
In case, any of the below-mentioned manual methods does not go well. Or if you want to migrate from Thunderbird to another email client. Then, you should go for the Professional SYSDaddy Google MBOX Converter Wizard. Using it, you can convert your file into different file formats. However, this technique has nothing to do with showing emails in Mozilla thunderbird. It is just about converting the file into any other file format.
With this software, you can view and read all the emails and export all of them into other file formats. Moreover, it will be easy to use because of its well-designed interface.
So, try it out for migrating the file or use its free demo version.
For Windows
For Mac
Now, we are going to discuss few manual solutions for the asked query.
Basic Workarounds to Fix Thunderbird Not Showing all Emails Error
As you are facing the issue while viewing Thunderbird emails. There may be a chance that you have deleted some of the emails unintentionally. In such a scenario, you can use the following methods to view and read them.
Check Trash Folder to Solve Thunderbird Not Showing all Emails Issue
The first thing you can do is to check the Trash folder. As because of this, maybe Thunderbird not showing all emails. If due to the Junk Mail control setup, your email folder has been deleted. Due to this, all the emails are sent automatically to the Trash folder.
All you need to check the Trash folder and empty it if you find any emails over there.
Re-check Message Filter Option to View Mozilla Emails
If you did not find any email or the entire folder in the Trash folder option. Then, you can just check the message filter option if Thunderbird now showing all emails in Inbox. To do so, just follow the below steps-
Go to the Tool option and then pick Message Filter from given options

Then, select the account from which you want to view your emails. After this, hit the Filter Log icon to process it ahead

Now, from the Filter Log dialog box, just check the Enable the Filter Log option. Lastly, click on the Close option.
Go Through with Retention Policy Option
There may be chances that you are using the Message aging option for Emails in the Inbox folder. As a result, Thunderbird not showing all emails in inbox. So, to check it out follow the steps-
Right-click on the Inbox Folder then choose the Properties option

Now, from the Folder Properties dialog box, select Retention Policy. After this step, verify it is set to Don't delete any message. If the said option is selected then just click the OK button.

But, if this option is not set. Then, you can go to Tools option > Account Settings option > Synchronization & Storage option. Set the settings on Don't delete any messages.
In case, if you still didn't get any of the emails using any of the above basic solutions. Then, it means your Inbox folder has been corrupted or damaged. So, in this situation, you must repair the entire folder.
To do so, we are sharing a few methods below that you can check out.
Solutions to Resolve Thunderbird not Showing All Emails Issue
Well, this issue can be happened because of the errors in the backend. As a result, Thunderbird unable to view emails. There can be a reason behind it, like an error in the MSF file or the large size of the MBOX file.
However, the MSF files contain all the indexes of the entire folder. Or because of the large MBOX file, there may be a chance of the corruption of the folder. Eventually, you will need to repair or rebuild the file/folder.
Repair Inbox Folder in Mozilla Thunderbird
If Thunderbird does not show all messages in the particular folder. Then, you can try to repair the entire folder by this method. So, to use it apply these steps-
Firstly, open Mozilla Thunderbird application
Now, select the desired folder in which you are unable to view emails
Here, we are taking an example using Inbox Folder
So, right-click on the Inbox Folder then select the Properties option

By doing so, the Properties Folder dialog box will pop up. In General Information option. Click on the Repair Folder.

Finally, click on the OK button to start the repair process of the entire folder.
Check Account Settings to Fix Thunderbird not Showing Message Error
You can also check the settings of the Mozilla Thunderbird application. Like Server, Security, Outgoing Settings.
So, check out all the settings you just need to follow a few simple steps-
Open Thunderbird application
Then, right-click on the User Name and select the Settings option

Here, you can verify the Server settings and all other settings to resolve Thunderbird does not show all messages.
Rebuild Folders in Thunderbird
If none of the above methods worked out. Then, you can use this method to verify. But, before implementing the method, make sure you close the Thunderbird application.
Now, go to the location: C:\Users\\AppData\Roaming\Thunderbird\Profiles\xxxxxxx.default-release\
From here, you can either select the IMAP Mail or Mail option. If you are facing a problem in your Inbox folder.
Then, just carefully delete the Inbox.msf files.
Note: Only delete the MSF files, just don't play with any file without extension.
After performing the mentioned steps, open Thunderbird again. It will rebuild the MSF file and you will be able to view all emails.
Final Words
Most of you have been facing issues like Thunderbird not showing all emails. So, to overcome this scenario, we have mentioned all the possible manual methods. But, if all of these solutions fail or you are planning to switch from thunderbird to any other email client. Then, you can use the above-mentioned SYSDaddy Software for the same.