Convert Thunderbird Emails to PDF File With Attachments In Batch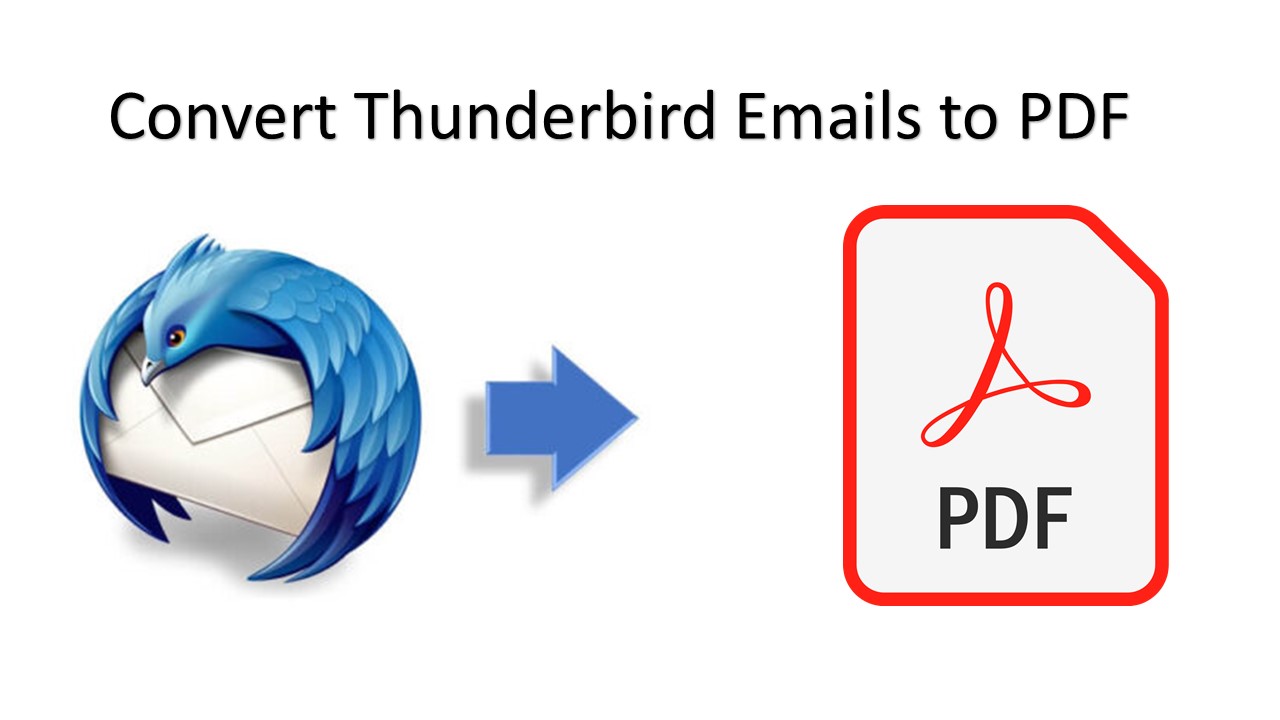 Practical User Query
"Hey, I have MBOX files exported from Mozilla Thunderbird mailboxes to investigate and collect evidence from them. Luckily, I found 5 to 6 email conversations from those files, which I think need to be shown in court. Though the standard file format to show digital evidence in the court is a PDF file format. Therefore, now, I have to batch convert Thunderbird emails to PDF so that I can present them in front of legal authorities. But, I'm confused about what to do. So, can anyone suggest me a quick solution to print emails from Thunderbird to PDF? Thanks in advance!"
With the above query, we came to know that the Adobe PDF document is considered as an open standard file format. Also, it is controlled by an international organization for standardization. The PDF file is widely used to view and share documents on smartphones, iPhones, tablets, and other portable devices.
Furthermore, the Government bodies and forensic investigation teams popularly use portable documents to prepare a presentation or display evidence in court. The PDF file is the only digital format, which is independent of any application, operating system, or hardware. You can also combine multiple PDF files in Windows into one easily.
Not only this, you can automatically add watermark to PDF documents easily. Hence, because of its popularity, you must be thinking to convert it into a PDF file. So, here, we are going to cover all the possible solutions on how Thunderbird save email as PDF in detail.
Solutions to Batch Convert Thunderbird Emails to PDF
There are two top mechanisms that you can use to save MBOX files to PDF documents. These are-
To know more about both the methods, read the next section of the article carefully, and follow each steps only by one.
Automatically Save Thunderbird Email as PDF With Attachments
To make you tension free, we have come up with the best solution. So, Forensic investigators, business officials, or normal computer users can use SYSDaddy Google MBOX Converter tool. Also, this tool is available for Windows (Windows 11 and all earlier versions) and Mac operating systems.
So, you can try the free version of this software and deeply examine the technical useful features provided in it.
For Windows
For Mac
Moreover, you can easily save Thunderbird MBOX file to PDF in batch with/without attachments. Not only this, you will get the same file type of attachments as it was at the time of drafting, sending, or receiving the mail. Also, with the help of this software, you can easily convert emails of Thunderbird to PDF with attachments without hampering the internal message properties and content.
Steps to Batch Convert Thunderbird Emails to PDF
Download the software on your computer and follow the below steps to save Thunderbird emails as PDF on Windows-
First and foremost, click on Add File button from the menu bar

Now, use the Default Profile option if Thunderbird is configured. Else, select MBOX files from the system

By doing so, the software will Preview the emails. Then, click on the Export button to proceed

Afterward, select PDF from the given options and browse the Destination Location

Finally, click on the Export button to start converting emails from Thunderbird to PDF documents.
Once the files are converted successfully, click on OK button to confirm it.
Note: The Mac version of the tool is available for users with Mac systems having OS 10.8 or higher. Its functionalities are more or less similar to the Windows tool with the exception of email preview.
Convert Email from Thunderbird to PDF Manually – For Mac & Windows
Here, we are going to illustrate to you a method to convert Thunderbird email to PDF documents for both Windows and Mac operating system users. Of course, the method varies as per the operating system. Therefore, first, you need to determine the OS where you want to save Thunderbird emails as PDF. After this, go with the respective procedure.
Save Thunderbird Emails as PDF in Windows
If you are working on Windows operating system, firstly, you have to download and install the setup file of the Thunderbird email client (if not available). However, this respective email client is free, we don't think that you may have any problem installing this mailing app. Once you are done with the installation, import source MBOX files in Mozilla Thunderbird.
Now, to know the working of this procedure, begin with the following manual steps to convert Thunderbird emails to PDF on Windows 11, 10, 8.1, 8, etc. versions:
Before anything else, download .xpi file of ImportExportTools add-on from internet on your PC

Note: The ImportExportTools add-on does not work on Thunderbird 68 and above versions. Use the xpi file of ImportExportTools NG add-on.

Then, launch the Mozilla Thunderbird application on your system

Now, go to the top menu bar of Thunderbird, and click on Tools > Add-Ons

After this, click on the Gear icon and select the Install Add-on From File option

After this step, navigate towards the PC location where you have downloaded the importexporttools.xpi file in Step (1)

Continue with the procedure of converting Thunderbird emails to PDF by hitting on Install Now button

Once the add-on gets successfully installed in Mozilla Thunderbird, click on Restart Now link

Open the folder of MBOX file whose emails are to be printed in PDF format. Select the desired emails and right-click on them

Afterward, choose Save Selected messages & PDF format option

Thenceforth, define the destination directory and click on Select Folder

Finally, you are done with Thunderbird to PDF conversion on Windows. You can verify the process completion by locating the path, which you have defined earlier. Then, access the portable documents.
IMPORTANT POINT TO KNOW:

If you are converting Thunderbird email to PDF using the add-on for the first time, you will receive a warning that your attachments will be discarded. This is the harsh truth behind the free manual method.

Also, if you want to maintain the attachments even after converting the emails in PDF documents, kindly switch to the Automated Tool described in the above section of the article.
Save Thunderbird MBOX files as PDF in Mac OS
However, by default, Mac operating systems' users are provided with the Apple Mail email application. You have to use this mail client to manually convert Thunderbird email to PDF file on Mac OS. Import the MBOX file whose emails are to be converted in portable documents format and then, continue with the following steps:
Firstly, launch Apple Mail email client and click on the MBOX folder
Secondly, select message at a time, which you want to save in portable document format and then, right-click on the same panel
Then, mouse-click the File menu, explore it, and select Save As option
Thereafter, from the list of file format options, select PDF
Repeat Step (2) to (4) for all MBOX messages, which are to be printed in PDF format.
Stay Here! There's Something More Important To Tell You
The manual methods posted in this blog are useful only when there are a maximum of 10 to 20 emails to be converted from Thunderbird to PDF files. Also, the respective approaches support emails without attachments, which means you cannot print email attachments in Adobe PDF documents via these procedures.
Common Reasons to Convert Thunderbird to PDF Files
Howsoever, there is no particular reason for you to convert Thunderbird emails to a PDF file. Still, through the following points, we'll illustrate some common causes that you need to save Thunderbird email as pdf documents:
By doing so, you can easily access or read Thunderbird messages on any portable device.
Also, it is the best practice for you to backup your emails on a secondary location
In addition, you can share business emails with C-level executives for any business purpose
Not only this, but the PDF files are widely used for data analysis by digital forensic investigation team.
On top of that, if you do not any MBOX supportive app then with the help of PDF file you can easily open important emails on PCs without wasting a minute.
Author Suggestion
It is safe to say that there are options available to convert Thunderbird emails to PDF. However, you will not be able to hold the attachments in the PDF file by using the manual method. So, for the sake of maintaining the attachments, it is a must to use the provided SYSDaddy Conversion Utility. Also, this tool is available for Mac and Windows users. It allows you to save Thunderbird emails as PDF with attachments in bulk.