Why Can't I Highlight Text in PDF? Stepwise Guide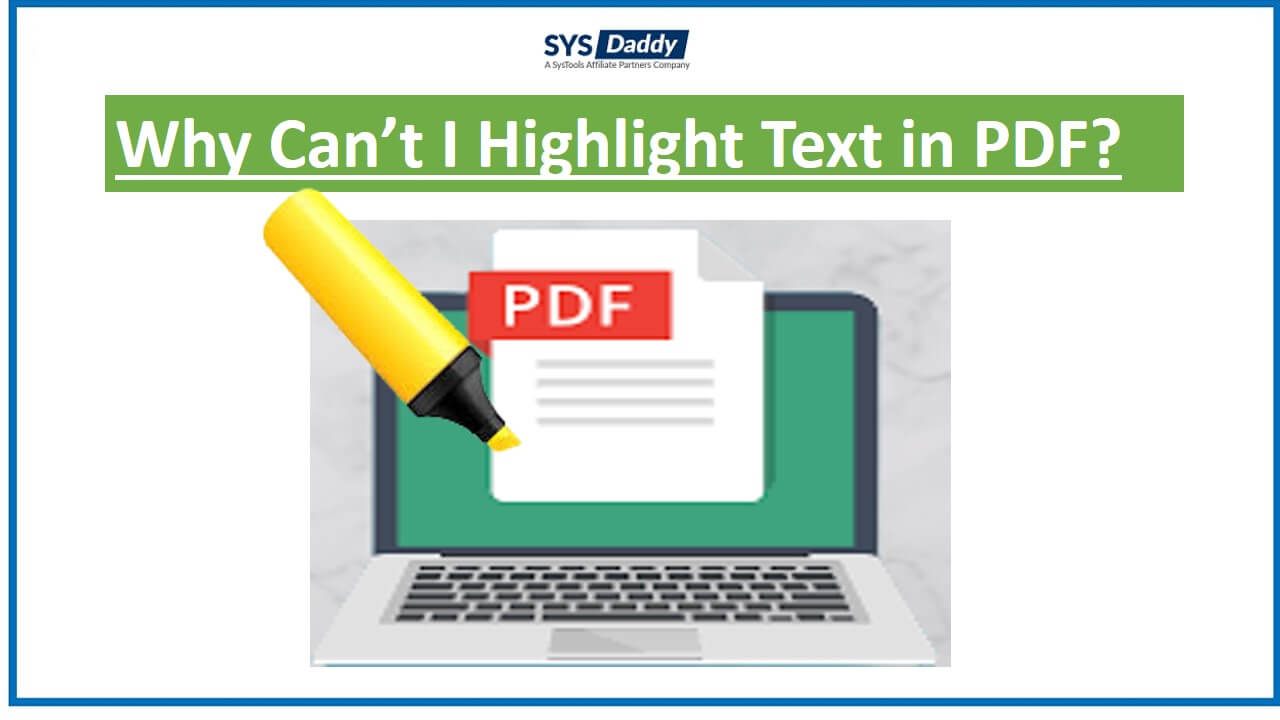 Overview: Having trouble why can't I highlight text in PDF? Well, you came to the right place. Similar to this article, we explained why you can't highlight answers to restricted questions in PDF.
Though the PDF document is very portable to use and share the information. It becomes more useful as you can highlight a few particular texts in it. People highlight and select the particular text, phrase, and paragraph just to use them in the future. But, sometimes, the highlight tool stops working. Due to this, many of you get frustrated with "Why you are not able to highlight in PDF.
For the same query, there are the users who have shared their problems. Let's have a look at them.
Users Query
Though I have been using Adobe Reader for a long time, and never had any issue while using it. But, today, I can't highlight text in PDF. I tried to solve it but nothing worked. Now, I really don't know why can't I select text in PDF document. Can anyone please help me to resolve it? It would be very helpful because I need to share this PDF with someone urgently.
Hi, I'm Ronit. Last night I was told to highlight some important points in PDF. But, when I tried to do so, I found that the highlighting tool is not working. I don't understand how to enable highlighting in Adobe Reader. If anyone knows a valid solution, then please share the one. It is very urgent.
Just like them, many of you out there might be facing issues while selecting the text in PDF. Now, let's know the causes for the same.
Reasons to Unable to Highlight Text in PDF
However, there are many reasons behind this bug. In this situation, you might not able to highlight the text or add comments in the PDF file. So, a few of the reasons we are sharing here that are most common-
No Text in the Scanned PDF File – This happens when the Adobe highlight tool stops working. Which eventually occurs a bug in the scanned PDF file. Due to this, you cannot highlight text in PDF.
Secured or Protected PDF – Another reason behind this bug is protected PDF documents. When you are using any PDF document which is secured there might be chances that you can't highlight any text in PDF. In this case, the user has no authority to edit a particular document.
Encrypted PDF Document– If someone shares any PDF but he put some password to it. Then, you will not be able to highlight or edit anything in PDF file. Because the given PDF document has been encrypted. As it restricts you from editing.
Just like these, there might be many other reasons. As a result, it takes the authority from you to change or highlighting any text in PDF. And then, "not able to highlight in PDF" issue arise. Now, what can be done to fix this bug? Confused? Don't fret. We have got you covered with a perfect solution. So, let's know about it in the next section.
How to Fix the Why Can't I Highlight Text in PDF Error?
To resolve "cannot select text in PDF adobe reader" issue, you can try these two methods-
Now, let us understand both the methods in detail in the upcoming section.
Manual Method to Fix Not Able to Highlight in PDF Error
However, most of the features are available to edit the text or data in PDF only on the paid Adobe Acrobat PRO DC version. But, you can still select the text in PDF using Free Adobe Acrobat Reader DC. All you need to follow the below steps-
Enable Highlighting in PDF with Adobe Reader
First of all, open your PDF in Adobe Acrobat Reader DC
Now, select the Highlight Text option from above
By selecting it, the highlight text tool will be active
Now, you can go to the text that you need to highlight
Along with it, if you want to add any notes, just double-click the highlighted area or right-click the highlighted text. Then, choose the Open Pop-up Note option
Just click the Post button once you write the text
Finally, save this edited PDF file at any location.
Instant Solution to Fix Why Can't I Highlight Text in PDF Issues
There is a quick and direct solution that you can use to get rid of this bug. As because of the restrictions when cannot highlight text in PDF becomes a severe issue. So, to resolve this, we have come up with a reliable solution. Try SYSDaddy PDF File Unlocker Wizard. So, if you don't know how to enable highlight options in Adobe Reader because of a technical issue. Then, we will highly recommend you to go for this tool.
This is the program that will also unlock PDF form fields without any loss information. By using it, you can highlight any text, add comments, extract pages, and more in PDF. So, use it without any hurdle to edit the text in PDF in any version of Windows OS.  As it is designed to keep you tension free. For you all, it has developed with the advanced technology with an easy user interface. So, anyone can operate this program without any hitch.
Moreover, it comes with a free demo version that you can try. So, use it and download this free version from below-
Steps to Highlight the Text in PDF Document Instantly
Download the software to resolve bug. Then, follow the steps mentioned below to select the text-
Run and Install the Software on your system into the software.
Firstly, click on the Add Files or Add Folder in the software.
Now, select the Destination Path to save the source of the PDF file.
After this, hit the Unlock button to enable the highlighting text in PDF docs
Eventually, the program will display the Completed Message on the screen.
Done! This was the simple procedure that you need to perform to edit and highlight the PDF text.
Conclusion
There might be many users like you who may be searching for why can't I highlight text in PDF? Therefore, for your help, in this article, we have discussed how to enable the highlighting the text in PDF.
Here, you get two methods, one by using the Adobe Reader and the second is by using an automated tool. Where the SYDaddy Utility is recommended to use. As it is tested by professionals and a well-designed software. So, the decision is yours to choose the appropriate one when you cannot highlight text in a PDF document.