How to Print Password Protected PDF on Windows and Mac OS?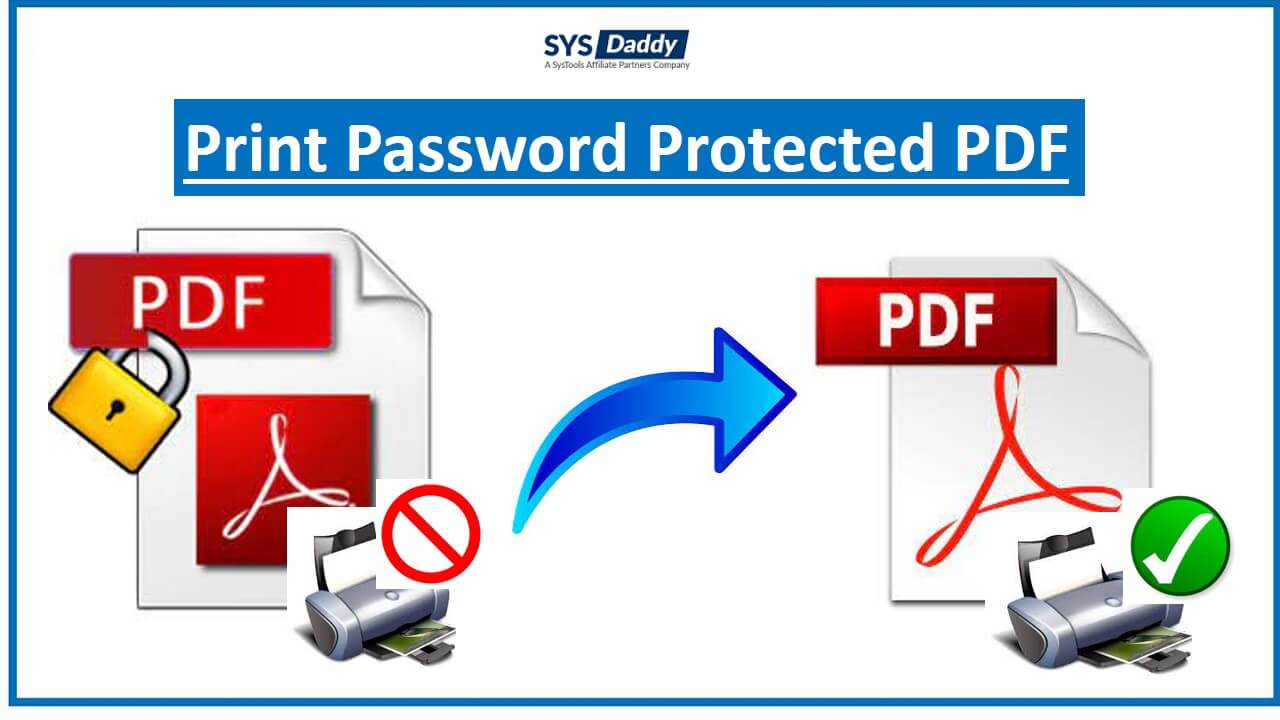 Summary – In this Guide, we have discussed what are the reasons to print password protected PDF. What can be done to rectify this issue? Therefore, we have described the two methods here. The manual method and a professionally recommended SYSDaddy PDF File Unlocker Wizard.
Both are capable to print secured PDF files for both Windows and Mac operating users. So, read the complete guide to find out more.
Download the software from the buttons given below to print locked PDF on Windows and Mac without having installed Adobe Acrobat
For Windows
For Mac
Some password-protected PDF documents are incompatible with some printing systems. This is a known issue by most users and can occur when using computers in the library or uploading files from your own device. It becomes a serious problem when you want to print the PDF but are unable to do so and you are not getting any alert or pop-up for the error.
Users Query-
Hi, a few days ago, I wanted a printed report on Windows OS, the PDF contained some crucial data. However, I couldn't print the PDF because the print button in Adobe Acrobat was grayed out. Later I came to know that some restrictions have been added to the PDF file. So, can anyone help me with how can I print a password protected PDF?
Just like this, are you also facing such kind of issue. Don't you have access to Adobe Acrobat Pro? Do you want to Print Outlook Emails to PDF without Header? If yes, then don't freak out, because we have got you covered.
But, before going further to the solutions for both Windows and Mac OS. First, let us understand what are the reasons behind printing the locked PDF.
What are the Reasons to Print Password Protected PDF?
There can be various causes for printing secured PDF documents that are password protected. Let's look at a few.
First, the permission password is applied to the document so that no one can print and modify the file but that password is lost or forgotten.
Another reason is- every time you're requested to enter the password for opening & printing the document.
Now, after knowing the reasons let's come to know how to print password protected PDF Mac and Windows.
Different Solutions to Print Locked PDF
There are two different ways by which you can take the printout of protected PDF documents. These are as follows:
How to Print Secured PDF Manually Mac and Windows?
Case 1- Print Unlock PDF file in Windows Without Adobe Acrobat Pro
Firstly, go to Google Drive and upload the secure PDF file. Afterward, double-click the uploaded file inside the Drive to open it inside the built-in file viewer.
Now, click the Print icon, the system print dialog will pop up. By doing so, you can send the secure PDF to any of your printers without typing the password.
Case 2- How to Print Password Protected PDF Mac Using Mac Preview?
Mac Preview is the image viewer & PDF viewer of the Mac operating system. It enables you to view & print PDF files and other digital images. Along with this, it also provides the functionality to decrypt PDF documents on Mac OS X.
Using this Mac Preview app you can easily remove password security and restrictions from PDF documents.
In this blog, we will describe the steps that you can use to print password protected PDF with password using Mac Preview.
Let's explore the solution:
Firstly, Right-click on the PDF file which is secured with owner level password
After that, go to the Open With option >> select Preview (Default)
Now, click on the Print button
Afterward, you have to enter the permission password (owner-level password)
If you know the password then enter it
Lastly, after doing this save the unlocked PDF file at the desired location
Limitations of Manual Method on Mac & Windows
By using it, you can only remove security from a single PDF document at a time.
Moreover, this will ask you for the permission password to print password protected PDF document
If you are using this method, it will consume your extra time if you want to print multiple PDFs together
In addition, you should be technically sound to carry out this manual process.
Instant Solution to Print Password Protected PDF
Stuck with a protected PDF that you are unable to print and modify? Don't fret, the mentioned SYSDaddy Tool is useful for both Mac and Windows OS users. It is the best solution to help you out, you can easily print secured PDF by performing a few simple steps.
With this program, multiple PDF documents can be printed at a time. Those PDF documents which are locked for printing, copying, editing, signing can be unlocked by this professional tool.
Also, if the file is having a password then it can be removed easily by this program. But, initially, for unlocking this user-level password-protected PDF, you should enter the password in the beginning.
Also, the software's intuitive interface makes it easy for you to remove passwords from PDF documents and prevents you from any data loss.
Key Features of the Utility
By using this tool, you can use Add Files / Folder option to insert multiple PDF documents for unlocking.
You will be able to remove AES & RC4 128 & 192 bit encryption through this tool.
Multi documents printing is possible with this software
This application is capable to remove comment restrictions. After that, you can comment to the sticky notes section.
You don't need to worry about the data integrity while using this software because it keeps intact the originality and formatting of the PDF files.
It is compatible with all Windows and Mac OS X 10.8 and above versions
In this software, there is an option which will remove signature restrictions and it enables you to form filling in PDF.
Steps to Print Password Protected PDF on Windows OS
Download and install the utility and follow the steps to know how to use the tool print secured PDF-
Firstly, click on Add File or Add Folder from the right panel

Then, preview the Password protected PDF

Now, select Save or Print option as per the requirement

Finally, choose the Destination Path and hit the Unlock option to unlock the PDF file.
Quick Steps to Print Protected PDF on Mac OS X
Initially, download and run the software on Mac Operating System

Then, click on the Add File(s) or Add Folder(s) option to add locked PDFs

Now, enter the password of the PDF file and select Print option

Lastly, click the Unlock button & start the procedure for PDF unlocking.

A pop-up message will get displayed "Unlock process completed successfully". Now, click on the View Report Option & check the details like Selected path, Destination Path, Unlock Status, Total Count, Fail Count, and success count.

Author Suggestion

We all use the PDF file for our day-to-day tasks and sometimes, we lock the PDF file for security purposes. But, the problem comes when the other user to whom you shared the file cannot print secured PDF file.

Here, in this write-up, we have covered the two solutions to print password protected PDF Mac and on Windows. One is manual and the other one is automated.

The manual solution has some limitations that are covered by the professional recommended SYSDaddy Software. This utility can unlock multiple PDF documents. Along with this, it does not require any permission password to do the task.

FAQ

Q – Do I need to install the Adobe Acrobat along with this tool?

No, you do not need to install Adobe Acrobat to print secured PDF. This tool is compatible to print the file without Adobe Acrobat.

Q – Can this tool unrestricted the PDF file in batch?

Yes, if you are having multiple restricted PDF to print then this tool will be a useful source to fix this issue.

Q – Does this application supports to unlock the Owner level password security on PDF?

Of course, yes, this application supports unlocking the PDF file from Owner level password security

Q – Will my data be safe while using this tool?

Absolutely yes, your data is fully secure and safe while using this tool