Hassle-Free Technique to Migrate Opera Mail to Thunderbird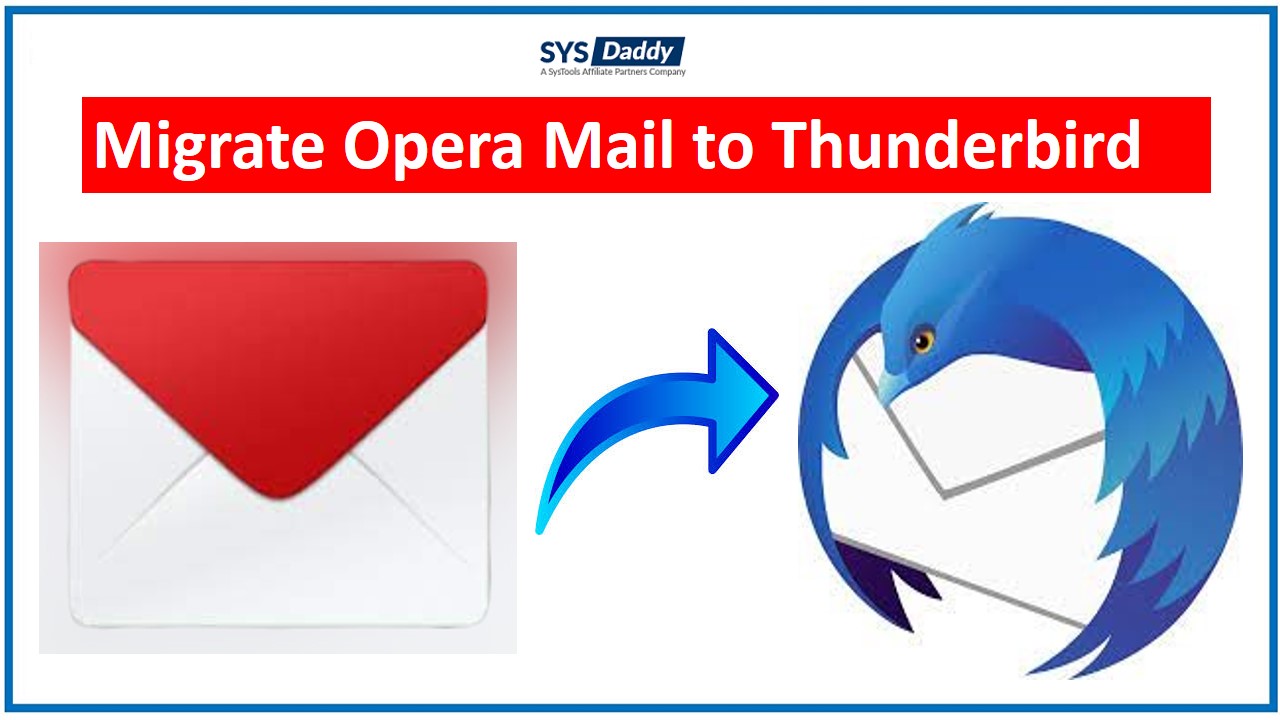 If you are still using Opera Mail, then consider yourself at a high risk of cyber attack.
The reason is, Opera Mail is at the last stage of its life cycle and has not received any security update since 2016! Sound threatening, isn't it?
Do not worry! You can choose to migrate Opera Mail to Thunderbird, which is another free-of-cost email application for Windows users.
For data migration, leave it on SYSDaddy Thunderbird Import Wizard Software. This application will safely import Opera Mail MBS files into Thunderbird 68 and other versions without any data loss.
Practical Users Query
"I am an Opera Mail user who is planning to switch to other email clients to have more security. Mozilla Thunderbird sounds good to me but I am worried about the data I have in Opera Mail. It stores emails in the MBS file and I am not sure whether Thunderbird supports the MBS files or not. Can anyone tell me if it is supported by Thunderbird? If yes, then how to migrate Opera Mail to Thunderbird?"
"Being a Thunderbird v68 user, I want to know, can I open Opera Mail data in Mozilla Thunderbird. Though, I have stopped using Opera Mail but now, I need to access some emails from the MBS file. So, can anyone tell me if there is an easy solution to my problem? Thanks in advance."
If you are facing similar problems, read this blog. It will guide you to migrate Opera Mail to Thunderbird in an effortless process without losing your precious data.
Read More: Move Contacts from Thunderbird to Outlook
Issues Regarding Opera Mail to Thunderbird Migration
Opera Mail emails messages are stored in an MBS file, which is actually a variant of the MBOX file. Many users are not aware of this and think that Thunderbird cannot open the MBS file, which is not true. However, Thunderbird is capable of opening an MBS file generated by any version of Opera Mail.
However, it requires efficient software like Thunderbird Import Wizard to import MBS file in Thunderbird. In the next section, we will show you how to migrate MBS file data in Thunderbird using this software.
To know more about the tool download the software from the buttons given below-
Migrate Opera Mail to Thunderbird: Direct Solution
The whole migration process is divided into two parts. First of all, you need to export MBS file from Opera Mail and then, import the file in Thunderbird with the software.
Section 1: Extract MBS file from Opera Mail
a. Firt of all, start Opera Mail and select the required folder
b. Secondly, right-click and click on Export button
c. Finally, enter a name for the MBS file and save it on your preferred location
Section 2: Import MBS file from Opera Mail to Thunderbird
First and foremost, download and launch the utility on Windows and follow the following steps to know the working of the tool-
1. After that, click on Add File or Add Folder option
2. Now, the MBS file will be added to the software interface. Following that, click Next to proceed further
3. Following this, apply advance settings and then click the Import button, the tool will start migrating the data.
4. Now, you're done. By doing so, you will get notified with a message.
5. Lastly, exit the software and restart Thunderbird. Here, you will see all the MBS data in Thunderbird and will be able to use them without any trouble.
Top Features of the Utility
This tool comes with a number of attractive features, such as:
This tool is suitable for all versions of Thunderbird including Thunderbird 68
Moreover, it is 100% virus and malware-free software with no chance of data loss
In addition, you can import Opera MBS files and its sub-folders into Mozilla Thunderbird
Here, there is an option called Add Folder. Through this, you can add multiple MBS files to the tool simultaneously
In this tool, you can import any type of MBOX, EML, Maildir, MBS, SBD files to Thunderbird
Through this application, you can migrate emails of a particular date range of your choice by applying given Date Filter option
Furthermore, it maintains your original folder hierarchy of the MBS and other files after import as it was before the migration process
Conclusion
To migrate Opera Mail to Thunderbird is a need of time, however, many users are confused about the compatibility of MBS files in Thunderbird and the methods of file importation.
Hence, by reading this blog, all the doubts can be cleared.
Along with it, you also got a complete guideline to migrate Opera Mail MBS to Thunderbird. Likewise, by using the given application, anyone can easily import MBS file to Mozilla Thunderbird without any data corruption. For this reason, this is a popular software among professionals.
FAQ
Q- Is the given tool compatible with Windows 10?
Certainly yes, the above mentioned application is compatible with all versions of Windows operating system.
Q- By using this tool, will I be able to import attachments along with emails?
Without a doubt, you will be able to import attachments along with emails by using this tool.
Q- Can I save the report after the migration process?
Of course, yes, with this software you can save the report after the completion of the migration process.