How to Export Gmail to EML Files with Attachments?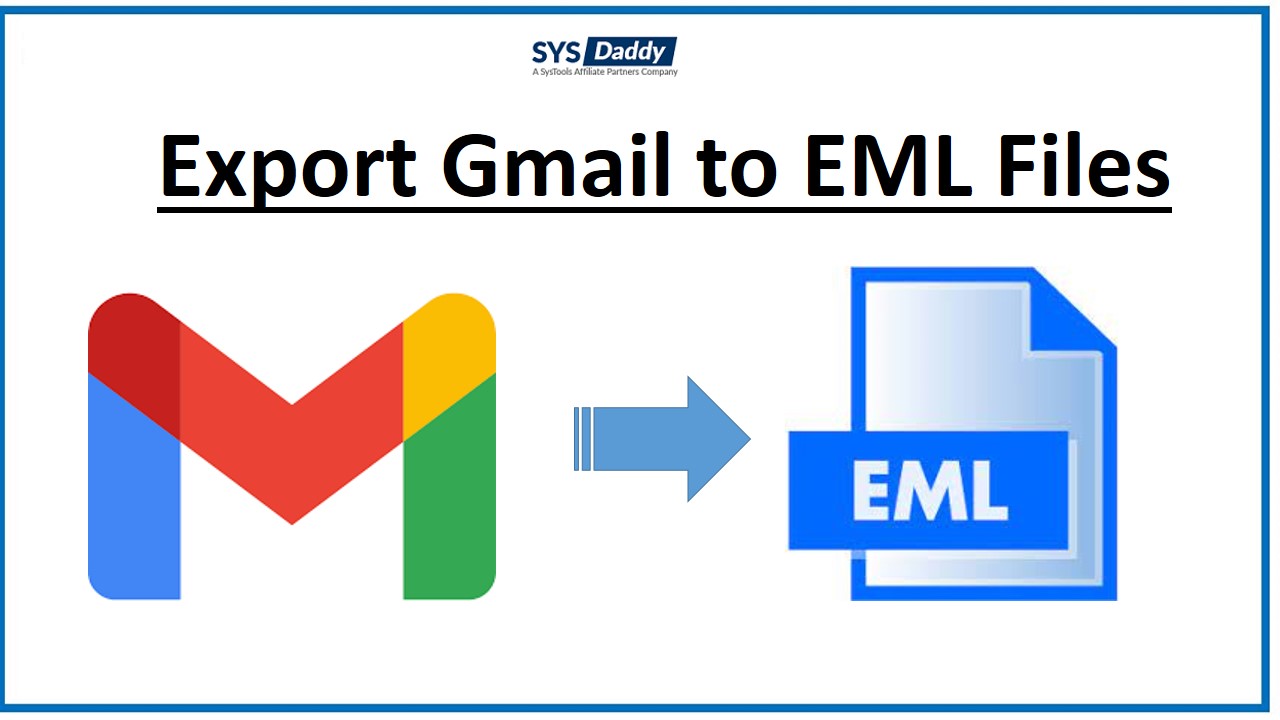 However, many email clients that we use these days, support an export feature that can convert your email into the required file format. That resultant file can be any which works well in the other applications as well. But many of you may be searching a solution to export Gmail to EML files. Here, in this guide we will provide you all the related solutions to the query.
The export feature enables the two different email clients to share the exact data file. Also, it permits you to open a file in another file format that is recognized by the desired application to work.
Unlike other email clients, Gmail does not support an export feature. It just lets you save the desired email offline as a text file. And that can be read from any text editor. For this, we generally download the email to create the backup or to use it in another email client.
In order to use the Gmail message in another email client, you must save the email in an EML file format. Because the EML file is used by most the email clients like MS Outlook, Mozilla Thunderbird, and more. If you are using this file format, then your entire Gmail email will be saved. Along with attachments, email addresses, and other information.
Solutions to Export Gmail to EML Files
There are basically two methods that we will introduce today in order to convert Gmail emails to EML files. Let's know more about them-
To know more about both the methods, keep reading the next part.
Manually Save Gmail Emails in EML Format
First of all, open your Gmail account
Then, choose and open whatever email you want to export as EML file format
Now, on the top right of the selected email, click on the More option with the three-dot icon

After this, select Show original to open the particular email in a new window

Finally, click on the Download Original to export Gmail to EML file.
Few Drawbacks of the Manual Method
In order to export Gmail to EML files, you need to select the required email again and again. In this method, you will not get any option to export in bulk.
Moreover, it doesn't allow you to export other important data such as contacts and calendars, etc.
In addition to this, this method will work properly if you are technically aware. But, if you are not skilled enough then you might not save emails from Gmail to EML files with this standard method.
As it only permits you to export one email at a time, hence, it is a lengthy process.
Now, you may be thinking what should have to be done? Worry not, because we are here in your service. In the next section, we will introduce the perfect solution to help you out in this circumstance.
Export Gmail to EML Files Using Alternative Method
To overcome this scenario the recommended solution is SYSDaddy Gmail Email Backup Wizard for Windows & Mac. This is a stand-alone application that can help you to convert Gmail emails to EML file format easily. Also, you can export contacts and emails attachments as well. Not only this but there are many associated advantages that you get in this application.
To know about this software you can download it from below. Try the demo version to help yourself.
For Windows
For Mac
Note: This easy and quick method is available for both Windows and Mac OS compatible machines. So, it doesn't matter whether you are using the Windows OS or Mac OS.
We will discuss the benefits in the latter section of this tutorial but first, let's take a look at the working steps to use this utility.
Steps to Convert Gmail Emails to EML Automatically
Initially, download the mentioned application on your computer and then follow the guidelines given below-
After this, fill the account credentials using Gmail email ID

In the next step, select the EML option to save Gmail emails

Now, browse the file name and select the destination path for saving the final data

Eventually, click on the Backup button to initiate export Gmail to EML files process.
It's done. This was the simplest and quickest method that you can use to download Gmail emails to EML file format.
Now, let us know why it is better to choose this alternative automated method instead of choosing the manual method. So, let's move further.
Why Alternative Solution is Better than a Manual Solution?
This method is quite useful because with the help of this tool, you can easily export all your Gmail accounts one by one. That too in very less time.
Moreover, if you want to export attachments or contacts along with the Gmail emails then it can be done with this application.
In addition to this, if you are worried about your data loss then stop worrying. Because this utility provides you the option to delete the data and your Gmail credentials after the completion of the process.
Also, if you are using Windows 11 then you can operate this tool in this version too. As this software is compatibles with all the Windows OS irrespective of their version.
Not only this, but you will not going to face any hurdle while using this program. Because it provides you with the easiest interface.
Furthermore, unlike the manual method, there is no limitation to exporting Gmail to EML with emails, contacts, and attachments. That means you can convert any number of Gmail emails.
Final Words
In this article, we have mentioned two solutions on how to export Gmail to EML files. You can use any of the described methods, but the entire conversion becomes easy with the SYSDaddy Software.
However, the manual method is also useful but when it comes to converting multiple emails, it fails. Also, you cannot export other Gmail data such as contacts, attachments, calendars and etc. Hence, we would suggest you to go for the above-defined software.
Frequently Asked Questions
Q- Does the above-mentioned application will export all folders from Gmail to EML files?
Yes, of course, this tool will not only export inbox but sent items, drafts, personal folders, attachments from the Gmail account.
Q- Will the export procedure stop if the internet connection is interrupted?
No, not at all, this software is an offline one. So, you can easily export Gmail to EML file without any internet interruption.
Q- I want to test this tool before purchasing it. Is it possible?
Certainly yes, you can download the demo version from the link mentioned above. It will provide you the facility to convert the first 25 data from each folder.