How to Export Gmail to MBOX File with Attachments – Prompt Guide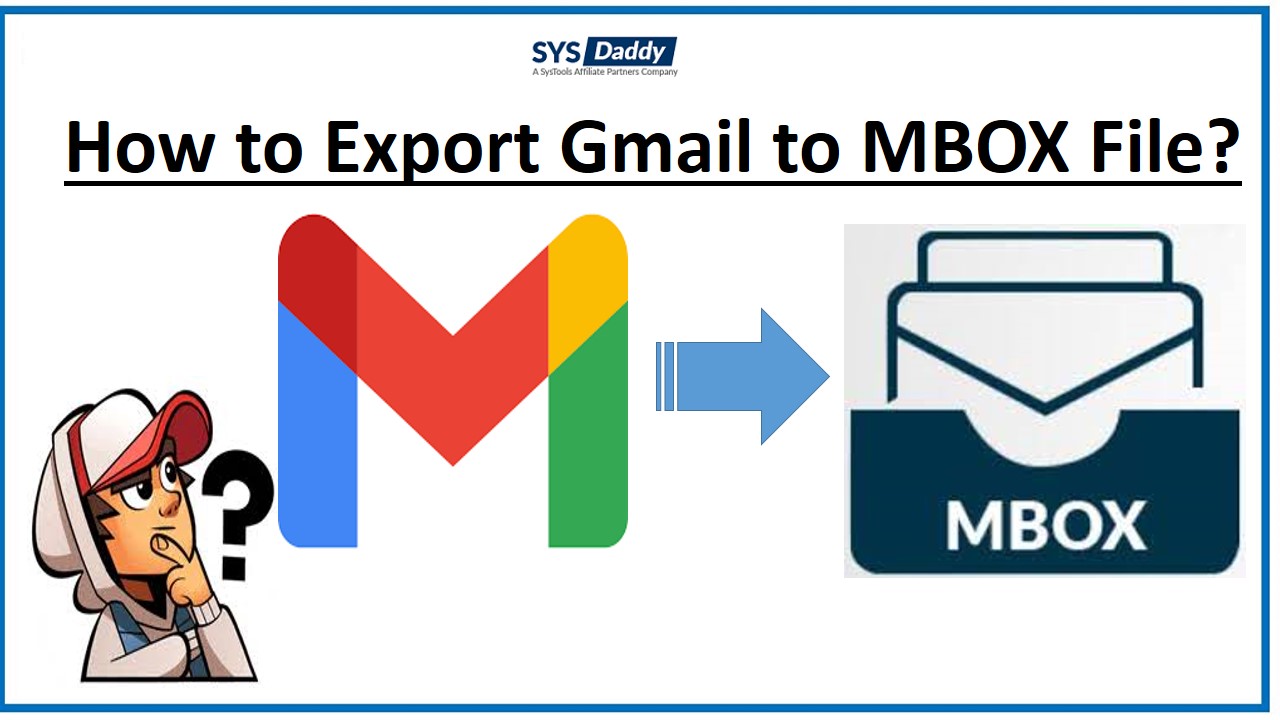 Do you want to export Gmail to MBOX file? Are you looking for a solution to view and open your Gmail emails in Mozilla Thunderbird? If yes, you have landed at the exactly right place. Because here, you will get all your answers to your interrogations.
To know more in a precise manner, go through with the entire tutorial.
Though Gmail is the most popular and used by many of us. But, sometimes you may need to transfer your data to any other format, Like the MBOX file in order to use the Gmail mailbox data in other applications.
However, you can download and export the entire data from your Gmail account. You may be doing this for any reason. It can be, to create an archive to keep your records or you want to use the data in another email client. Or you may want to use the Gmail mailbox data offline.
Let's understand this with the help of users query
Hey, I am Mathew. I'm using the Gmail service for a very long time. Because of a long time, now I have tons of emails. So, I am planning to export Gmail emails to MBOX file in order to use this MBOX file offline. Is there a solution available? If anyone knows then please revert me.
Hello, I need to move to the Thunderbird application from Gmail. For that, I need to export Gmail mailbox to MBOX file format. However, I have searched for the same but didn't get the right solution. Can anyone out there help me to overcome this problem? Thanks in advance.
Solutions to Download Gmail Mailbox to MBOX
There are two top methods that you can use for exporting Gmail account emails to MBOX file in a simple manner. These two methods are-
Now, let us understand both the methods in a precise manner one by one.
Export Gmail to MBOX File by Using Google Takeout
You need to follow the steps mentioned below to export emails from Gmail to MBOX file –
Before doing anything, login with your Gmail account
Now type https://takeout.google.com/ in the search bar
From the pop-up, choose select data to include

Out of all the given options, you can select any option as per your requirements
Scroll down, and click on the Next Step button to proceed further

Afterwards, choose the file type, frequency, and destination
Now, choose the Delivery method

Along with this, select the Frequency according to your desire

Also, select File type and size in which format you want the export file

After selecting all, mouse-click on the Create Export button

Finally, you can download Gmail emails as MBOX file format and save them in any location.
This is the complete process to export Gmail to MBOX file by using manual method taking help Google takeaway. But you will face a few limitations while using Google takeout. Let's discuss them.
Drawbacks of the Google Takeout Method
If your Gmail mailbox is too large then this process can take many days to complete the export process.
Moreover, it only provides you the limited try to export your emails from Gmail as MBOX file.
There are chances when the connection can get interrupted, if it happens, you will need to restart the entire process again.
In addition, the Google takeout splits the file automatically into multiple MBOX file if your Gmail mailbox will be too large. So, you might face the problem while carrying multiple MBOX files.
Also, this will be no longer available for you if you reach the limit of exporting MBOX file from your Gmail mailbox account.
Now, the question is what to do if Google's Takeout fails? Don't Know? No worries. We have the faultless solution to your problem. So, let's skip to the solution without a delay.
Export Gmail Emails to MBOX File by Using Automated Method
When the manual method fails, here comes the need to use an automated solution. So that, you can easily export Gmail mailbox to MBOX file format. The most commendable solution is SYSDaddy Gmail Email Backup Software. With the help of this tool, you can easily download the Gmail account emails along with attachments in just a few minutes.
In order to use the tool, download it from below. Moreover, it is also available for Mac OS users. Use it if you are one of them.
For Windows
For Mac
Steps to Transfer Your Emails from Gmail to MBOX
Initially, download the software on your computer system. Then, follow the below steps to export Gmail to MBOX file format-
In the first step, enter your Gmail account credentials and login

After this, select the MBOX file from the appeared window in Select Email Format

Now, hit on the Browse button to save the Output MBOX file on the destination location

Ultimately, click on the Start button to execute to export Gmail emails to MBOX file with attachment process.
That's it, you can save the MBOX file at any location. Now, if you want to open this downloaded MBOX file, then you can open the MBOX file into the Thunderbird application.
Key Features of the Alternative Solution
In this utility, there is no limited size termination, unlike Google Takeout. So, you can easily export Gmail to MBOX file regardless of any size.
Furthermore, this software supports downloading all Gmail emails along with their attachments like Notes, contacts, calendars, etc. in just a few seconds.
Moreover, you will not have to face any kind of limitation on trying the export process from the Gmail mailbox along with attachments.
In addition to this, you don't require any technical knowledge in order to use this application. Because it is a well-designed application that is user-friendly.
Also, it is operating on its own, so you don't require to download any other application to export Gmail emails to MBOX file.
Conclusion
In this article, we have discussed two solutions to transfer Gmail emails to MBOX file format. However, the first solution is free but comes with some drawbacks. On the other hand, the second method is not free but it is the reliable solution that you are looking for. Also, it takes less time than the Google Takeout method.
So, we hope you are clear by now. We would recommend you to go for the automated method SYSDaddy Software to export Gmail to MBOX file format. Because it provides you multiple benefits. But, the final choice is yours. Choose smartly.
FAQs
Q- I got many Gmail emails to export but I don't want them in multiple MBOX files. Is it possible with this tool to export Gmail emails to MBOX file in one go?
Yes, of course, this tool will export all the Gmail emails and other items in one MBOX file.
Q- I have a few attached images with my Gmail emails, so, will I be able to download them as well with the help of this software?
Certainly yes, no matter what attachments are there with your Gmail emails. You can easily download Gmail emails to MBOX file along with attachments with the help of this software.