How to Export Gmail Emails to PST File Without MS Outlook Installation?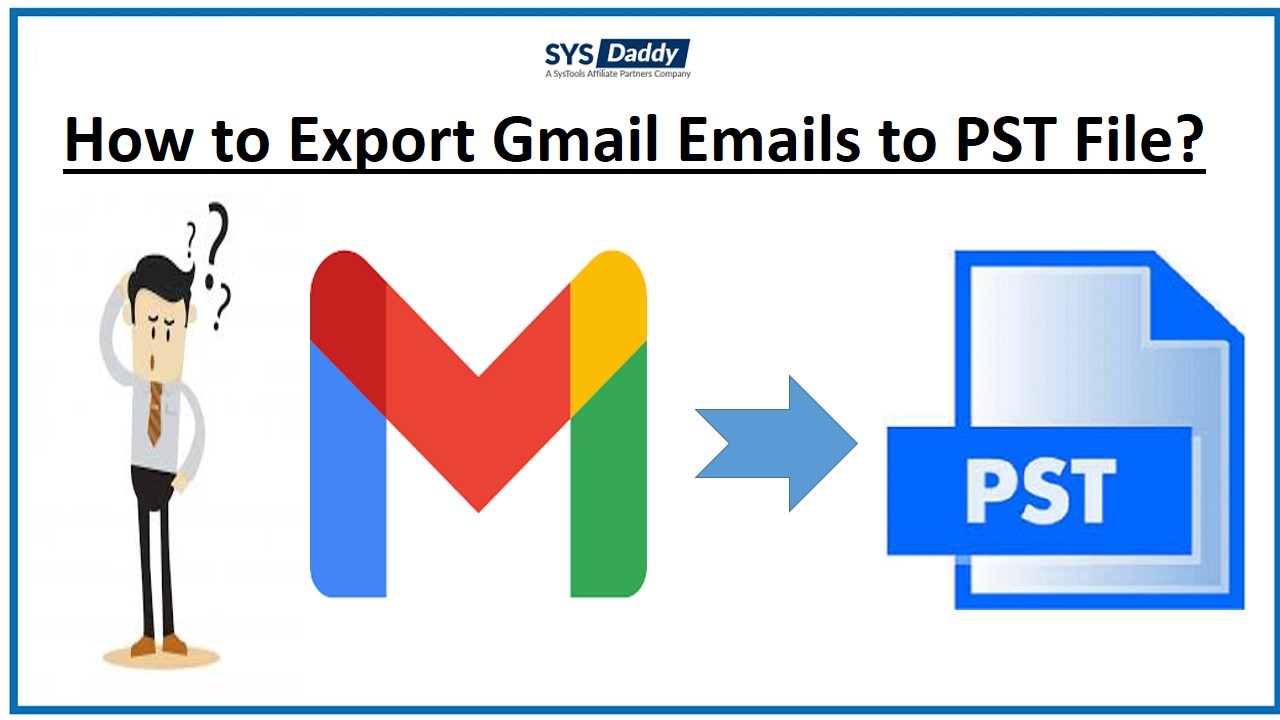 Summary – In this tutorial, we have discussed how to export Gmail emails to PST file. Here you will get the manual and the dynamic solution named as SYSDaddy Gmail Account Backup Wizard for Mac and Windows to export Gmail to PST without Outlook.
You can download and use this application from below to know the working of the tool.
For Windows
For Mac
Are you searching for a solution to download Gmail emails to PST files? Do you need to export Gmail to PST instantly? But got no method to overcome this problem? No worries. Here, we will provide you with the best possible solutions.
So, to know the details, give a complete reading to this write-up.
Though Gmail is the most popular email service that is used by personal and as well as professional users. But, sometimes the circumstances occur when the emails data needs to export to another email client. It mostly occurs with professional users.
Let's understand this situation with the help of some user queries.
Practical Most Asked Users Queries
Hey, I am jack. I am planning to migrate to MS Outlook 365 and want to export all my Gmail emails to Outlook-supported files. So, that I can import it to the new email. Is there any method to solve this? Please help me if anybody knows about it.
Hey, I want to move my Gmail data to a PST file because I need to save my data as a backup on another device. Though the hackers might attack and hack my crucial data. So, it's better to take a backup within the time. Because I cannot bear any data loss. Could anyone suggest to me how to export Gmail emails to PST file? All the suggestions will be appreciable.
Techniques to Export Gmail Emails to PST File
If you are in need to download Gmail emails to PST files then you should go for any below-mentioned method. These two methods are-
Know about both the method in a precise manner in the next section.
Manual Method to Download Gmail Emails to PST
So, let us consider how the manual method serves the export procedure to export Gmail emails to PST files. Follow the following steps to know the manual method in detail-
First of all, launch the MS Outlook application on your computer
Then in the second step, configure your Gmail account and click on Connect
When the configuration is done, click on the File menu, a new window will appear. Select Open & Export option
Now, choose Import/Export from the given options
Then after, select Export to a file option and then mouse-click the Next button
You will get a new pop-up, from this choose Outlook Data File (.pst) and hit the Next button to proceed further
In the next step, select the account to convert to PST file format. Again click the Next button
Finally, select the path to save the Output file and hit the Finish button.
Completed. This is how you can export Gmail to PST file. Meanwhile, this manual method comes with some limitations. So, let's give them a look as well.
Limitations of the Manual Method
The first limitation is the biggest reason not to use this manual method. This method may result in data loss or even damage your crucial email attachments.
Another drawback is, this procedure is such a lengthy process to complete. Though it will consume a lot of time. And we are sure you are not that free enough to waste your time using this method.
Moreover, if you want to download some specific Gmail emails to PST then it will not possible with this method. As there is no filter option to do so.
Not only this but if you configured the wrong account. Then it will be going to display Outlook Error during IMAP configuration.
In addition, the Outlook application does not provide you the facility to export the entire mailbox. It only allows you to download the Inbox folder.
Now, what if you are in need to download the entire Gmail mailbox? Frustrated? Right? Don't fret. We have got you covered. So, now we will be going to introduce a direct and dynamic solution to get rid of this issue instantly. Let's move further without wasting a minute.
Direct Method to Export Gmail Emails to PST File without Outlook
The SYSDaddy Software is outstanding and one of the best solutions you will ever get. You can easily download Gmail emails to PST files in just a few minutes. Also, you will not be going to face any confusion because this is a very friendly interface to export multiple Gmail emails in different formats. Meanwhile, it is a stand-alone application, so you don't need to install and configure MS Outlook.
Let's know how to use this expert-recommended application.
Steps to Download Gmail Emails to PST File
First and foremost, download the software on your desktop and then follow the steps outlined below to know the working in simple steps-
Now, login with your Gmail account credentials

Afterwards, select the PST file option from the appeared window

Now, choose the destination path to save the resultant PST file

At last, hit the Start button to export Gmail emails to PST without Outlook.
Note: enable Less Secure Apps and IMAP from Google settings before login into this application.
That's it. You're done. This was the easiest and quick method to back up your Gmail emails without MS Outlook installation in just a few minutes.
Advantages of the Direct Method Utility
The question is if you're getting results through the manual method then why choose this direct method solution? The answer is quite simple. You will get an accurate PST file as per your needs. But, let us know why to use this method in a better way-
Through this application, you can easily filter all the emails to export and can carry forward only the required emails to PST file. Remember, this feature is not available in the MS Outlook application.
Moreover, if you are in need to export the entire folder of Gmail to PST file then again MS Outlook fails. But this software will provide you with this function to download the entire folder in one go.
Furthermore, you don't require to download the MS Outlook application on your system, so that's why this is the perfect solution.
On top of this, it is compatible with all the Windows versions. Whether Windows 11 or any earlier versions of the Windows operating system.
In addition, there is no file size limitation. So, you can easily export Gmail emails to PST files regardless of their size.
Final words
We hope this tutorial works for you in solving your most asked query. However, we have mentioned the manual and the automated solution to help you out. But, you will face a few hurdles while using the manual method. Hence, we would recommend you to go for the automated method because it is tested and used by experts also.
Also, if you want to use the tool to check the efficiency, then you do it as well. Just download its demo version and you are good to go to understand the tool in a better way.
FAQs
Q- I have an attachments file also with my Gmail emails, what will be going to happen with them?
By using both the methods mentioned above, you will be able to export attachments along with your Gmail emails.
Q- Does this software provides the facility to export only specific Gmail emails to PST file?
Yes, of course. This software is such a helpful one. You can easily export only specific Gmail emails to PST file. You can do this even without installing MS Outlook.
Q- How to export Gmail emails to PST files in Windows 11 Operating system?
Certainly yes, with the help of the automated tool you can export Gmail emails to PST file in Windows 11 and all other versions of the Windows Operating system.