How to Extract Contacts from PST file without Outlook?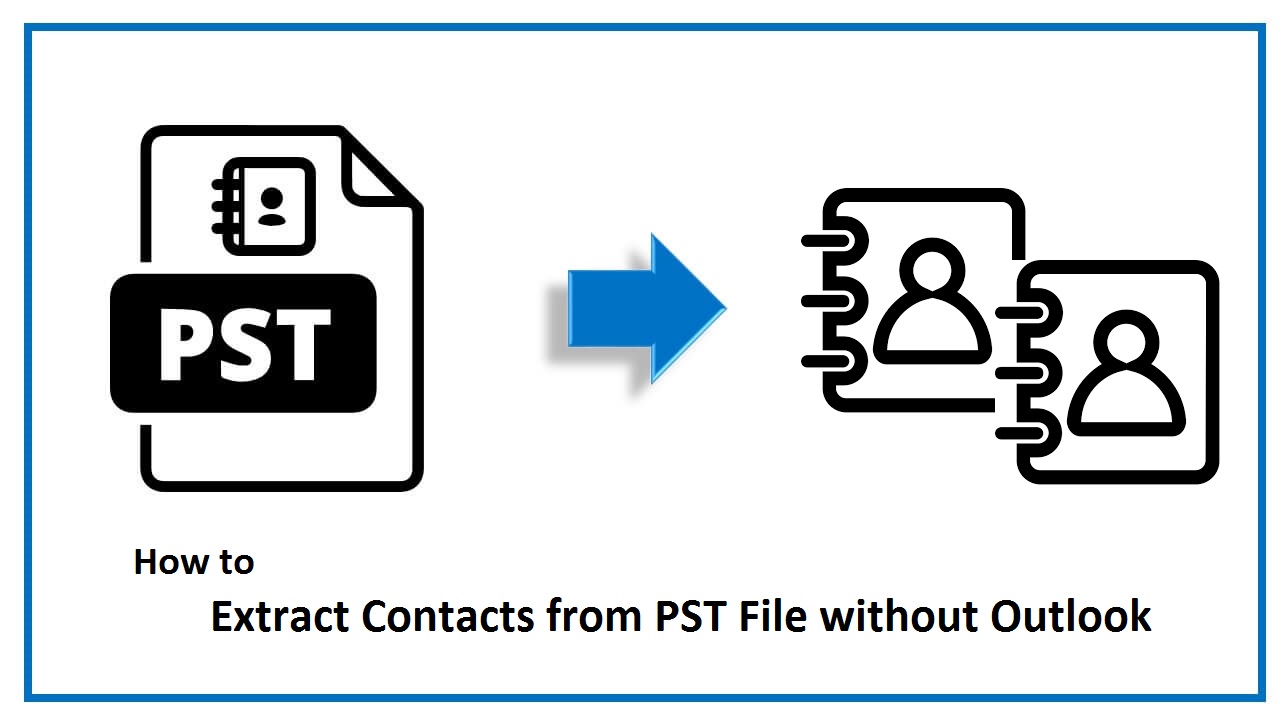 Do you have a PST file that you want to extract contacts from? But haven't you installed Outlook on your computer? What is the solution now? If you have the same concern and are looking for a solution, then sit back and relax. This article will teach you how to extract contacts from PST file without Outlook application.
As we all know that the PST file is only supported by Microsoft Outlook. It supports exporting all data items like email messages, calendar data, tasks, contacts, and others in PST file format. It can also be imported into Outlook at any time.
You can't even open PST if you don't have Outlook installed on your system. So how is it possible to retrieve contacts from Outlook PST file without MS Outlook? This task can only be done with an automated tool as there is no manual solution to it. However, there are a large number of tools on the market, but which one is perfect to meet your needs. This is a difficult task for users to find out.
No.1 Solution to Extract Contacts from Outlook PST
To overcome all the problems, we have come with the effective and reliable SYSDaddy PST to VCF Converter Tool to export Outlook Contacts with 100% accuracy. This is the best solution to extract contacts from PST files without Outlook. It let you retrieve contacts from multiple PST files at one time. You only need to add the PST file in the panel and the software will extract your all contacts.
The best thing about this wizard is that it is powerful to retrieve contacts from all types of PST files including corrupted, deleted, password-protected, and archive. In addition, one can move both ANSI and UNICODE type PST without affecting any information.
The suggested software successfully works on both Windows and Mac OS to convert PST files without Outlook application. To start the process, download and install the tool on your system. After following the below instructions to accomplish the task.
Steps to Extract Contacts from PST File without Outlook (Windows) are;
Step 1. Run the software and add PST files which having contacts.
Step 2. Preview Contacts along with their attributes and click Export.
Step 3. Now, select vCard from the list of multiple saving formats.
Step 4. Choose vCard version and Merge Contacts option as needed.
Step 5. Select the folder to save contacts and tab the Export button.
The process to extract contacts from Outlook PST file will start automatically and once it is complete, you will receive the messages of successful extraction. Now you have all your contacts in VCF file format that is supported by multiple email clients, devices, and cloud services.
Now, let's move to the working for Mac machine.
Steps to Retrieve Contacts from PST File (Mac) are as follows;
Download the conversion tool on your Mac Operating System and follow the listed steps to extract contacts from PST file without Outlook.
Step 1. Launch the tool and click on Add File or Folder to add PST contacts.
Step 2. Pick the VCF file format under Select Export Type.
Step 3. Click on Advanced Settings and select the required settings.
Step 4. Tab the Change button and choose a destination for saving the resultant file.
Step 5. In the end, click the Export button and analyze the live process.
Done! These are the simple steps to export PST contacts with no Outlook application for Mac and Windows OS.
Related Blogs:
Why Suggested SYSDaddy over other tools?
As mentioned earlier, there is much offline software available to extract contacts from Outlook PST files. But not all of them deliver the exact results that users actually want. It can cause data loss and not all contacts can be extracted. Sometimes users face challenges when working with the tools due to the robust user interface.
After testing more than 20 tools, we suggested SYSDaddy to you because it is easy to use even for beginners and has many useful functions such as:
Bulk Export Available
This utility enables you to extract contacts from multiple PST files in a single click. There are also no limitations of 2 GB PST file size for extraction. You can add and move large PST without disturbing and losing any of your important data.
Merge Option
The software to extract contacts from PST file without Outlook offers the merge option as well. You only need to check the "Merge Contacts into single vCard" option under the Advanced Settings. After, the tool will merge your all contacts into a single VCF file.
Ease of Access
The difficult interface of any tool creates a problem for all novices; they do not understand how the tool or software works. To overcome this issue, the recommended tool offers a simple and easy-to-understand interface that any normal computer user can easily use.
Supports PST of any Outlook Version
No matter the PST file is created by which version of Outlook as the software supports all editions. You can extract contacts from Outlook 2019, 2016, 2013, 2010 PST files without any hassle.
Author Suggestion
This blog discussed the best possible solution to extract contacts from PST file without Outlook. Here we suggested the reliable and fast tool that helps you to extract contacts from Outlook PST file with all attributes like name, phone number, email id, address, and more.