How to Save Outlook Address Book to Excel Spreadsheet?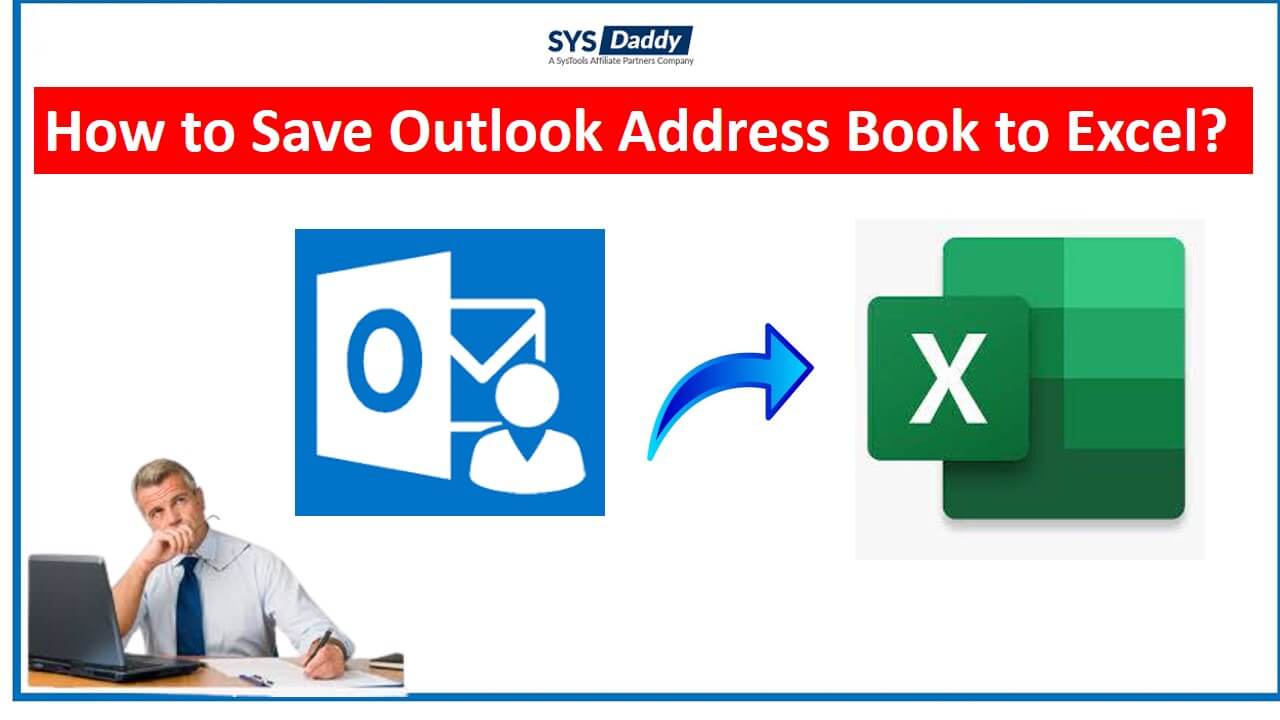 Summary: Many of you may feel the need to export Outlook address book to Excel Spreadsheet. So, if you are searching for a solution to how to save Outlook address book to Excel file. If you are wondering if there is a possibility of this task. We would say yes, it is possible. Therefore, in this article, today you will get all the answers here.
However, there could be different reasons to do this operation. Maybe you want to have a backup of your Outlook contacts in an Excel-supported file format. Or maybe you want to share the contact list with someone. Another reason could be the use of a contacts list in another system or computer. Whatever, the situation and causes are, we will provide you all the possible solutions.
Follow the below approaches and find a successful solution in this article. Let's begin with the procedure of saving the Outlook address book.
Approaches to Save Outlook Address Book to Excel
However, there are three approaches available to copy Outlook address book to Excel spreadsheet-
So, without wasting a minute, let's understand each one by one in the next section of the article.
Copy MS Outlook Address Book to Excel Using In-built Function
There is a way that you can use to access all your MS Outlook address books in your Excel Spreadsheet. Here, we are guiding you with each step one by one –
First of all, launch your Outlook application if not configured yet
After that, from the current Window screen, go to the File option
Then, select the Open & Export option among all given options

From the next screen, just pick the Import/Export to process it further
A Wizard will pop-up, here, select Import from Another Program or file option and tap on the Next

In the next step, it will ask you the to select the File Type, choose Comma Separated Value here

Now, Browse the Outlook Address Book and mouse-click on the Next to move ahead

Finally, either tap on the Finish button if you want to save all the fields of your Outlook Address Book. Otherwise, tap on the Map Custom Fields to filter the contacts list and then hit the Finish button.
That's it with this approach! As a result, all of your Outlook Address book is exported to a .csv file. To access it in the Excel Spreadsheet, you can open it in Excel. Or you can review and edit them as per your requirements.
How to Save Outlook Address Book to Excel by Copying and Pasting?
You can manage your Outlook address book in your Excel Spreadsheet by copying and pasting option. For this, follow each step very carefully as mentioned below –
First of all, open your MS Outlook Desktop
Then, from the Left bottom choose the People View option. But, if not visible then tap on the three dots and pick People View from here

By doing so, your Outlook contact lists will appear on the Window screen

Now, click the List option from the menu bar, then, have a current view of all your Outlook Address Book

Additionally, filter the Undesired Fields from all the Contact list
Then, press the Ctrl + A to select Outlook Address book, Ctrl + C to copy
In this step, open your Excel Spreadsheet and Paste all copied contacts by pressing Ctrl + V.
You're done with this second approach to Copy Outlook Address Book to Excel. By doing so, you can save this Excel File into Excel-supported file format. Hence, use the Address book as an Excel sheet at any time.
Access Address Book from PST File into Excel Spreadsheet
There may be a case when you have all the contact lists in the PST format. So, how are you going to save this address book in your Excel account? Confused? No worries, we got you. Therefore, we are here with an extremely useful and a reliable solution for this situation.
In this scenario, you should go for the professional SYSDaddy PST to CSV Converter Software. This will automatically help you to save Outlook address book to Excel spreadsheet. Moreover, this is the technically tested software that is compatible with Windows and Mac OS.
It is the one that provides you different formats to save your Outlook Address Book. You can then access these contacts in your Excel File easily.
For Windows
For Mac
Steps to Save Outlook Address Book to Excel from PST File
First, install the software and configure your account. Then, follow the rest steps from the below –
In the first step, tap on the Add File to add the PST file having Address Book

After this, select the CSV format from the Select Type option

Eventually, hit on the Export button to finish the process to export Outlook Address Book to Excel Spreadsheet

Now, you can have a saved address book from the PST file into a CSV format at decided location.
As a result, as you have a CSV file format. In order to use them into an Excel file, just open this resultant file and have a review. Then, save your Excel spreadsheet and have access to it.
Conclusion
Though the need to save Outlook address book to Excel file sometimes arises. So, if you want to move your Outlook contact list to your Excel spreadsheet. Then, read the article and the steps mentioned above. Here, we have mentioned different approaches according to the situations. So, implement the given guidelines as stated above. Choose the appropriate method accordingly for saving Outlook address book situation.