How to Transfer Microsoft Outlook Contacts to Android Smartphone?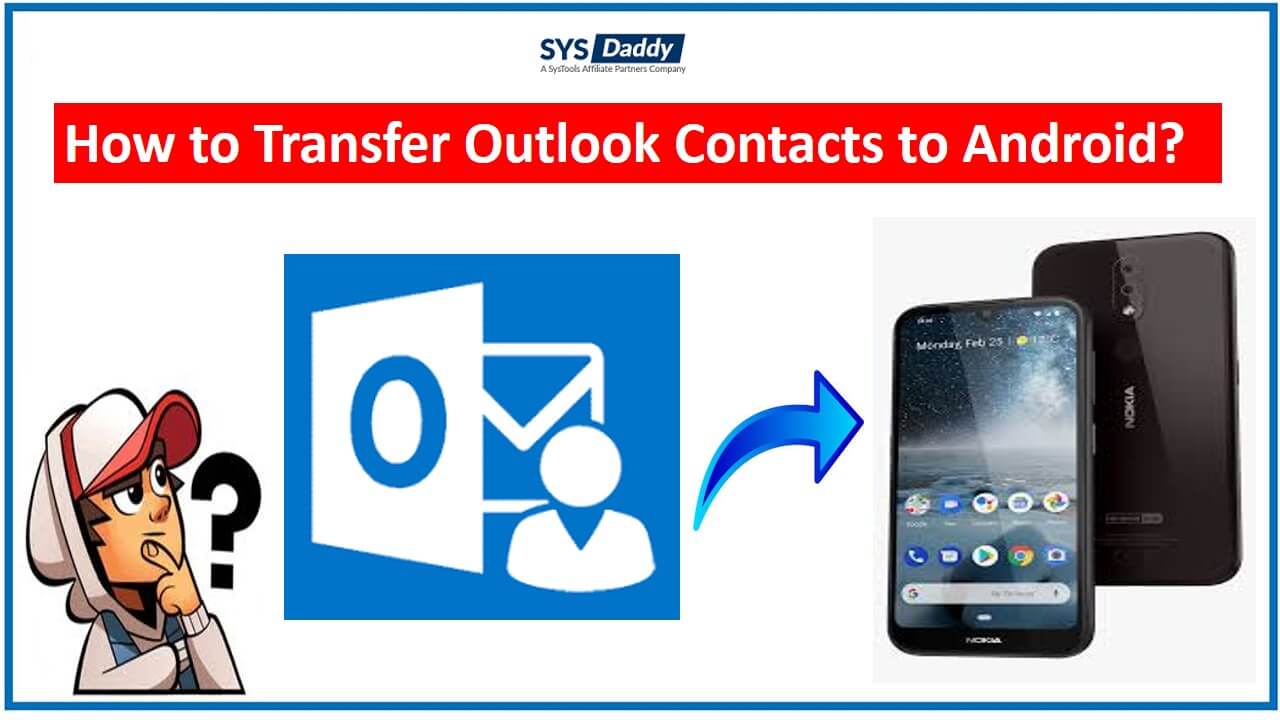 Are you wondering on how to access your Microsoft Outlook contacts in your Android smartphone? If yes, then, today, in this blog, we will discuss how to transfer Outlook contacts to Android Phone. Here, we will help you to with the possible ways to transfer contacts from Outlook to Google Pixel Phone. So, let's just skip to the procedure for this query.
Nowadays, contacts become an important part of our personal information. We all rely on them for our personal as well as business purposes. So, it is better to keep them safe.
As we all know, contacts play a crucial role in establishing communication. Therefore, for maintaining our data we use different email clients. Microsoft Outlook is one of them which is mostly used by email clients in the world. As this offers various features including storing and managing other important data apart form the contacts.
But, there are many circumstances where you need access to your Outlook contacts on your smartphones. So, that you can use them without Outlook and communicate with anyone at any time. By exporting contacts from Outlook to Samsung and other smartphones, you will be able to save your data in a safe place.
Methods to Transfer Outlook Contacts to Android Phone
There are two different ways through which you can move Outlook contacts to Google Pixel Phone and other android phones-
Method 1: Move Contacts from Outlook to Smartphone Manually
To perform this task manually, you need to follow three steps carefully as given below –
Step 1: Export Contacts from Outlook
First of all, start Outlook, then, click on File
Now, select Open & Export >> Import/Export option
In Import and Export section, just select Export a file and then hit on the Next button
Select CSV(Comma Separated Value) and click Next to proceed
Afterwards, under the personal folder choose Contacts and then tap on the Next tab
Then, mouse-click on the Browse tab, here, enter the name and location for the exported contacts
Eventually, tap on the Finish icon to complete the process.
Step 2: Import CSV Contacts File in Google Account
Now, once you have successfully extracted the entire contact list from Outlook. The next step is to shift them into your Google account –
First, log in to your Gmail account
Then, select the Mail option on the left-hand side of the screen
After selecting the Mail option, pick Contacts, the contacts list will be open
Now, pick More >> Import option
After that, click on Choose File option and select the Outlook Address book that you have exported in Step 1.
At last, mouse-click on the Import button to finalize this process.
Step 3. Sync your Android Phone
To complete the manual procedure, final step is to sync your Smartphone. So, to perform the syncing process, follow the steps –
First, go to App, here, choose Settings
In the Under Account click on Google
Lastly, choose your Google Account and tap on the Contacts to sync. You're done with the entire manual process.
Professionally Transfer Outlook Contacts to Android Phone
As you can see that the manual approach is a very long procedure to perform this transfer task. Additionally, if any of the steps turn wrong the whole contacts data will be corrupted or misplaced. Hence, to avoid all the mishappenings, an automated tool will help you to transfer contacts from Outlook to Samsung phones.
Move Outlook contacts to smartphone stress-free, you can make use of an automated solution. With this software, you can easily open, view, and batch transfer contacts from Outlook to Google Pixel and other devices. This independent program is SYSDaddy PST to VCF Converter Software.
This application is having a user-friendly interface that allows you to work in a flawless manner. Moreover, you can export only selective contacts according to your requirements. In addition, it maintains all the attributes related to contacts such as name, image, address, URL, contacts details, email address, etc. The software is also able to quickly export Outlook contacts to vCard Mac and Windows platforms.
For Windows
For Mac
Steps to Transfer Microsoft Outlook Contacts to Android
To use this professional approach, first of all download the software on your computer. Once you download it successfully, implement the guideline as given below –
First of all, tap on the Add File to add PST file

Then, Preview all the items and choose the required folders

Now, from the Export option, select vCard or CSV file format

After performing above steps, Browse and select the folder to save the resultant file

To finish the process, tap the Export button to begin the process.
Complete! These are the steps to transfer Outlook contacts to android phone. Now you can review the resultant file from the selected location. Once you have the VCF/CSV file you can import it into your android phone.
Main Features of Outlook Conversion tool
1. Compatibility: It supports both ANSI and UNICODE PST. It also supports PST files from almost all Outlook versions.
2. No Limitation: There is no limit regarding Outlook PST file size; you can convert large Outlook data files with no data loss.
3. Bulk Conversion: The software allows you to batch convert Outlook PST contacts without losing any information.
4. Convert Whole Information: It converts all the contacts information such as name, address, image, phone number, etc.
5. Windows Supportive: It supports all versions of Windows as well as the Mac Operating System.
Words in the End:
In this article, we have explained manual as well automated approached to transfer Outlook contacts to Android Phone. The manual method is quite lengthy, tedious and also very time consuming.
Whereas, the automated approach is simple and short even a non-technical person can also perform the task without any difficulty. But in the same manner, we need to have technical knowledge for the manual approach. So, it is recommended to use the professional software that allows you to easily transfer contacts from Microsoft Outlook to smartphones.