How to Join PST Files Together? Complete Guide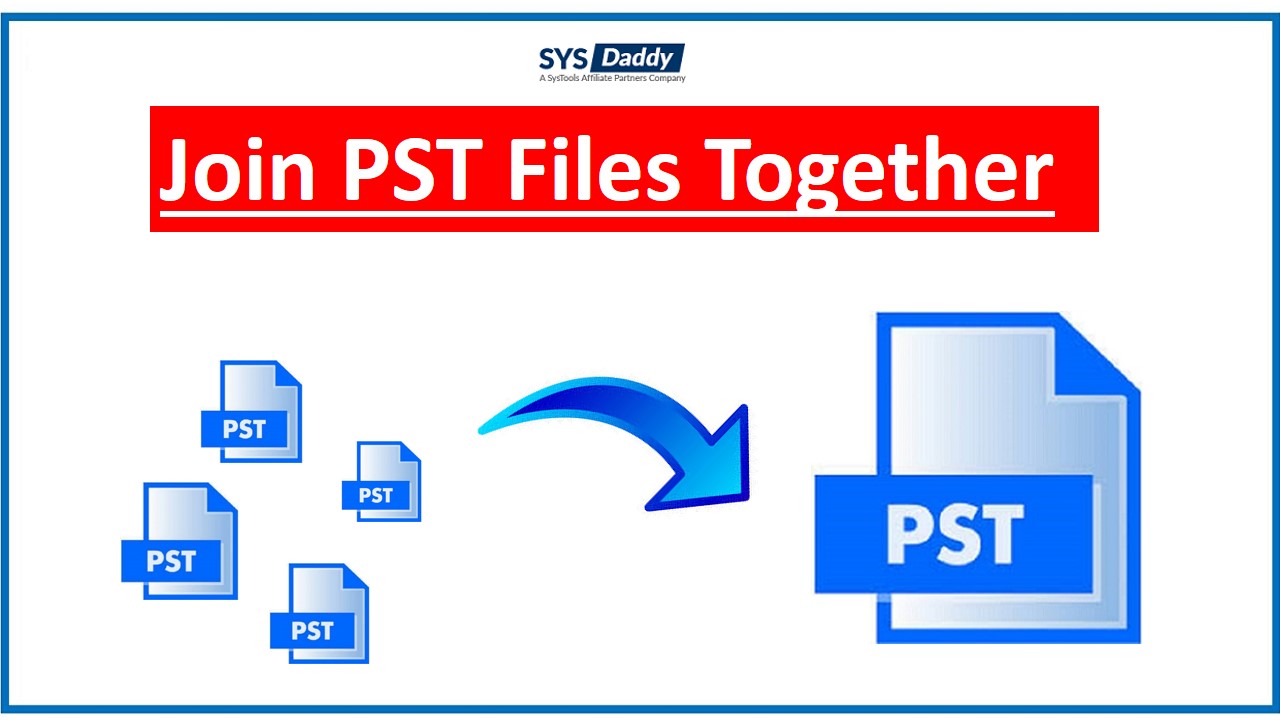 Are you searching for a way to join PST files together? If yes, then this blog will provide you the complete and successful method for the same.
There is no doubt that Outlook is the most popular email client that is used in many organizations and also for private purposes. However, Microsoft Outlook is useful for sending / receiving emails, saving contacts, managing calendar entries, taking notes and other work. It stores all data in the PST file format, but sometimes, problem occurs while storing the data.
Usually, this problem occurs when you are having many accounts and multiple PST files. As a result, handling them becomes a difficult task. For this reason, data corruption, accidental deletion and file size problems occurs.
Hence, to fix this problem, you will have to combine Outlook PST files into one file. So, to meet your needs, we have the most trusted solution here that allows you to join multiple PST files into one.
Why Need to Join PST Files Together?
Joining two or more Outlook PST files has several advantages. Some of the main reasons are:
Easy management of Outlook data files
Avoid data erasure and corruption problems
Increase free space by merging and deleting duplicate data
To speed up the search process and avoid hanging issue
Technique to Join Outlook PST Files in a Single Folder
There are two methods that helps you to join two PST files-
Both methods are useful to complete this task. The following section explains both solutions, and you can choose one that fits your needs perfectly. So let's start with the procedure.
Automatic Solution to Join PST Files into One Without Outlook
For a quick and reliable solution to join multiple PST files, you can use a reliable SYSDaddy PST File Merge Software. This will let you join two PST files with all items like emails, calendar data, notes, contacts, etc. This tool is available with its trial version, you can download the software from below.
The software delivers the exact result in just a few simple steps. It is easy to use and install successfully in Windows 11, 10, 8.1, 8, and other versions. The application is also compatible with Outlook 2021, 2019, 2016, 2013, 2010, etc. It has capability to join PST files with or without Outlook.
Quick Steps to Join PST Files Together in a Few Clicks
First of all, Download the utility on your computer.
Secondly, Select the Add File(s) or Add Folders to add PST files.
Next, select Join option and hit the Next button
Now, choose any Join in New PST, Existing PST or Outlook Profile options.
Finally, apply required filters and click on the Next to start joining PST files.
Join PST Files Together via Import Option
Outlook doesn't have a direct function to join two PST files, but we can use some indirect methods to do this activity. To do this, you need to create a new PST and then import data into a new file. To do so, follow the outlined steps below-
First of all, open Outlook and click on New Items >> More Items >> Outlook Data File
Then, mention the name and location for a new PST file
After this, click OK button and the PST file is created successfully
Now, go to the File menu
Select Open & Export option and then pick Import/Export. This will open Import and Export Wizard
Afterwards, select "Import from another program or file" and click the Next
In this steps, select the file type as "Outlook Data File (.pst)" option
Now, browse to the PST file you want to import and under Options check the required option
Then, select the folder to import from and click the "Import items into the same folder in" option
Lastly, click the Finish and you are done.
Points to Remember While Joining Multiple PST Files
The manual procedures above are approaching very slowly because you will have to repeat the import process for each PST file. This will take a long time. There is also a possibility that data may be corrupted or lost when importing files from one location to another.
Key Features of the Expert Software
The software offers large number of features that become useful for combining multiple PST files. Here is the list some highlighted features of this tool-
Ease of access with great functions
Virus, malware and ads free tool
Supports all types of PST, ANSI and UNICODE
Free Trial version available also
No file size, data loss and corruption issues
Join all or only selected folders as needed
Join two PST files with emails, contacts, etc.
Work with Outlook or without Outlook.
Author Suggestion
In order to increase the Microsoft Outlook speed and save space, data management is very important. You may have multiple PST files, which is not easy to use. In this blog, we have explained the manual and automated solution to join multiple PST files together. It is suggested to take the backup of PST file before proceeding with the manual approach as there is a risk of data being corrupted and misplaced. Now the choice is yours, choose one of the solution and join PST files together.