How Do I Transfer my MS Outlook Contacts to Yahoo Mail?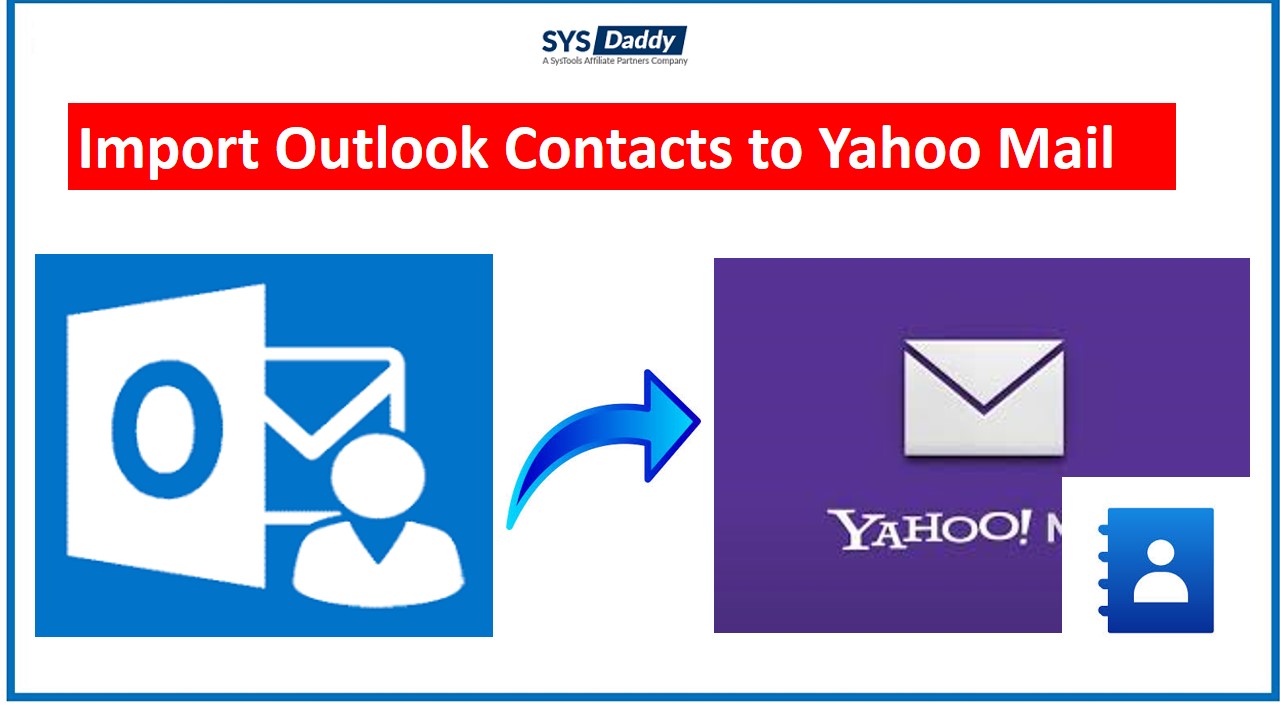 Summary: There are many users including you who want to import Outlook contacts to Yahoo mail. Though the process of importing Outlook contacts to Yahoo mail is easy. But, sometimes there could be a time when you don't want to go for a long procedure. So, to make it short and simple, you can go for a professional solution. Now, let's understand what are these short and long processes and their procedure.
But you may be like these users who have been facing the same issue.
Hey, I am Sam! I got assigned some official Yahoo credentials to store the contacts. Though I have been managing the contacts in MS Outlook. Being a desktop application, I cannot access it everywhere. So, I am planning to export Outlook contacts to Yahoo address book. Can anyone suggest me how to move contacts from Outlook to Yahoo Mail? If anyone knows the process, then please do let me know. It is urgent for me. Thanks!
Whatever the reasons behind doing this transition. You will get the answers to all questions.
Solutions to Import Outlook Contacts to Yahoo Mail
There are two best approaches that we are going to discuss here, these are –
Now, let us know the working procedure of each approach one by one in the next section.
Export Outlook Contacts to Yahoo Address Book With Outlook
This method will be helpful in importing Outlook contacts to Yahoo Mail when you have installed and configured your Outlook account properly. To do this, follow the step by step guidelines to access all the MS Outlook address books into your Yahoo account –
In the first step, open your Yahoo Mail account

Then, from the Yahoo window screen, just go to the Settings and tap on the More Settings with three dots icon

Now, a pop-up will appear on the left panel of your Yahoo account. Here, select the Contacts option among all

Afterwards, it will ask which email client you want to import your Address Book from
Here, select the MS Outlook application and hit on the Import process

Just after this, your Outlook account will be synced to your Yahoo Mail account automatically. In this way, you will be able to access your Outlook contacts list in your Yahoo address book

You're done with the process.
Note: But if you do not have the new Yahoo Mail account. Or you just have the PST file having a contact list of Outlook. Then, you can still import Outlook contacts to Yahoo mail. So, just go with the below way to do this process traditionally.
Importing Outlook Contacts to Yahoo Mail Without Outlook
Hi, I'm Vaibhav! I got the urgency to access my Outlook contacts in Yahoo Mail. Although I tried to find a way to do this but I got no proper solution. Please, anyone, help me and tell me how do I transfer Outlook contacts to Yahoo Mail? One more thing I would like to share that I have my contact list in a PST file. I do not have an Outlook configured account. Is there any way to do so?
If like this user, you are also using the old version of Yahoo, and do not have an Outlook application. Then, you must go for a professional and smart solution. As there is no direct way to import Outlook contacts to Yahoo Mail. Hence, in this situation, we recommend you to opt the SYSDaddy PST File Converter Software. By using this program, you will be to complete this process of contacts transition.
Moreover, it will be a smooth and simple way to perform this task. Along with this, if you're a Mac user then we got you covered. Because this tool is integrated with the top technologies. Which makes it available for both the Windows and Mac operating systems.
For Windows
For Mac
Now, let's dive into the procedure to use this program in the next section.
Instructions to Export Outlook Contacts to Yahoo Address Book
First of all, download the software on your computer, then, follow the steps to access the Outlook contacts on Yahoo –
Go to the Add File option and click it from the initial window screen of the software

Afterwards, choose the CSV option to import Outlook contacts to Yahoo Mail

Now, apply Advance Settings and Browse location for saving the contacts list file

Lastly, hit on the Export option to initiate the contacts transition process.
As a result, you have all your Outlook address books in a CSV file. Now, the next step is to import it into Yahoo. So, look at the next section of this article.
Import CSV File into Yahoo Mail Address Book
Firstly, login with your Yahoo Mail account and go to the Contacts option from the menu bar
Then, choose the Import From Another Account option and tap on the Import option
Now, browse your CSV file including Outlook contacts, and hit the Import option
Once it's done, you can see/access your MS Outlook contacts in your Yahoo Mail address book.
Conclusion
Today, in this article, we have described the most asked query how to import Outlook contacts to Yahoo Mail. Here, you get different methods when you have a traditional or new Yahoo account. Along with this, we have shared how can you export Outlook contacts to Yahoo Address Book without Outlook. So, just use the particular mentioned approach. The professional method will provide you your full data security. However, you will decide what method you want to go for. So, choose smartly.