How to Export Emails from Gmail to MSG Format With or Without Outlook?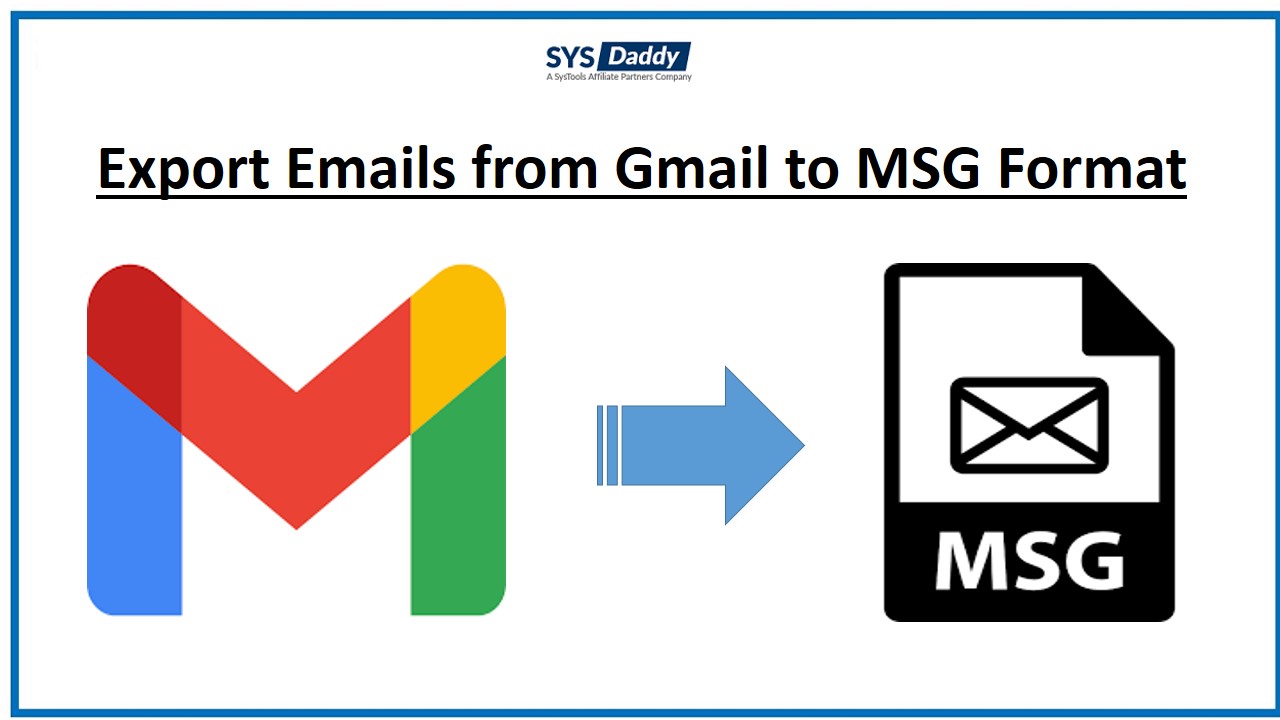 Do you want to export emails from Gmail to MSG format in batch without Outlook? Are you looking for the quickest and easiest solution to convert your entire Gmail mailbox to a .msg file? If yes, then you have stopped at the right page. Here you will get all your solutions to the queries.
Let's understand this with the help of the user query
Hey, I am jack. I have been using the Gmail account for a long time. As a result, I have tons of emails. Now, I need to export them into .msg in order to use them for different email clients. Is there any professional and direct solution to do so with Outlook? Please suggest me. Though all suggestions will be appreciable.
However, Gmail has a vast population of users because it's free to use, is available all time. Moreover, it provides a large amount of storage. Also, the perfect example is if you want to save the data on cloud technology.
But, sometimes, it is also prone to cyber-attacks, crashes. Or you may accidentally delete the important email that can be needed later.
So, in this case, the better option is to take the backup of the Gmail emails as MSG format. By exporting into .msg format you can save them on your desktop and use them once needed. Moreover, the MSG format is compatible with many email clients. So, you can import the file into any other email client as well.
Techniques to Convert Gmail Emails to MSG File
However, there is no manual way provided by Gmail itself. Because it only gives you the option to export emails in MBOX file format. This process can be done only by Google Takeover. And if you will start using this same process to export in MSG format then it will be a tiring process. But, don't worry here we have a direct solution that we will be going to introduce to you today.
So, without a delay. Let's move to the solutions in detail.
Export Emails from Gmail to MSG Format With Outlook
To use this method you must have the proper installation of the MS Outlook application on your system. After this, follow the below steps to export multiple Gmail emails to message format carefully-
A- Configure your Gmail Account in MS Outlook
Firstly, go to the File menu in the appeared Window
Secondly, select the Open/Export option then after choose Import/Export option from the given options
Now, doing this, enter your Gmail account details and configure it into Outlook.
B- Convert Gmail Email to MSG Format
After successful configuration of the Gmail account. You will see all the emails in the Outlook window
Now, select whatever email you want to export to MSG format
Simply, drag and drop the email on your any desired location on the system
By doing this, you will get a .msg file saved on your computer.
Note– Repeat the complete procedure for another email as well.
Drawbacks While Using Above Mentioned Method
The above method can be used to export emails from Gmail to MSG format but many of you may face problems while using it. Some of the major problems we are discussing below-
The first drawback of this method is that this is a very lengthy process. So, if you are in hurry you should not go for this one.
Another drawback is that it only exports one email at a time. You have to repeat the entire process again for each email. Which will eventually make you tired.
Even if you want to export the entire mailbox of Gmail then you can't process it. Because it doesn't allow you to do so.
On top of this, there should be the proper installation and configuration of MS Outlook on your system.
So, the question is what to do now? Such a headache no? Don't fret, we are here to help you out from this circumstance.
Export Emails from Gmail to MSG Format Without Outlook
You should not worry if the above method doesn't work properly. There is a direct method to save Gmail emails to MSG format. You should go for the SYSDaddy Gmail Account Backup Wizard for Windows & Mac to convert multiple emails from Gmail account to MSG file format. Moreover, this software is recommended by experts after testing it completely.
Note- This application is available for both Windows and Mac OS users. Also, it will be available for a lifetime. That means there is no time limit. It can be used without Outlook installation and configuration.
You can download the software from below and can use its demo version to know about this tool completely.
For Windows
For Mac
Guide to Convert Multiple Gmail Emails to MSG Format
You need to download the software on your desktop and run it. When you're done with it, then follow the below-outlined steps-
First of all, enter your Gmail account details to log in

Then, from the next window, select the MSG file format

Now, apply filters to export selective emails from Gmail mailbox

Lastly, browse the location to save the file. Then, hit the start button to initiate export emails from Gmail to MSG format process.
You're done with the complete process. Now you can save the MSG file on your system anywhere. And use it whenever it is needed.
As of now, you got to know about the steps to use this tool but let's discuss the key features of the application.
Enlightened Features of the Utility
This application is the most secure interface. Because it never saves your Gmail detail in its database. So, you should be tension-free.
Furthermore, it is easy to use and simple interface. Therefore, you can simply use it and export emails from Gmail to MSG format.
In addition to this, you can easily multiple export Gmail emails to .msg. There is no such limitation on exporting emails.
Moreover, while using this utility, you should not worry about the data hierarchy. Because this application will preserve all the hierarchy and email properties.
Also, you will be able to save the attachments of each Gmail email to .msg format on your desktop.
On top of that, you should not install and configure the MS Outlook because it is a stand-alone application. Hence, it can be used without Outlook installation on your desktop.
Conclusion
In the above tutorial, we have explained all the possible solutions on how to export emails from Gmail to MSG format with or without Outlook installation and configuration. So, if you are looking for a perfect solution, here you will get it. Though you can use the first method if you just need to export only a few Gmail emails.
But, if you have a large database to export then we would recommend you to go for the second method that is the SYSDaddy Software. It is the direct method that can easily convert multiple Gmail emails to MSG format without Outlook installation. Not only this, but you can download the demo version of the software and test it before any further decision.
FAQs
Q- I have a mailbox containing thousands of Gmail emails, I need to export them all. Is it possible to do so with the given software?
Yes, without a doubt, you can export the entire Gmail emails to your computer with the help of this software.
Q- Being a user of Windows 11, I need to export emails from Gmail to MSG format. Does this tool support Windows 11?
Yes, of course, this tool supports Windows 11 and all the below versions. Hence, you can convert export Gmail emails to MSG format.