How to Convert Hotmail Email to Outlook Account Instantly?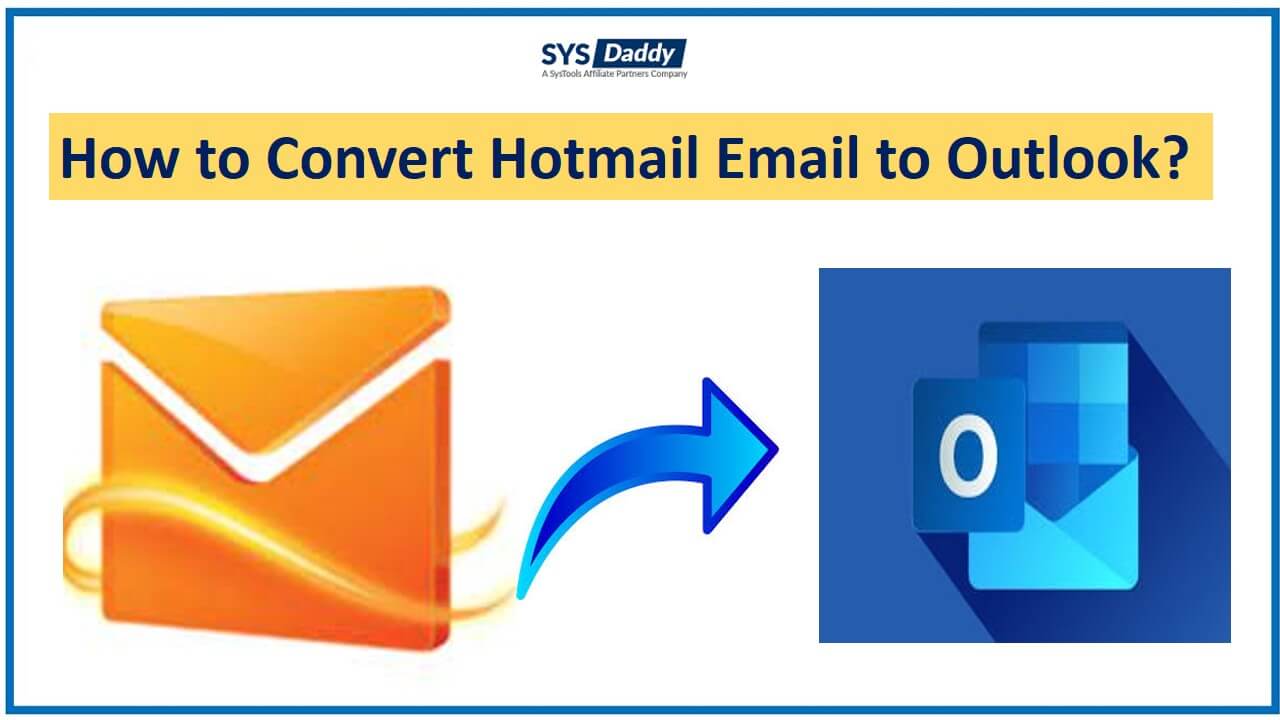 "Hi, my name is Jones. I was using Hotmail since 2015, but I find it outdated now because most of my clients are completely relying on Outlook desktop application for their email communication. I decided to convert Hotmail email to Outlook 2019 but it has become an issue for me. Please suggest me an easy and assured method. One more thing I am not an IT enthusiast so please don't suggest any technical method. Thanks"
Understanding the user's struggle who tries to cope with the technology, technical knowledge becomes a hurdle for them. So, if you are also facing the same issue and looking for a solution to fix this bug, then, read this blog. We will discuss multiple solutions here.
Best Way To Export Hotmail Emails to Outlook
You can download the SYSDaddy Hotmail Email Backup Software is a very popular and capable utility to convert all the Hotmail mailbox emails in a couple of minutes. Moreover, this tool has a very easy-to-use UI, so that anyone can easily backup Hotmail emails with the help of this tool. Besides, let us see the working steps of this software.
For Windows
For Mac
Steps to Convert Emails from Hotmail to Outlook
Firstly, run the Utility and login to the Hotmail account
Now, select PST format as a saving file format
After this, Browse location in the device to save the output files
Finally, press the Start button to begin the Hotmail conversion process.
This application will do the conversion process in the selective approach. Now, you can import the resultant PST file to Outlook with the help of the Outlook Import/Export wizard.
Convert Hotmail Email to Outlook Manually
There are various manual approaches to accomplish this task. We have taken three methods that are verified to provide the expected results. Each method is described with all steps below-
Technique 1: Hotmail Outlook Server SMTP/POP3 Configuration
Go to the File tab and click Add Account
Choose Additional Server Types or Manual Setup > Next
Select POP or IMAP Account Settings and click the Next button
Fill in all the required details and click on the More Settings option
Go to Internet E-mail Setting, and select Outgoing Server > then check My outgoing server (SMTP) require authentication > Choose to Use Same Settings as my incoming mail server and proceed to the Advanced tab
Enter Incoming and SMTP port numbers. Tick the checkbox for SSL encryption below POP3 and choose TLS encryption for SMTP. Click on OK to convert Hotmail email to Outlook
After the entire configuration, click on the Next button
You would see all the tasks and their status. Click on the Close tab
To successfully complete the setup, click on the Finish button. After it, the conversion process will be initiated.
Now, let's move to another approach to resolve this query.
Technique 2: Configure Both Account Through IMAP
Before anything else, Open Outlook and go to File then Add account
Secondly, go to Manual Setup or Additional Server on the Next tab
Now, click on the POP or IMAP button and then click on Next
After this, Enter the details of the user to log in
In this step, go to More Settings. In the option of Internet E-mail Settings, choose the Outgoing Server button > My outgoing server (SMTP) require authentication > Advanced Tab to continue
Next, you need to type the below-mentioned details
To return to the POP & IMAP Account Settings window, press on OK > Next button
Lastly, click on the Close button to finish. Now, the tool will convert Hotmail email to Outlook.
This finishes the second method of Hotmail to Outlook email conversion. Now, let us check out the third manual method.
Technique 3: Conversion by EAS (Exchange ActiveSync Server)
Initially, open MS Outlook application the go to File and then Add Account.
Now, go for Manual setup or Additional server and click on the Next button.
After doing the above step, press the Next tab to further proceeding
In the Server Settings, enter the account details
Now, click on the Next button and then Close
To finalize the process, click on the Finish tab
So, this finishes off the third technique to convert Hotmail emails to Outlook.
As you can see, manual strategies are technically very hard. Any mistake will make you start the process from the very beginning. This can make the process tedious.
So, in order to overcome these issues, we recommend using an efficient approach to export Hotmail emails to Outlook.
Author Suggestion
In this blog, we have proposed various methods to convert Hotmail email to Outlook. Here, we have talked about manual as well as an automated methods. However, the manual method is very technical process and also if you miss any step you may face data loss issues. Moreover, if you do not have enough technical knowledge then we would not recommend you to use manual method.
Therefore, the best method to for this conversion is using the automated solution i.e. mentioned above by using the SYSDaddy Tool. Additionally, the tool supports multiple advanced features. Using this tool, you can also print Outlook emails to PDF without header. So, make sure you go with the best approach that completes your task in a simple manner and no data is at risk. It also works with Outlook 2019, 2016, 2013.