How to Convert Hotmail Emails to MSG File Without Outlook?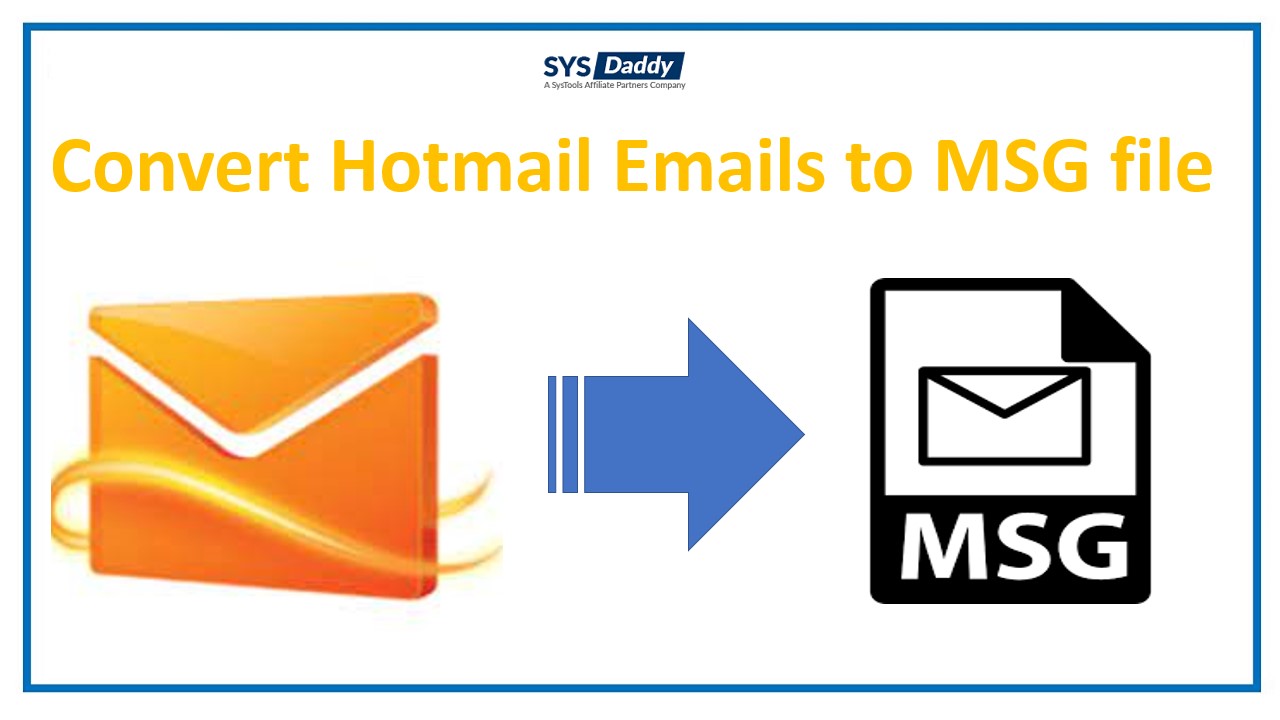 Summary: Are you looking for a solution to convert Hotmail emails to MSG file format with attachments? Have you done many researches to come out this problem but didn't find any? Don't panic. We have got your back. You should go with SYSDaddy Hotmail Email Backup Wizard for quick and reliable solution.
To know more about this solution in detail, give a complete reading to this tutorial till the end.
Why It is Needed to Export Emails from Hotmail to MSG?
Because of the regular updates of the Hotmail email client which is now known as Outlook application. People started exporting Hotmail to any other email client. So, the Microsoft won't lose any Hotmail user's data on its end. But, because of the continuously hacking attacks, the Hotmail data is not free from data loss issues and virus attacks.
To get rid of this, you will need to convert Hotmail emails to MSG format, which contains a single
Outlook message.
By converting emails form Hotmail to MSG file format, you will be able to use and access those
files in your Microsoft Outlook account whenever you needed.
Though emails are securely housed, and for the most part in Hotmail they are easily accessed through any web browser or email client. But, what if you want to convert Hotmail emails to MSG format with all related and attachments? Or what if you want to share the email in a message to someone.
For this situation, perhaps you'd like a copy of an email stored on your computer in message format
for easy and convenient access at any time.
To do so, you may start finding the perfect and easy solution which can help you out from this situation.
So, to make you stress free, here we will be discussing the best approach to export emails from Hotmail to MSG.
Read More to Learn:
One Stop Solution to Convert Hotmail Emails to MSG Format
However, there is no manual method to convert emails from Hotmail to MSG file format. Therefore, we have come up with an automated solution that you can use to overcome this problem in a quick and easy way.
Hence, the most trust-worthy solution is SYSDaddy Software. It is the most convenient method to complete this task over others. Not only this but your no data will be altered and modified during the conversion process. So, what are you waiting for? Try this out.
So, to perform the Hotmail emails conversion, download the software from below and know the usage of it.
For Windows
For Mac
Steps to Convert Emails from Hotmail to MSG With Attachments
To know about the working of the tool, download the utility on your system and follow the below
steps-
First of all, enter Hotmail user ID and Password to login into the Wizard

Then after, select MSG file format from the given options by clicking on backup option

Following this by applying filters for converting specific files

Lastly, choose the destination to save the backup file and hit the Start button to start the conversion process.
Benefits of the Hotmail Archive Utility
However, you will get multiple benefits while using this software, but, here we are sharing only a few. These are-
Supports Multiple File Formats– Through this tool, you are allowed to convert Hotmail emails to multiple file formats. This is a complete package of all migrating mails from Hotmail like into PST, EML, PDF, and more.
Can Migrate Specific Emails – Furthermore, you will be provided with an in-built option to migrate selective emails. For this, you can choose the Date Filter option and convert whatever emails you want into MSG format.
Fully Data Security– Moreover, being a fully well-designed utility, your data will be fully secure and safe from viruses and other malicious attacks.
Support and Compatibility– Apart from this, this tool to convert Hotmail emails to MSG can be used in all versions of the Windows operating system. You can easily access and run this software into Windows 11 and all other earlier versions of the software.
Simple User Interface– In addition, this program is perfect designed for all types of users. No matter you are a professional technician or not. You will be able to use this tool without any skilled knowledge. Therefore, it becomes the best and standalone application among all other applications.
Preserves Data Hierarchy- We know your data is precious for you and you will be worried about if you convert it you may face some changes in your data. Hence, the software will keep the on-disk hierarchy even after the conversion and keep all the emails in the same format as they were before.
Conclusion
In this article, we have provided you with the ultimate solution to convert Hotmail emails to MSG file format in an easy way. Hence, you can use the proposed application to transfer emails from Hotmail to MSG file without losing any crucial information.
Also, you can use the free demo version of this software for up to 25 trials to complete the conversion process. We hope this tutorial can be a great help to you. So, choose wisely.
Frequently Asked Questions By Users
Q- I want to convert Hotmail emails to MSG but I do not have Microsoft Outlook, So will I be able to use this software?
Of course, yes, there is no need for MS Outlook to use this software. This is the stand-alone software that can help you in your Hotmail emails conversion easily. Just follow the above-mentioned steps and you are good to go.
Q- Does this tool work on Windows 11 PC?
Certainly yes, this tool is compatible with all the latest versions of the Windows along with Windows 11.
Q- I am having more than 10000 Hotmail emails, can I batch convert Hotmail emails to MSG format?
Yes, without a doubt, with this super amazing software, you can convert thousands of Hotmail emails along with attachments.
Q- After the conversion process, I need a report of the process to submit to the office. Is there any option available in this tool?
Yes, of course, in this tool, you will get a complete log report once the backup process of the Hotmail emails gets completed.