How to Archive all Hotmail Emails to Computer Instantly?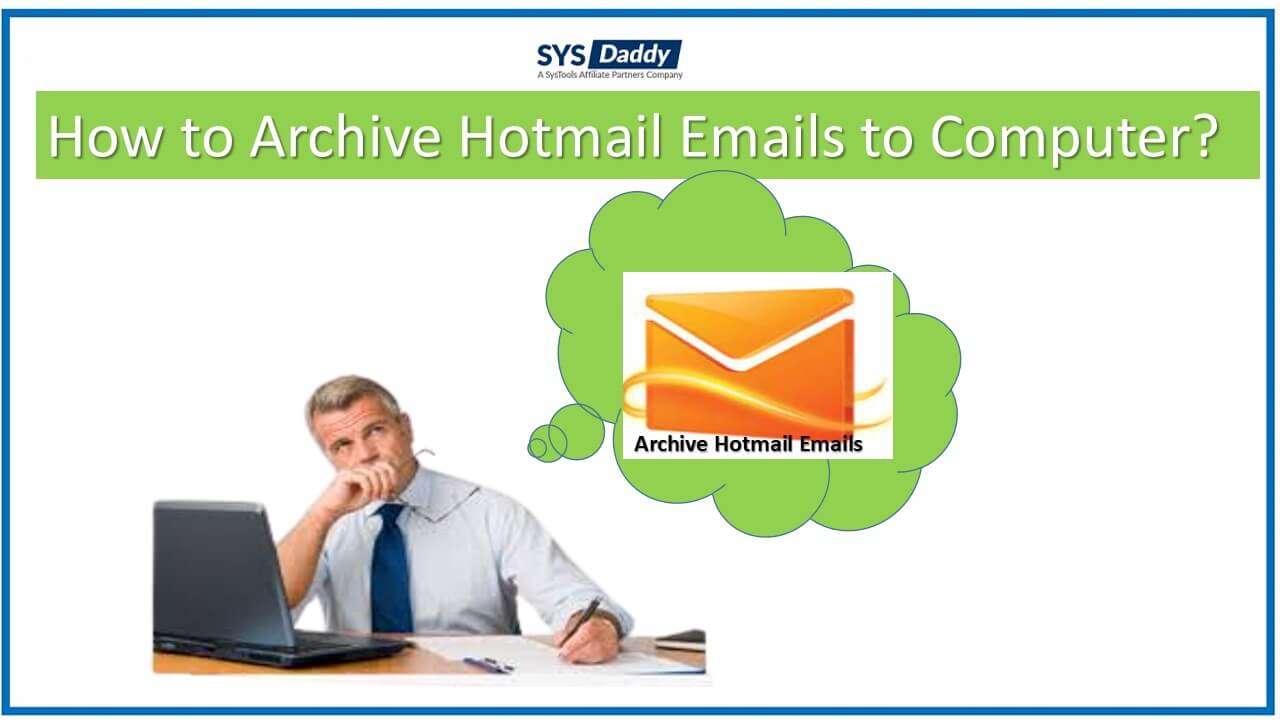 Summary: Are you looking around to find out the solution on how to archive Hotmail inbox? Do you want to archive Hotmail emails to computer with no data loss? Have you heard anything to archive Hotmail emails messages locally? If you want to know all the answers about it, then we must say you need to spend your little time here.
Though only storing the email folders are not sufficient when it comes to the protection of data. To make that easy, or for any future uncertainties, it is better to have an archiving copy of all Outlook.com (formerly known as Hotmail) accounts. Thus, here, in this article, we will be bringing an accurate solution to do so.
Whatever your reason is to keep your Hotmail data safe, either it is to protect yourself from hacking. Or to any virus attacks. Or from any kind of corruption of any folder. The decision of archiving the old emails of the Hotmail account is really commendable. Because having a copy of the important emails from your Hotmail account to your computer is the best thing to practice. In addition, it ensures all the email messages availability at the time of need.
So, to understand in detail just go through this article till the end to find out can you archive Hotmail email folder to your computer.
Solutions to Archive Hotmail Emails to Computer
Though there are two strategies available if you are planning for archiving all email messages from Hotmail account to your computer on Windows and Mac OS –
Let's just understand both the methods in a precise manner one by one.
Manually Archive Messages From Hotmail on Windows & Mac
However, there is no direct option provided by Microsoft to archive Hotmail emails to computer. But, a certain stepwise method can be helpful for you all for archiving the webmail messages locally. So, follow this free solution as defined below:
First of all, login into your Hotmail account by going to https://outlook.live.com/owa/
After this, open an email that you wish to create an archive of
Then, under the message's header area, just look around the down arrow next to the Reply option
Now, just pick the View message source option
After doing the above task, a source code of the message will pop up, then, just implement the following guidelines:
For Windows OS: Press the Ctrl+A keys to select all the messages and press Ctrl+C to copy them exactly
For Mac OS: Press the Command +A keys, followed by Command+C keys to select and copy the exact data on your Mac operating machine.
Bulk Archive Hotmail Emails to Computer Automatically
However, the above-stated method can only be used for archiving the email from a single account at one time. But, what if you need to archive multiple emails from multiple accounts? Worried about how to archive Hotmail inbox? No worries, here we have brought up a perfect solution to resolve all your queries for both Windows and Mac computers.
The top most and trusted solution is SYSDaddy Hotmail Backup Wizard. This technically tested program will help you to convert Hotmail emails to Outlook. So, whatever folder you want to have as a backup to your computer, you can have it with this one and only program. It not only creates an archive folder for new emails but all the old emails of Hotmail account can be archived easily and can be exported from Hotmail account to MSG format.
Moreover, if you are using Mac operating machine for the completion of this task. Then, for your information, here is a good news. This automated software is not only compatible with Mac OS but all the versions of the Windows operating system. So, use the particular version of the application according to your OS.
If you want to access all Hotmail emails into Thunderbird then it is capable to convert emails from Hotmail to MBOX format. After doing it, you can access this file format in any email client of your choice.
Along with it, this tool comes with a free demo version that you can try before going further to the license version.
For Windows
For Mac
Few Amazing Pinpoints of the Utility
However, this above-mentioned automated tool comes with numerous amazing features. But, here, we are sharing a few pinpoints to archive Hotmail emails to computer –
This software is capable enough to archive Hotmail email messages to computer with filters. This means you can archive any number of messages from any date to any time.
Moreover, it will never hamper your data integrity. So, your all Hotmail folder hierarchy will be saved as it was before the task.
On top of these, this amazing utility is compatible with Windows and Mac computers. So, anyone of you whether Windows user or Mac user can operate this accordingly.
Along with these, you will be able to archive multiple Hotmail email messages from single or multiple Hotmail accounts.
In addition, if you want to archive your Hotmail contacts or calendars to the computer. Then, it is also possible with this program, it will easily archive all emails, contacts, calendars into their respective format.
Also, if in between the process you feel to stop this task, or unfortunately it happens then the software will restart the process from where you left.
How Do I Archive Hotmail Emails Instantly on Windows Computer?
If you are wondering that can you archive Hotmail emails professionally with some automated method? Then, download the software from above for Windows and follow the steps to implement –
First of all, just put your Hotmail email credentials and click on the Login button
Then, from the current window choose any file format from the Select Export Format option of Hotmail
After this, tap the Browse option and choose the destination path to keep the Hotmail archive email messages safe
Finally, hit the Start button to archive Hotmail emails to computer instantly and safely.
Steps to Archive Inbox Folder From Hotmail Account On Mac?
To use the software on Mac OS, download its Mac version. After that, follow the below guidelines to archive Hotmail emails to computer –
In the first step, login with your Hotmail credentials

In the second step, select the category and choose the option from Select Export Format

Now, apply Advance Filters as given in the software panel to proceed

Finally, hit the Start Backup to begin the process of archiving all Hotmail inboxes at once.
So, that's it. These were the simple and quick steps that you need to implement on Windows and Mac OS.
Conclusion
We all know none of us wants to lose any bit of our data. Especially when it comes to emails because losing them can cause such a blunder. So, to protect ourselves and our data, it is better to archive them on the computer. Hence, today, we have mentioned about the same query. Here, you got solutions to archive Hotmail emails to computer. To help you all Hotmail users, we have mentioned two strategies here. Although the manual procedure cannot be trusted when it comes to the security of the data. Also, it can only archive a single email message from the Hotmail account to your computer. Therefore, we would suggest you to use the SYSDaddy Solution to make your Hotmail email messages clutter-free on Windows and Mac OS instantly.