How to Save Contacts From Excel to Microsoft Outlook?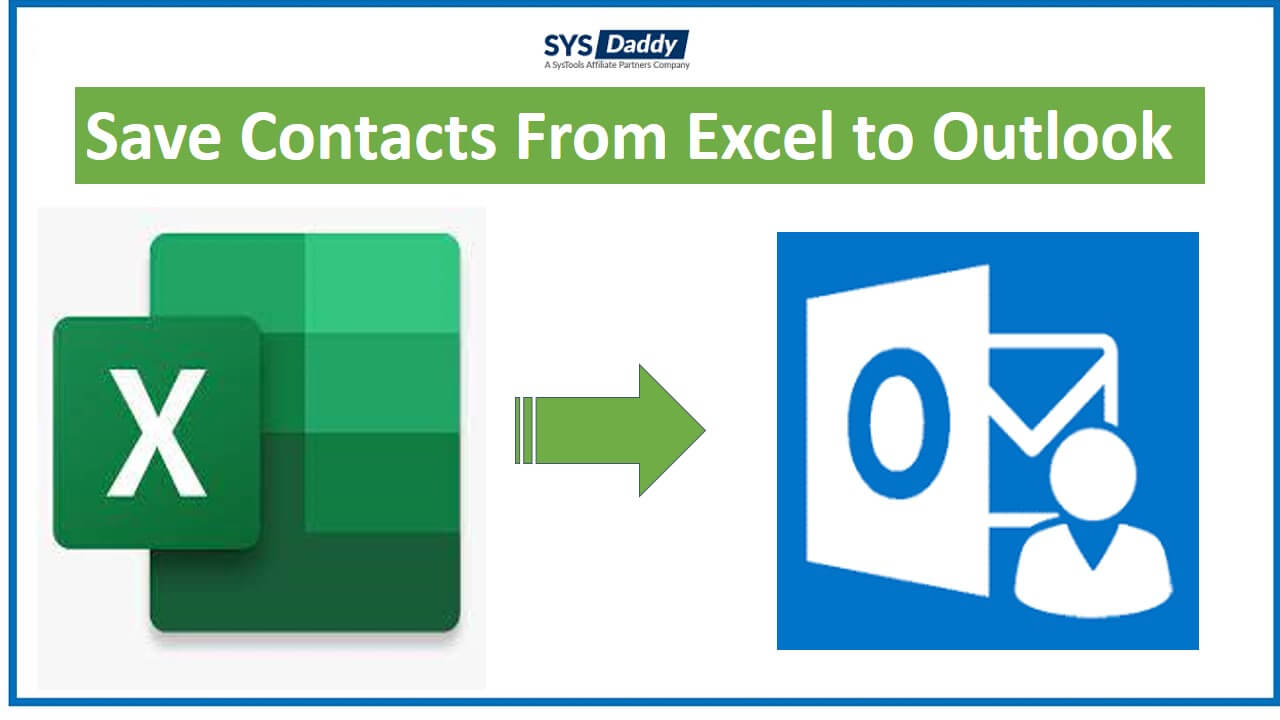 This article will show you how to save contacts from excel to Outlook. Through this article, you will know the 2 simple methods to get your work done. So, read the entire blog and get rid of this situation.
Users Queries
Hi, I am having issues to import Excel contacts to Outlook. As I have stored my contacts in my Excel spreadsheet, but because of the need. Now, I need to use them to send emails to few clients. So, for the same, I have tried many times. But got no perfect solution. Can anyone help me how to transfer contacts from Excel to Outlook.
Just like them, there might be many users who are searching for a solution to resolve it. Hence, we have come up with different methods to help you out.
Causes Behind to Save Contacts from Excel to Outlook
However, the primary reason behind saving Excel contacts is that MS Outlook is a widely used email client. So, it provides more additional features to enhance the productivity and collaboration of your work. Whereas Excel is a convenient place where you store the contacts.
Also, in Excel file you can easily manage your data using different ways like;
Merging several files
Delete duplicates file
Update multiple fields at the same time
Capable to combine multiple contacts
Authorize you to apply several formulas and sorting options
All the features that were provided by MS excel but the major disadvantage and the reasons why the user wants to save contacts from excel to Outlook is that MS Excel doesn't provide any direct option to share the contacts or you are not able to access it remotely without using any additional tool. That's why users choose MS Outlook to minimize these limitations.
Methods to Import Contacts from Excel to Outlook
For this query, there are two top methods that you can go for. These methods are-
Now, let's get dive more deep into both the methods to save contacts from Excel to Outlook
Export Excel Spreadsheet Contacts to Outlook Manually
In this method, we will tell you how you can import Excel contacts to Outlook. So, to execute this task you need to save the MS Excel spreadsheet contacts into CSV format. Then, you can easily import that CSV file into MS Outlook.
First of all, open MS Excel and browse your contacts file
Now, navigate to the File menu then hit the Save As an option
After this, Browse the destination folder for the resultant file
Now, from Save as type: choose CSV file format
Then, you will see a message on your display screen accept them accordingly
Finally, click on the Yes button to initiate the process.
Once the process is completed navigate to the destination folder and access the CSV file and follow the upcoming section to import that CSV file into Windows Outlook.
Import CSV File to Microsoft Outlook
Initially, open MS Outlook then go to the Open & Export button
Then, hit the Import/Export wizard
Now, select Import from Another Program or file
Click on Comma Separated Values option
Afterwards, Browse the destination folder for the resultant file
Now, you will see your CSV file select that, and finally hit the Finish button.
Wait for a while once the software finished the importing process. Open MS Outlook and access the imported contacts from Office 365. This is how you can save contacts from Excel to Outlook.
Save Contacts from Excel to Outlook Using Expert Solution
But, the above process has some limitations like it does not convert multiple spreadsheet contacts into a CSV file. The manual methods lack to maintain the data consistency and you need to follow every step in a proper manner. As a result, there is a high risk of data corruption and data loss.
Therefore, here, we will recommend you to go for the expert solution. The most reliable and professionally tested solution is SYSDaddy Excel to vCard Converter Tool. Try this program and get rid of this issue. Through this, you can easily use Excel spreadsheet contacts in Outlook profile. Because of its easy user interface you can operate this in a trouble-free manner.
Moreover, it comes with the free demo version. So, download it from below and use it's trial version-
Guidelines to Import Contacts from Excel to Outlook
Download and Install the tool on your personal computer. Then, follow the steps to export Excel Spreadsheet contacts in Outlook-
Add MS Excel file using the Browse button to the software

Afterward, Preview the Excel Spreadsheet contacts before conversion

Now, Map the attributes accordingly

Now, hit the Convert button to start the export Excel contacts to Outlook process.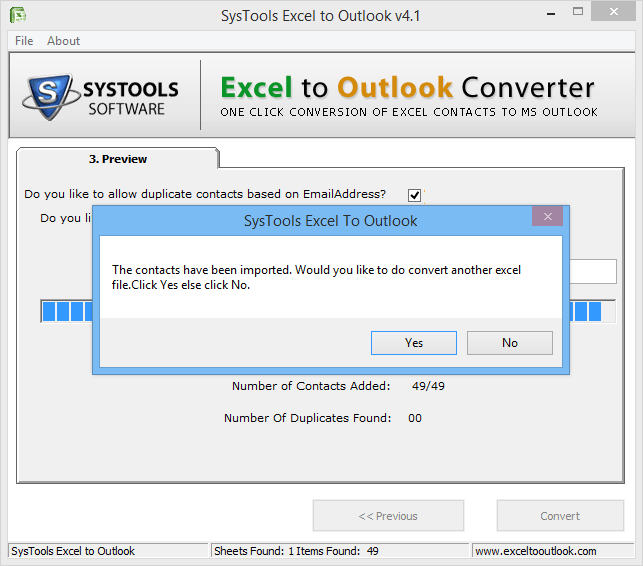 Once the process is completed, the software automatically imports the Excel Spreadsheet contacts into MS Outlook in a trouble-free manner.
Summering Up
Several people searching for a method to save contacts from excel to Outlook. Therefore, in this article, we have described both manual and automated methods. Here, we have also discussed the ways to overcome the limitations of the Manual method with the help of this SYSDaddy Tool.
Moreover, the software has many additional features that support the bulk conversion. Likewise, it assist you in many ways. Also, you can also download the demo version of the tool from the site for free. But, the final choice is yours. So, choose the appropriate method as per your convenience.