How to Retrieve Deleted Outlook Contact Group?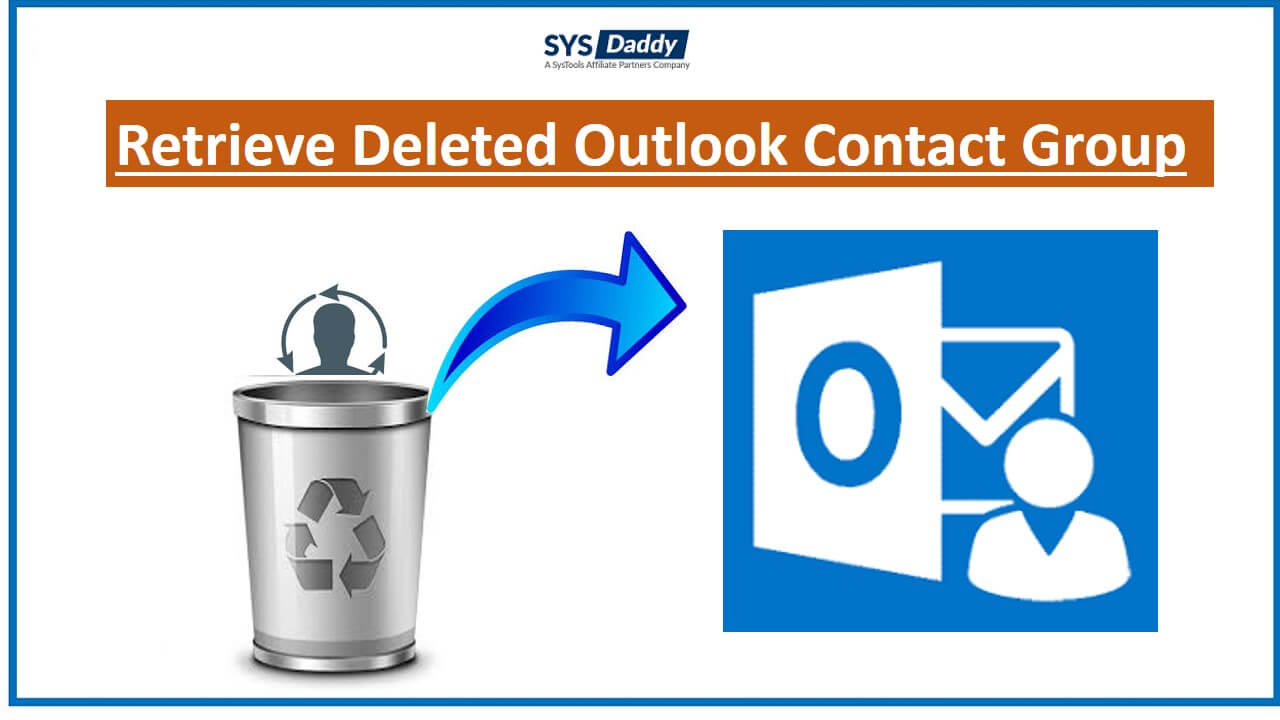 Summary: Did your contacts list in Outlook has deleted? Are you hunting a solution on how to retrieve deleted Outlook contact group easily? If you are one of them, then, this tutorial is for you. Because, here, we will be discussing all the possible solutions for said query.
Just like your mobile contacts, Microsoft Outlook makes contacts. So that you can easily send emails to anyone in your contact list. Additionally, you can create a Contact Group out of your Contacts List in Outlook. This is called the distribution list that gets stored in the Contacts folder. But, due to malware attack, or some other factor, you may lose this contact group list. Don't worry, you will get all solutions.
How to Retrieve Deleted Outlook Contacts Group?
To fix this bug, there are basically two top useful methods, that you can choose-
But, in case, if you have already tried all the manual ways and failed, then, you can download the SYSDaddy Outlook Deleted Items Recovery Software to retrieve deleted items in Microsoft Outlook contacts.
Manual Methods for Retrieving Deleted Contacts from Outlook
Losing contacts from your email client can be mind-boggling. As it might contain business contacts, clients' email ids, or your friends' contacts. It's very important that you take suitable measures that carefully receive lost contacts and not further complicate it. Because sometimes PST files get highly damaged that is beyond repair.
Here we are going to discuss the two manual methods. Follow the below guidelines to retrieve the deleted contact group in Outlook account.
Retrieve Deleted Contact Group from Deleted Items Folder
All the soft-deleted items in outlook move to the 'Deleted Items' / Trash folder. So, you should first check these folders for the deleted contact group. Below are the steps to retrieve a distribution list from the Outlook 'Deleted Items' folder:
Firstly, start the Microsoft Outlook application and navigate to the email folders list. Choose 'Deleted Items' Folder
In the case of Deleted Items folder is flooded with numerous Outlook contact items. Then, you should find your desired contacts by typing its name in the Search Deleted Items box
After that, choose the desired contact group and click Move option and Other Folder
Finally, move items panel will pop up and click on the Contacts folder and click OK
As a result, the distribution list / Outlook contact group will get restored to the My Contacts folder.
Retrieve Outlook Deleted Contact List From Server
If you accidentally delete the 'Deleted Item' folder. Or it you pressed the "Shift + Delete" by which it got deleted permanently. But, if you have an Exchange Server connection to your account, you can still retrieve your Outlook contacts. However, there is a condition if your deleted item has not exceeded the retention period.
Admin can set the retention of deleted items up to 30 days or less. Meanwhile, after the retention period, you cannot retrieve deleted contacts from the exchange server. But, if you haven't exceeded the retention days of your server, then, follow these below steps to retrieve the deleted contact group:
First of all, launch the Outlook program and go to the email folder list
Secondly, select the Deleted Items option
Also, make sure the 'Home' option is selected and click on Retrieve Deleted Contacts from Server.
Note: If you don't have an Exchange server connection then, the stated option will disable in your account.
After that, select all the deleted contact group /distribution list that you want to retrieve and click on the Restore Selected Items. Now, click OK
Once your desired deleted Outlook contact group retrieved from the folder, it will move to the 'Deleted Items' folder. Then, from there you can easily retrieve it back. (see manual method 1).
Alternative Solution using Professional Software
If the above methods do not work out for your situation, it means your Outlook contact group has been permanently removed. This is a case of hard deletion. Therefore, only a professional automated tool can retrieve deleted Outlook contact group.
One such tool is SYSDaddy Outlook Deleted Items Recovery tool. The most unique thing about this software is that it has a RAW scanning feature. It will scan your Outlook files bit-by-bit. In this way, you will get complete properly scanning of permanently deleted Outlook contacts in 2019, 2016, 2013 and other versions.
Highlighted Features of the Utility
It will retrieve permanently / hard deleted Outlook items – Emails, Contacts, Distribution List, Calendar items, and more.
Moreover, it will retrieve both the Outlook system folder and user-generated Outlook folders.
Also, this tool is capable to retrieve deleted Outlook group items from different file formats.
On top of this, this tool can export items to a healthy file. Then, there are multiple file format options to export.
Apart from this, you can also migrate your Outlook contact group to Office 360 Outlook account.
In addition to this, it gives you an option for selectively exporting Outlook contact group.
If you want to retrieve contacts in Outlook along with attachments, then this application is best do so.
Steps to Retrieve Deleted Outlook Contact Group Instantly
Download the software on your system and follow the steps to retrieve the Outlook contacts that have been deleted-
In the first step, click on the Add File to add Outlook deleted contact list

After this, Preview the retrieved Outlook contact group. Select PST file option

Then, click on the Browse button to save the resultant file at any location

Finally, mouse-click on the Export button to initiate the process.
Note: After doing this task, you can import the PST file in the Outlook application. After importing, you will be able to access all the contact contact group.
Conclusion
In this tutorial, we have shared the needed solutions on how to retrieve deleted outlook contact group. Now, you can easily retrieve deleted Outlook contact distribution list. All you have to perform the mentioned steps according to the methods. If the manual methods fail, then, you must go for professional automated Utility as mentioned above.
However, there are other tools as well in the market. But, only the above software provides Raw scanning features. Moreover, it promise 100% accuracy of your data. Hence, there will be no chance of data loss. Also, it works on Outlook 2019, 2016, 2013 and all earlier versions. Though the final choice is yours, so, choose wisely.