How to Repair Corrupted Address Book in Outlook 2019, 2016, 2013?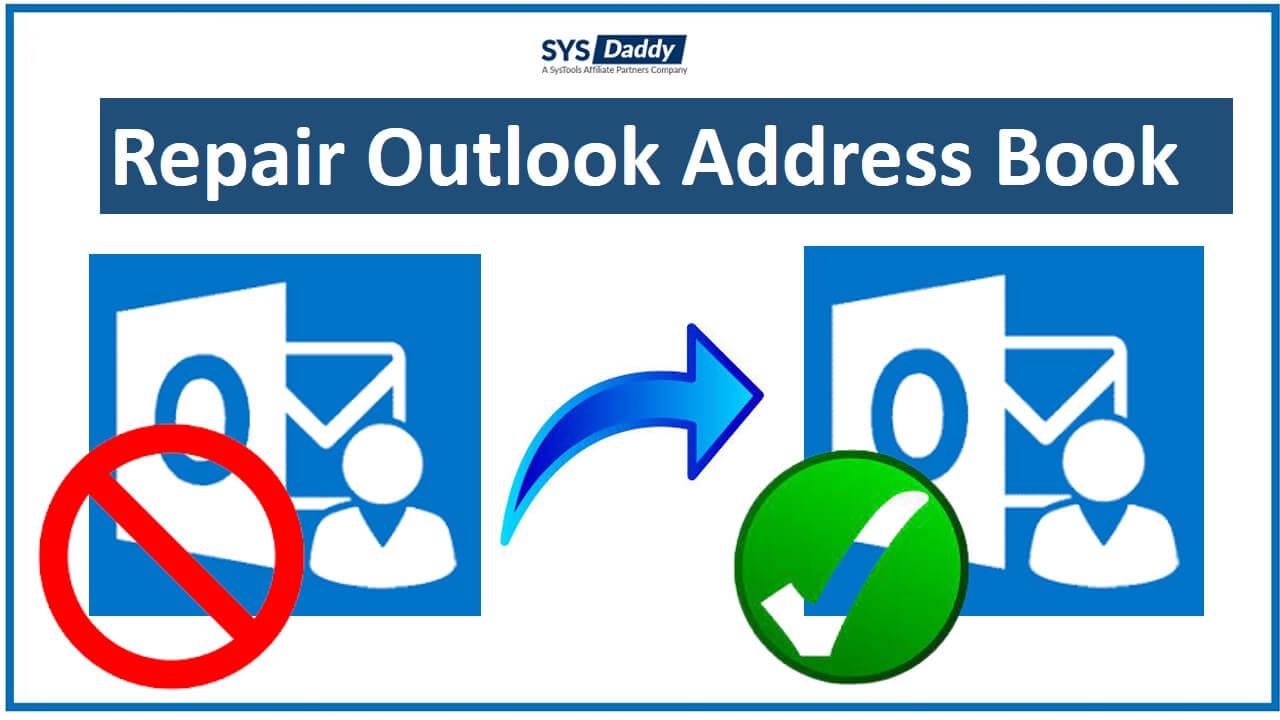 User Query
Hi, I am Jeremy. Due to the new update of Windows 11. I have switched from Windows 10 to Windows 11 lately. However, everything was working smoothly at first. I have been working on Outlook lately. Though I was using the emails but when I tried to send some contacts from Outlook Address Book. I found errors. Either they got corrupted or damaged. Now, I am worried about what to do now. Can anyone out there help me to repair outlook Address book?
We know just like this user, many of you may be having errors. So, that's why we have come up with great tactics to work.
MS Outlook is just an application, so it's obvious if it occurs errors. But, there is a saying "Every Problem has a Solution" and "Modern Problems needs Modern Solutions". Therefore, here, we will be going to introduce you to the advanced solutions to overcome such situations.
So, without wasting a minute let's just get started.
But, but, but, do you know why this error occurs? Or what are the reasons behind the corrupted or damaged Outlook address book? NO? Not to worry, we will share the causes with you which eventually results to this error.
Why Outlook Contacts Get Damaged?
However, there are numerous reasons which cause corruption and damage the Outlook address book. A few of the causes we are sharing here which makes the Outlook contact list inaccessible-
If there are any sync issues while connecting the server and the offline Outlook application. It becomes the reason which causes the current Outlook address book error.
There is an AutoComplete list which is really useful for the Address book in Outlook. But, in case, if it gets corrupted or damaged with different Outlook modules. Then, it starts occurring errors.
Also, it might be possible that your Outlook PST file can get corrupted. So, if it happens, it can lead the Outlook not to show the contacts list.
Likewise, the wrong configuration of the Outlook user profile can be the other reason. If it happens, Outlook could not perform the operations which also stop displaying the Address Book.
Tactics to Repair Outlook Address Book on Windows 11, 10, 8
There are basically two top methods that you can use to fix damaged contacts in Outlook 2019, 2016, 2013-
So, now, let's understand both the methods one by one.
Fix Contacts From Outlook Address Book Manually
Sometimes, the Address Book syncing issues between Server and Outlook application can cause it. As a result, it starts showing error messages. Here, you have to remove the old Address book that has been corrupted or damaged. After removing it successfully, you will need to add a new one from your email account.
So, follow the steps to remove Outlook contacts and add them back-
Firstly, launch any MS Outlook 2019, 2016, 2013 application on PC
Secondly, go to the File option from the menu bar
Now, select Account Settings drop-down > Account Settings option
From the Account Settings dialog box, just pic Address Books > Change option

After this, the Microsoft Outlook Address Book dialog box will appear. Here, click on the Remove Address Book and hit the Close button

Then removing it, just click on the New option

Add Account dialog box will pop up, from here, choose Additional Address Book. After doing this, just hit the Next button

Just select the Outlook Address Book and tap the Next button

Now, press the OK button when asked to restart
Then, click the Finish button
After doing the above steps, restart the Outlook application
Now, right-click the folder which will use with the address book. For instance, Contacts folder, right-click on it, pick Properties
Now, click the Outlook Address Book. Afterwards, check the Show this folder as an email Address Book option. Then, click OK to proceed further
Lastly, restart the Outlook application on Windows 11. Go through if Outlook Address Book has started to function suitably.
Note: If you add contacts again and again, it can be really tiresome work. Moreover, by doing this, you may lost a few addresses if the address book is large in size.
Limitations of Manual Method
If you use this method, then, it will be such a long and tiresome solution to repair Outlook Address Book.
Moreover, while using this method, you might be lost many contacts lists or some emails as well in Outlook.
In addition, you will unable to deal with a severe level of corruption or damage contact list in Outlook with this manual method.
So, to overcome such limitations, let's move to the automated solution to fix corrupt Outlook address book.
Repair Outlook Address Book Using Expert Method
If you have lost your Outlook contacts and found them in a tragic situation. Even after using the manual method, it didn't work out. Then, you can repair corrupt Outlook address book by using SYSDaddy Outlook Address Book Recovery Software.
It is one of the amazing and standalone programs which will fix the majorly corrupted contact list in Outlook 2019, 2016, 2013. Also, it can repair all the errors on Windows OS 11, 10, and all earlier versions.
This software has been designed in such a way that even a non-technical person can use it easily. As here all the guidelines are given in each step.
On top of this, it provides a free demo version that you can try-
Steps to Fix Corrupted / Damaged Outlook Contacts
Download and run the software in the first step on your PC. After this, follow the steps given below to repair Outlook address book-
Click on the Recover button and browse the inaccessible Address Book file

Now, it will start the scanning process of the repaired address book

Then, Select any given option to Export the repaired contacts in Outlook 2019, 2016, 2013

Finally, it will display the completed process of repairing Outlook address book.
That's it. You're done! These were the few simple steps to repair the MS Outlook Contact list.
Conclusion
You are on this page because you have been searching for a solution to repair Outlook Address Book. So, to help you out, in this article, we have shared different methods. The manual and the expert-recommended automated method.
Though, the manual method is quite a tiresome and not much feasible one. Hence, it is recommended you to use the SYSDaddy Software to fix corrupted or damaged contacts in Outlook 2019, 2016, 2013, and earlier versions. Also, it works on Windows 11, 10, and all the below versions. So, you can use it irrespective of any version you are using.