How to Fix Emails are Blank When Opened in Outlook Error?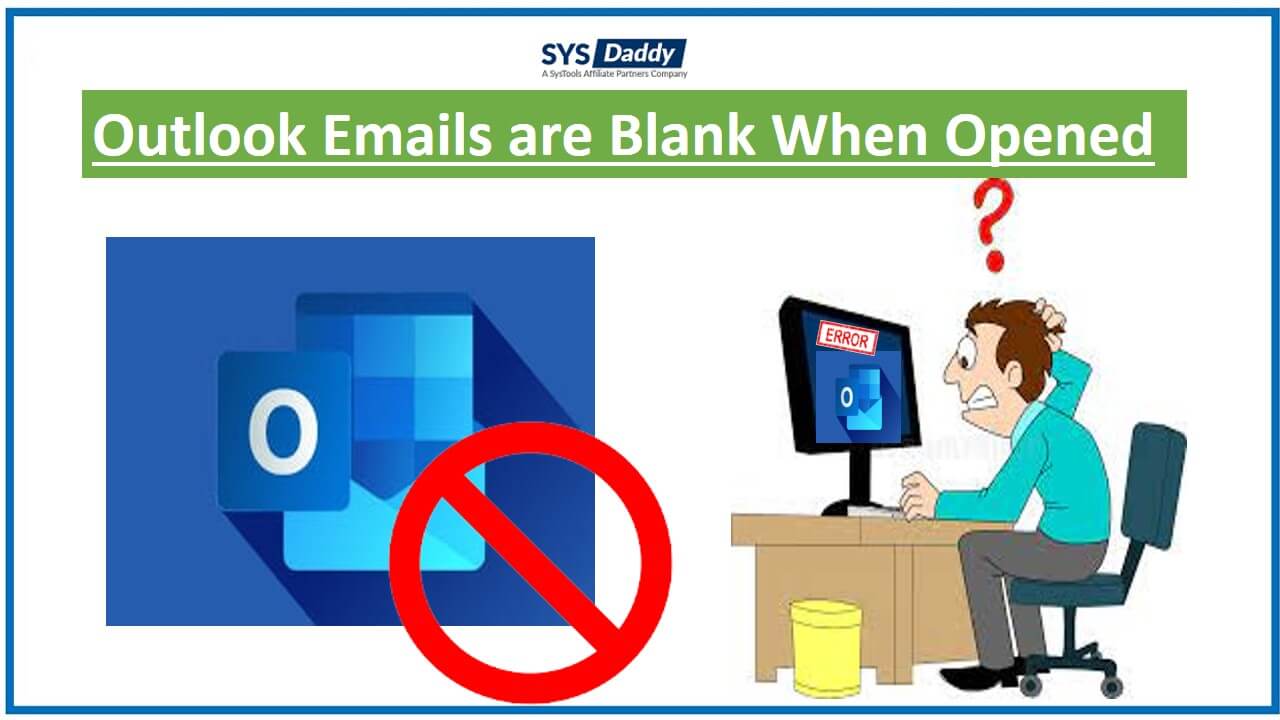 However, being a popular email client, Outlook errors might frustrate anyone. These days, most of the Outlook users have asked for a solution while receiving emails. Because they are facing Outlook emails are blank when opened error. However, this is only faced by the receivers.
So, if you're also one of them who have been facing this error lately. Then, this tutorial is for you to help view emails in Outlook. Hence, you need to read all the methods carefully to overcome this situation.
But, before moving to the techniques, first, let's know what actually users face.
Let's Read the Following Users Query
Although I am using MS Outlook for a long time, but yesterday I received a blank email. I asked the sender about it, but he told me that he sent me the proper email. I'm confused now why are my emails blank in Outlook? It is such a severe error. Along with it, it hampers my work. So, does anyone knows what can be done in this situation? Please revert back.
Being a Mac user, I have been using Mac Outlook fluently. But, today I got an email but there is no email message body. It's missing. I have tried to find out the solution on Outlook for Mac blank emails. However, I didn't get any reliable professional method. If anyone of you knows a one. Please give the reference. It would be so helpful. Thanks!
Solutions to Resolve Outlook Emails are Blank When Opened Error
To resolve this Outlook 2019, 2016, 2013 bug, we have come up with two top methods-
Without further delay, let's understand both the methods for missing body text in Outlook.
#1 – Manually Fix Completely Blank Email Body
Use these manual methods to resolve the Outlook emails are blank when opened error. By using them, you can view and read the email message body of Outlook. Therefore, let's have look at each one by one-
In this method, first, you need to check the Add-ins. Then, you have to disable all of them. Here, we will cover when the entire body of email you get is blanked.
To do so, first, open any Outlook 2013, 2016, 2019 application
Then, navigate to the File option
After this choose the Options icon from given items
Now, check the Outlook Options Dialog box, mouse-click on the Add-ins button. Then, select COM Add-ins. Afterwards, hit the Go button to fix Outlook incoming emails are blank when opened error

In the COM Add-ins dialog box, just check or uncheck all the options. Finally, hit the OK button to complete the task to resolve Outlook 2016 email blank when opened.
#2 – Checkout the Plain Text Messages in Outlook
In this approach, you can check the emails in plain text. This can be helpful to resolve MS Outlook error. To follow the following steps to check this out-
First of all, open the Microsoft Outlook application
Secondly, go to the File menu > Options
After this, tap on the Mail icon from the Outlook Options dialog box. In Compose Messages group, select the Stationery and Fonts option

By doing so, the Signatures and Stationery dialog box will pop up. From here, choose Composing and reading plain text messages. Now, choose the Font option

In the Font dialog box, choose the Font color to Automatic. Lastly, hit the OK button to finish this one.
These were the manual methods that you can try. But, what if none of the above-stated methods works?
Curious? Just not to worry. Here, we will be going to introduce the most trustable solution now. Let's check it out.
Outlook Emails are Blank When Opened – Use Automated Method
If using both the manual methods you can't able to find out what happened to your Outlook email body. Or if you want to know and fix Outlook 2013, 2016, 2019 error. Then, we would suggest you to go for the SYSDaddy PST File Recovery Software.
By using it, you will not only able to view and read the emails of the Outlook application. But, you can repair them as well. Moreover, it is compatible with both Windows and Mac OS machines. So, any of you out there can use it irrespective of the OS users.
For your information, this software is well-designed so that it can work in different versions of the Windows and Mac OS. Not only this, but it provides you the best and simple interface.
So, to use this software with an easy user interface, you can download it from below. Check out the demo version for free-
For Windows
For Mac
Steps to Fix Incoming Email Message Error Instantly
Download the software on your personal computer to get back the emails of Outlook. Then, follow the steps to resolve Outlook 2013, 2016, 2019 issue-
First of all, click on the Add File. Here, choose any Select File or Search File

Secondly, after adding the PST file, Preview all the data of Outlook emails

Now, choose the PST file from the Select Export Type option

Finally, Browse the location to save the file. Hit the Export button to initiate the process.
Outlook Incoming Emails are Blank When Opened – Wrap Up
Most of us are using the MS Outlook 2019, 2016, 2013 application. We prefer to use it for delivering important emails. But, the problem arises when you can't able to view the email body. That means, Outlook emails are blank when opened. When this happens, it may be bothering you while receiving emails.
So, keeping this query in mind we have introduced the manual and automated solutions here. However, there is little chance that both manual methods didn't work. Hence, it is recommended to use the SYSDaddy Utility when the email message body is blank in Outlook 2016.
So, use them and resolve the Outlook error instantly.