How to Undelete Emails, Contacts, Calendars in Outlook 2019, 2016, 2013?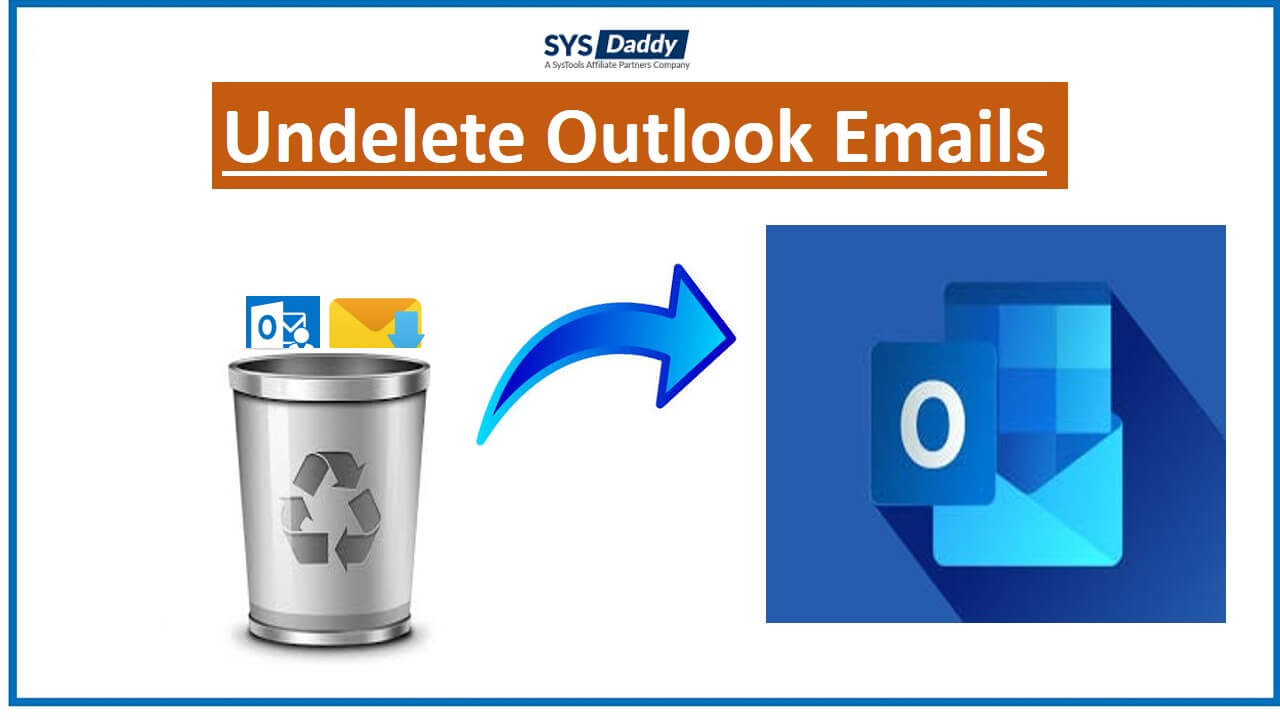 Though emails from Outlook can be deleted in two ways. Either they are temporarily gone or they are permanently removed from your account. Whichever may be the case, this blog will answer all your queries about how to undelete Outlook emails, calendars, contacts and more.
If your emails are soft-deleted / temporarily deleted, you still can try getting back those emails from the "Deleted Items" folder.
If you have already tried all the manual methods but still failed to do the process. Also, after lots of research couldn't find the reliable solution for undeleting the Outlook emails. Then, don't worry! With SYSDaddy Outlook Deleted Items Recovery Tool you can easily undelete those emails.
Download the tool to undelete Outlook Emails. Also, it has a demo version that you can try to check the action of the software.
But, if you are the one who does not know even any method to fix this bug. Then, read the next section to get all your answers.
Various Techniques to Undelete Outlook Emails
Basically there are two methods for the said query. So, here, we are going to mentioning those methods for undeleting emails from Outlook 2019, 2016, 2013-
Now, let's just understand all the methods one by one in detail.
Undelete Emails of Outlook From "Deleted Items' / 'Trash' Folder
The following solution can be applied to Outlook for Microsoft 365, Outlook 2019, 2016, 2013, 2007…
In the case of soft-deletion try to find your emails in the 'Deleted Items' or 'Trash' folder. So, to do so, first check the all the folders for the deleted emails, contacts, calendars and more. After checking, follow the steps to get back all the data from the Outlook account-
First of all, start the MS Outlook application and navigate to the email folders list. Choose 'Deleted Items' Folder
In the case of Deleted Items folder is flooded with numerous Outlook emails. Then, you should find your desired emails by typing the name in the Search Deleted Items box
Then, choose the required email and right-click to the particular email. After this, pick Move option from the menu. Drop-down it and choose Other Folder or any as per your choice.
Get Back Emails of Outlook From The Server
If you can't find your emails in the 'Deleted Items' or 'Trash' folder, it means your emails are not existed in the folder.
However, if you have a server (exchange) connection you can view your deleted emails from the Recoverable Items folder. Meanwhile, the folder is hidden, but can be accessed by following these steps:
1. After opening your Outlook account, go to your email folder list and select the 'Deleted Items' folder
Note: Trash Folder doesn't have this functionality. Therefore, you can try automated software to get back the emails mentioned above.
2. Then, select the 'Recover Deleted Items From Server' option on the Home menu
Important: But, if you don't have the said folder option on the Home menu, that means your account does not have a server connection.
3. Select the emails that you want back, click on the 'Restore Selected Items' option, and then click on OK
Remember: When you undeleted items from the mentioned folder, they don't directly get back in your Inbox or any other folder. Therefore, you have to look for them in your Deleted Items folder and from there you can move it to another folder.
You can find deleted items in the Recoverable Items folder in the following cases:
Firstly, if items get deleted from the Deleted Items folder.
Moreover, you accidently empty the Deleted Items folder.
Another case could be, when there is hard deletion of an item by selecting it and pressing Shift+Delete.
However, there is one problem, deleted items in the said Folder keeps these deleted items for a defined retention period (usually is of 14 days). So, in this case, you should take a help from reliable professional solution.
But, if you tried both the methods and still no one worked. Then, you might searching the automated solution for how to undelete Outlook emails. Hence, we have come up with the easiest way to do so.
Undelete Permanently Deleted Outlook Emails Automatically
To undelete Outlook emails, contacts, calendars, and more. Especially permanently deleted emails, the SYSDaddy Software is the best option. Due to the fact that it has a RAW scanning feature.
Raw scan means it will search and scan each part of your Outlook 2019, 2016, 2013, 2010…. Hence, it ensures a 100% correct result in getting back the deleted Outlook account data.
Various Features of the Utility
Now, let's look at all the features of the tool one by one:
This tool is commendable to get back permanently removed Outlook items.
Above to this, all types of Outlook account data can be easily undeleted – Mails, Contacts, Calendars, Tasks, Journals, Notes.
Also, this software helps to Undelete Soft & Hard deleted items & folder(s) from Outlook data files.
In addition, SMIME & OpenPGP encryption can be undeleted internally from Outlook emails.
Before exporting, you can preview all the deleted items that needs to be undelete. Deleted items can be identified in Red Color on Preview Grid.
Moreover, you will get back all the folders in the same hierarchy after exporting.
Steps to Undelete Outlook Emails Automatically
To do the process, first download the software on your computer. Then, follow the step by step guidelines to know the procedure on how to undelete Outlook emails-
Firstly, mouse-click on the Add File to add Outlook deleted emails

Secondly, Preview the undeleted Outlook emails. Then, select PST file option

Now, tap on the Browse button to save the output file at any path

At last, click on the Export button to get back the deleted Outlook emails, contacts, calendars.
Important Note: After completing the entire process, you can import the PST file in the Outlook 2019, 2016, 2013 and earlier account. Then, you will be able to access all the Outlook emails, contacts, calendars, etc.
Conclusion
In this article, we have mentioned the required methods on how to undelete Outlook emails query. By using the above methods, you can get back the Outlook emails, contacts, calendars, and other folder items. The above solutions work for all Outlook 2019, 2016, 2013 and all earlier versions.
However, you can take a help of the both manual methods. It is quite easy to undelete emails from Outlook account. But, if they have been permanently deleted, then, you have to use a recommended SYSDddy Software to get them back.
You can choose any method according to your needs. Hence, choose smartly.