How to Save Outlook Emails to External Hard Drive?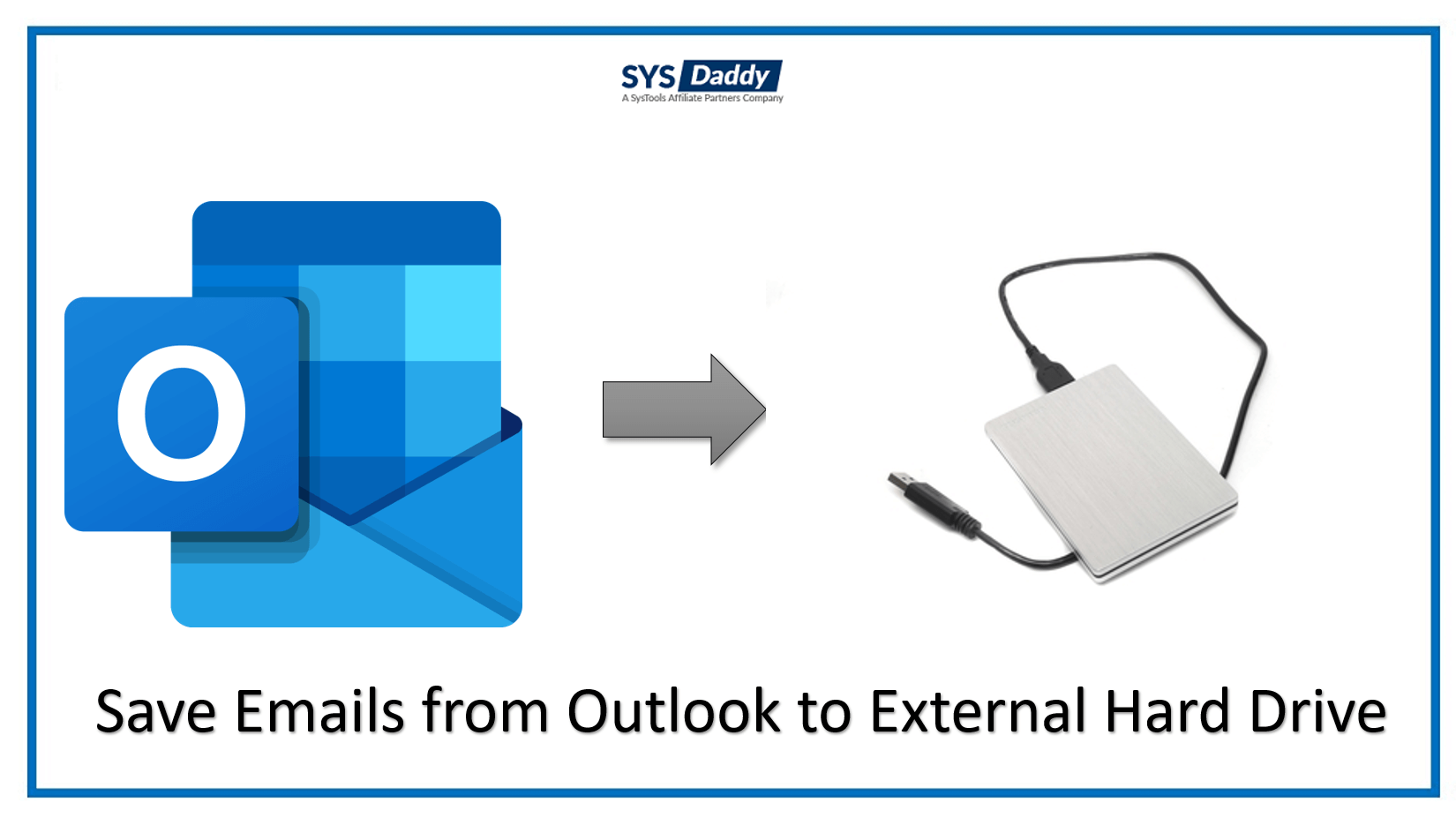 "Recently I got worried about my data security because of ransomware attacks of various kinds. I am an Outlook user and often exchange sensitive data by email. To protect my data from losing permanently, I am planning to save them in an external HDD. Please tell me how do I save Outlook emails to external hard drive?"
There are many other users who are facing the same problem and want to transfer their Outlook data on an external hard drive. But they do not know which method is suitable for this process. Hence, they end up asking this question in tech forum.
Worry no more! This blog will tell you some proven methods of saving Outlook emails in hard drive. First of all, we will see the benefits of transferring Outlook emails in external Hard drive.
Benefits of Storing Outlook Emails in Hard Drive
There are ample benefits of transferring your emails in external hard drive in place of internal HDD. Some of the reasons are mentioned here:
Transferring Outlook emails in hard drive works as a perfect backup solution.
Moreover, by doing so, it gives you the complete protection against ransomware.
By saving the data in HD keeps it safe from any unauthorized access.
Moreover, the saved data can be easily portable to any place.
This process will be a lifesaver in case of system outage.
Methods to Save Outlook Emails to External Hard Drive
If you want to store your Outlook emails on the hard disk for backup or just to unclutter your inbox, you may try these techniques-
Transfer Outlook Emails to External Hard Drive
User Query
Hi, I'm Rocky. I'm using the Microsoft Outlook 2013. Due to recent upgrades in the MS Outlook, I want to transfer Outlook 2013 emails to external hard drive. But, unfortunately I got not even a single trustworthy solution for my problem. Does anyone know how can I process this task? Please suggest me something. All suggestions will be appreciable.
This query can be solved with the help of the Outlook in-built import-export wizard. So, follow the steps to do so-
First of all, open Microsoft Outlook application
Then, in the first window, navigate to the above File option
Now, after clicking, go to the Open & Export >> Import/Export option from all
After this, select the Export to a file option from Import and Export Wizard
Then, from the new dialog box, select the Outlook Data File (.pst) option. Mouse-click the Next button
Just select the desired folders or subfolders data that you need to save in the external hard drive
In this step, hit the Browse button to save the exported PST file. After selecting all the desired options, just tap on the Finish button.
That's it. Your Outlook data are transferred in external hard drive. You have to connect the hard drive to any computer with Outlook installation to open these files.
Save Emails from Multiple PST Files into One PST File
User Query
Hi, I am Harry. Being an Outlook user since a long time, now I have a lots of Outlook emails. So, I have created multiple PST file to use them systematically. But now, I am not able to manage multiple PST files together. I want them in one PST file. So, is there any professional solution which I can rely on? If yes, then please let me know. It will be very helpful, thanks.
By keeping in mind the said query, we have come up with the professionally tested solution. SYSdaddy PST File Converter Wizard is the perfect software for you if you want to save thousands of emails into one PST. This application allows you to save Outlook emails to external hard drive easily.
Also, you can even create a new folder in external hard drive to store the emails of your choice. This direct method does not even need Outlook installation. Also, you can trasnfer Outlook data of PST file of any size.
For Windows
For Mac
Steps to Store Emails from Outlook to Hard Drive
Download the software and follow the steps to store the Outlook emails in HD. This is how you need to operate the software:
Initially, click on the Add File to add PST file in the tool
Now, the emails will be available for preview. You can select required emails from here and click on Export
After this, on the next screen choose your PST format to save Outlook data
In this step, click on Browse button and navigate to the external hard drive. You can also create a new folder there by clicking on Make New Folder
Finally, click on the Export button to save multiple PST file into one PST file.
Extra Advantages of Using the Utility
Save all components of Outlook including Contacts & Calendar
Process ANSI and Unicode Outlook PST file of any size
Selective email saving by date filter and individual selection
Naming convention to transfer email data with date and other attributes
Conclusion
When the world is at the peak of technological advances, there are also many risk factors involved in storing business-critical and confidential data on your computer. Hence, people use an external hard drive to secure their data. If you want to know how to save Outlook emails to external hard drive, this blog is the right one for you.
Here, two easy methods for transferring Outlook data in external HDD have been described. Choose any method as per your choice and get this work done without any hassle.