How to Combine Multiple Outlook Emails into One PDF File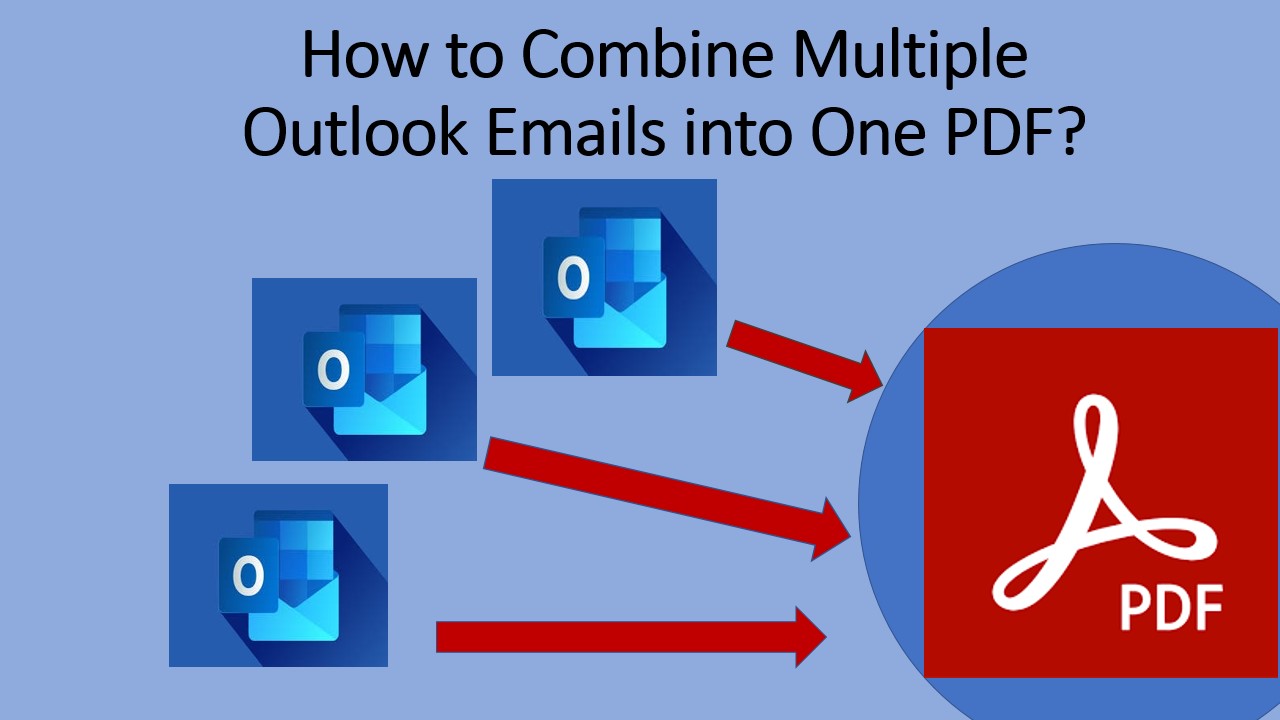 Users Query
"I need to distribute some Outlook emails to our employees for training purposes. What can be more convenient than a PDF file for sharing email data? But distributing bulk PDF files is difficult to perform. Hence we are planning to combine the PDF files generated from Outlook emails. Kindly suggest to me how to combine multiple Outlook emails into one PDF file."
Conversion of Outlook emails into PDF is the necessity of the hour. PDF ensures portability and security of the file content, hence preferred by the users who want to access Outlook emails without Outlook. If there are many emails, saving each one separately into PDF format will pose difficulty in file management.
To avoid this problem, one can put together multiple PDF files and create a single output PDF file. Now, you must be wondering how to combine Outlook Emails into one PDF? Read this blog to get the right answer to this question.
How to Combine Multiple Outlook Emails into One PDF
However, there is no direct technique to combine multiple Outlook emails in a single PDF. Therefore, you need to go through the given methods to perform this whole combining process.
Read More
Save Multiple Outlook Emails as PDF
The first thing to do here is to turn the Outlook emails into single PDF file. For this, you may select two methods –
Manual Way to Combine Multiple Outlook Emails to One PDF
To save multiple emails in PDF using this native method, users need to perform this technique multiple times.
Before anything, first launch Outlook and open the email you want to combine into a PDF.
Then after, click on the File menu > Print option. Change the default option of Printer into select Microsoft Print to PDF.
Now, click on the Print Option and proceed to print.
Following that, add file name and location and select PDF option as output file type. Then, click on the Save button to save Outlook emails in one PDF.
Thus, the selected email is saved in PDF file.
Note –

Repeat these steps for multiple emails.
It does not export attachments along with emails
The formatting of the emails will be removed
Automated Method to Save Multiple Emails into PDF
To know more about the software, download the software from the below buttons-
To perform multiple Outlook email conversions into PDF at a go, you will need an automated applications such as SYSDaddy Outlook PST to PDF Converter Software. This tool can easily combine any number of Outlook emails into a single PDF file.
Steps to Combine Outlook Emails to PDF
To know more about how to use the tool, follow the given steps below –
1. First and foremost, open the software and click on Add File option to browse the Outlook PST file
2. After that, Preview and select the emails required. Click on the Export Selected option
3. Then, select PDF File format from the multiple file types
4. Finally, set a destination and hit the Export button to combine multiple Outlook emails into one PDF.
Added Benefits of This Tool
By using this utility, you can format the resultant PDF file. Like you can add margin, paper layout and more.
Through this tool, you will be able to combine any number of Outlook emails at the same time
This application provides an option to export all other Outlook email items such as Attachments, Documents and more.
In addition, in this utility, there is an option to create a single PDF file.
Moreover, if you want to edit some formats in attachments then here it will provide you different option to edit attachments in attachments settings option.
Note – The suggested tool also has the option of creating a single PDF file while conversion.
Author Suggestion
However, combined emails in PDF format are useful for you, as you can easily view that file along with searching and printing that file. But to do all these, you need to know how to combine multiple Outlook emails into one PDF.
Hence, in this blog, we have described a complete stepwise guide to transforming Outlook emails into PDFs where the manual method is not a sufficient way to do so, Therefore, the professional recommended software is the best solution to combine files. Follow the instructions given here for secure and fast results.
FAQ
Q – Can I be able to combine attachments along with Outlook emails?
Certainly yes, not only you can combine Outlook emails but attachments also.
Q – Will my folder hierarchy be maintained by using this tool?
Yes, with no doubt, your folder hierarchy will be maintained as it was before the combining process.
Q – Is this tool capable to combine only selected emails?
Yes, this application is capable to combine selected emails as well, you can select whatever emails you want according to the dates and combine them into one PDF.