Export Office 365 Contacts to PST with Effective Solutions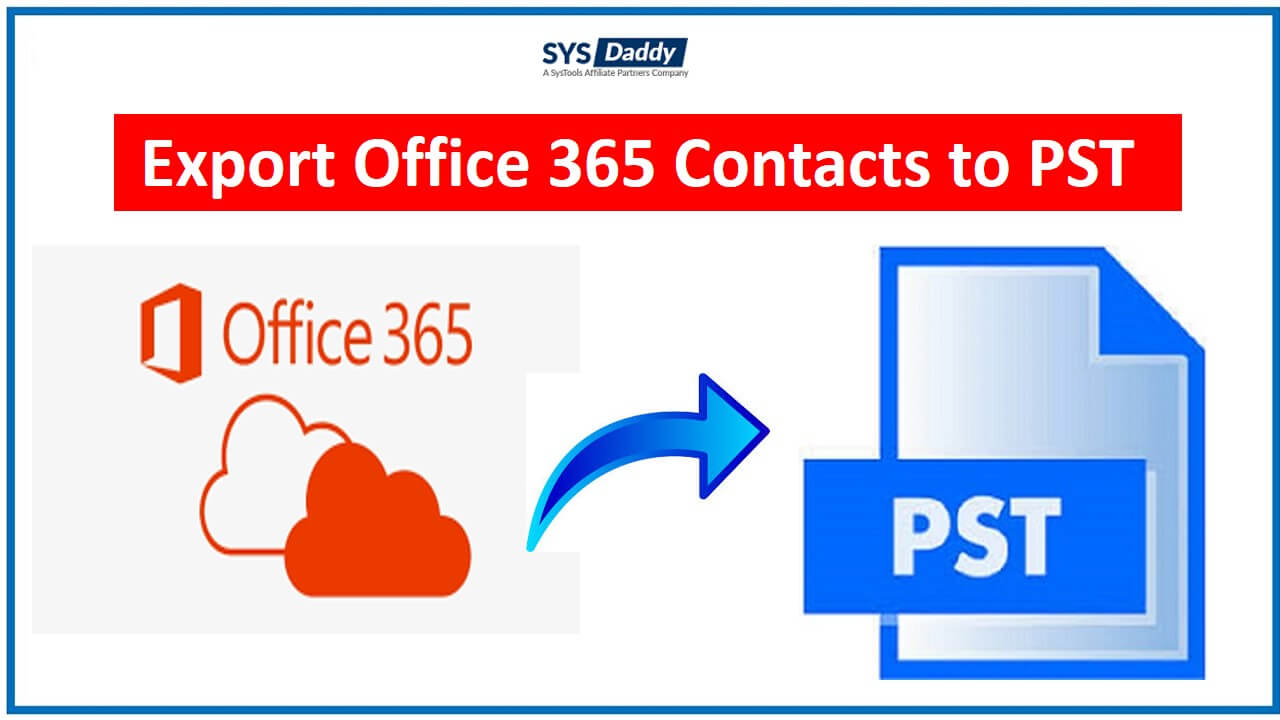 In this article, we will mention the solutions to export Office 365 contacts to PST format. However, Office 365 is growing up in the world as an email client with many users. Many data are stored on Office 365 when a user creates an account. Now, all these items can be exported from Office 365 using different methods. Since they all contain important data you do not want to suffer any loss or damage.
Just like that, Office 365 contacts also contain important information such as people's last names, home addresses, company names, and more. Hence, to protect them from any future uncertainties, you may want to export the contacts. Therefore, you start surfing questions like how to export the contact list from Office 365 to PST or any other format.
Now, in the next section of this article, you will get the solutions to export Office 365 contacts.
Solutions to Export Office 365 Contacts to PST
So, in order to export o365 contacts, you get two solutions. However, you can use any. The two top methods are-
Export Contacts List from Office 365 to PST Manually
The eDiscovery export is a pretty useful solution but it comes along with various limitations. So, follow the steps as given below to export the contact list from Office 365:
First of all, log in to your Office 365 account and go to the "Microsoft 365 Admin Center"

After that, expand the "Admin Center" option. Now, click on the "Security" option

Just after this, you will find the "Permissions" option from the "Security and Compliance Center". Then, just click on the option and then edit eDiscovery Manager role group

Afterwards, add your account to the eDiscovery Admin list by clicking on the "Edit" button

Then, go to the "Search" bar and hit "Content Search" to make changes to start the Office 365 export contacts to PST process

Note: If the "Content Search" option is missing, the eDiscovery permissions set in previous steps may be the reasons to it. Although, the changes may take up to 24 hours to apply.

Here, you will get a "New Search" button in the new window, tap on it

Now, click on the "Specific locations" and "Modify" to export contacts list from Office 365

In this step, choose the "Exchange" option or hit "Choose Users, Groups" icon for selecting specific contacts

To proceed, mouse-click on the "Save and Run" and you will be asked to enter the name and description of the search

Now the wizard will perform the search. Then, you have to go back to the "Content Search" window and hit refresh to choose your search

Hit the "Export Results" option from the pop-up window and move forward with the process to export Office 365 contacts to PST

Or, choose if you want to include the encrypted files. As soon as you are finished, tap on the "Export" at the bottom of the current window

By doing this, the data will start to export. Then, go to "Export" tab. Choose your search to check the progress of the exportation process

Now, wait for the task to finish or mouse-click on the "Download Results" option. Just copy the "Export Key"

There is an application known as eDiscovery PST Export Tool will start working. Here, you have to past the export key that you must have copied in the previous step. Finally, navigate the Export tool to a folder where you want to have the PST and tap on the "Start" tab to complete the Office 365 export contacts to PST process.
Now, check the limitations of this method in the below part.
Limitations of Manual Method Using eDiscovery Manager
Difficult to manage– The first reasons is, eDiscovery creates duplicates of the contacts making it difficult for you to manage your contacts after exporting.
Data missing– Sometimes, after the exporting process, there may be some of the items that go missing.
Data corruption – Moreover, while using eDiscovery manager as an exporting solution for solving Office 365 export contacts to PST query, the PST files may get highly corrupted.
Time-taking process– In addition, the exporting process is a really lengthy process to perform.
Difficulty in Finding– On top of this, you might experience problems in the search option to export Office 365 contacts to PST format.
Now, let's move on to the second solution which is an easy and reliable method.
Alternative Method to Export Office 365 Contacts to PST
To overcome such limitations, we have come up with an absolute reliable and automated solution for you. The SYSDaddy Office 365 Backup Wizard is an expertly recommended solution because it is able to keep your data safe from external threats. Moreover, this tool export the data in PST or EML file format in an offline environment. So, the copies of Office 365 data such as contacts, calendars, and more will be saved offline on your local system.
This tool is the most suitable solution to export Office 365 contacts to PST. Along with it, this utility compatible with Windows and Mac OS.
Download the software from the buttons given below to know the exact working of the tool to export contacts list from Office 365-
For Windows
For Mac
Essential Benefits of the Software
Although, the utility provides various useful features which are useful to export contacts from Office 365 to PST. Here, we are introducing a few of the features:
In this tool, your data of shared Office 365 is downloaded on system for protection.
Moreover, here, you get multiple file naming conventions to create the output file as per your desire.
Likewise, through this tool, you can easily export contacts from Office 365 into PST/EML file format in one shot.
In addition, you will be able to export of the required contact list only by choosing Date-Filter option.
On top of that, you are allowed to choose your desired location to maintain the resultant file.
Furthermore, you can get back your contacts list by choosing Restore feature option.
Export Contact List from Office 365 to PST – Wind Up
However, the information stored in Contacts for Office 365 items is important and it would be catastrophic if that information was lost. So, you might want to export Office 365 contacts to PST and are looking for a solution for that.
As we learned above, the method provided by Microsoft is quite lengthy, confusing and time consuming method which may not be the best fit for you. Hence, the alternative solution mentioned as SYDaddy Software is the best way to make the export work for you. Plus, it doesn't take a lot of time and makes the process quick and easy. Also, this tool is recommended by experts to resolve the query to export contacts from Office 365 to PST.
Frequently Asked Questions
Q- Is this given tool secured to use to export Office 365 contacts to PST?
Yes, of course, this tool is completely secure and safe. You can use it easily and your data will be fully secured in it.
Q- I do not want to backup all the contacts list, so, does this application has any filter feature?
Certainly yes, you will get a feature to filter your contact list. So that, you can filter them easily as per your choice.
Q- What if after downloading my contacts from Office 365, this tool misuse my contact data?
Don't fret, your data after downloading will be deleted automatically from the software. Also, you can select the Delete After Download option to make yourself clear about your data.