How to Delete Multiple Emails from Office 365 Permanently?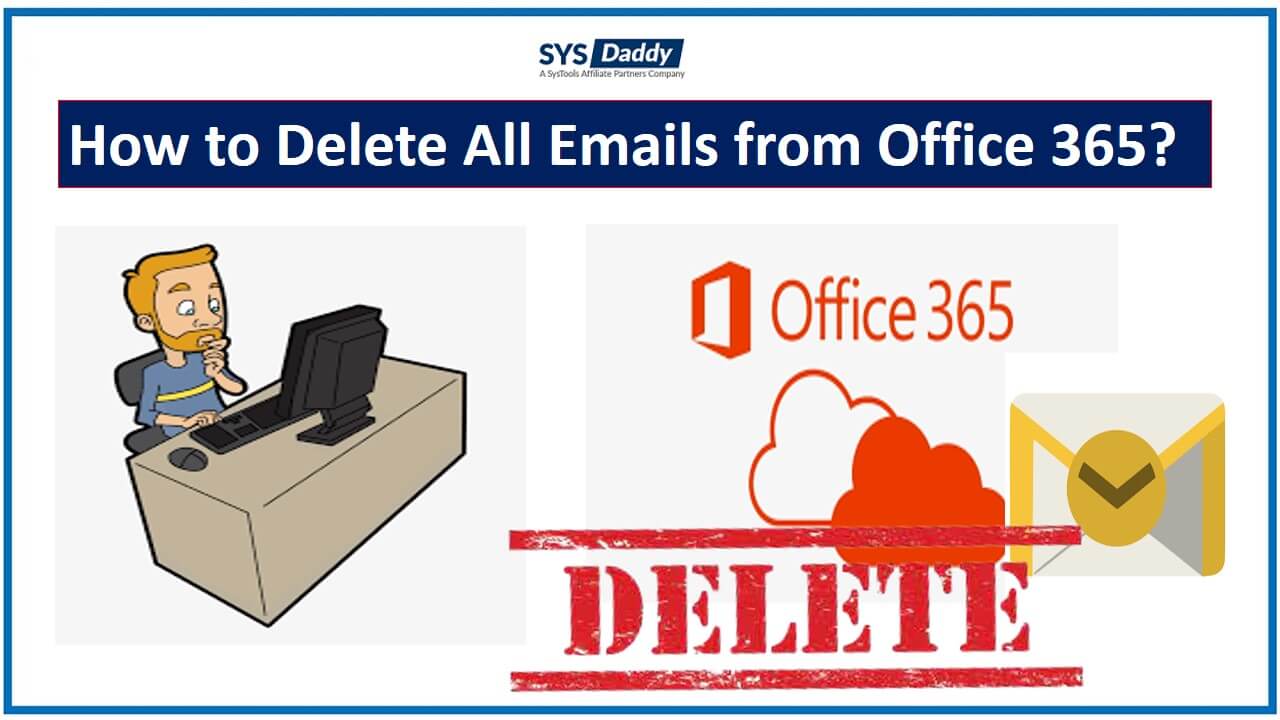 Doesn't your Office 365 account look filthy with thousands of irrelevant emails? Do you like it when you can't locate that important email you received a few days ago? No? Right? Actually, nobody does. So, to make it less sophisticated you need to avoid all unnecessary stuff from Office 365 mailbox. Hence, in this article, we will be going to discuss how to delete all emails from Office 365?
Just stick to this tutorial till the last, you will get all your answers and cluttered free Office 365. As it will guide you on how you can mass delete emails from Office 365 permanently.
How to Permanently Delete All Emails from Office 365 Manually?
Here, we are going to mention a few manual techniques to remove or delete emails from Office 365.
However, deleting emails manually is the most common way to remove messages. To do so, all you have to do is to select them one by one or multiple emails and press Shift + Delete together. After doing this, you will get a confirmation for this action. To go further, just click on the Yes button.
Or there is another way also that you can exercise. In this trick, select all emails, press Shift, and tap the Delete button on the Home tab. Afterwards, mouse-click on the Yes to delete the messages permanently from Office 365.
Along with it, if you don't want any interruption while deleting then you can do some changes in the backend.
Here, just go to the File option and choose Options. Select Advanced option from all, and uncheck Prompt for confirmation before permanently deleting items option.
Empty the Trash or Deleted Items Folder from Office 365
We can assume, you know when you delete all emails from Office 365, it directly goes to the Trash or Deleted Items folder. So, if you want to delete multiple emails permanently then just empty the entire folder as well. For performing it, follow the step outlined below –
From the existed window screen, go for the Deleted items folder. Then, right-click to it, choose the Empty Folder option. By doing so you can make your Office 365 mailbox all clear.
So, these were the few workarounds on how to mass delete emails from Office 365. But, sometimes while removing multiple emails from the mailbox, a few important emails get deleted. Or even if you delete selective emails with the thinking of no use of them. You may require them later anytime. We know you may be wondering what are you going to do in that situation.
Though you can take a help of any given method as per your will. But before doing that, we would suggest you to take a backup for your Office 365 mailbox. As we all know, precaution is better than cure. So, take precautions by having a copy of all the emails.
How to Copy Office 365 Mailbox Before Removing?
The best way to save yourself from future uncertainties is to have a copy of the entire mailbox. For operating this activity you should go for a reliable strategy. Hence, we have come forward with a professional and trustworthy solution. This technically tested solution with different technicians known as SYSDaddy Microsoft 365 Backup Software. By using it, you will not only have a copy of the emails but you can also delete all emails from Office 365.
Along with this, it has been designed with a technology that will work on Windows OS of all versions. Or if you are a Mac user then there is good news for you as well. Likewise, this program is compatible with the Mac operating system of different versions. However, you can also plan to migrate your Office 365 data to other application.
Hence, operating this powerful tool is easy to take a backup of your Office 365 important emails. Once, you complete the process, then, you can permanently delete email from mailbox of Office 365. Along with this, you can migrate emails from Office 365 to G Suite easily.
Now, let's understand the step-by-step procedure to do so. However, it comes with a free demo version that you can try by downloading it from below-
For Windows
For Mac
Steps to Copy & Delete All Emails from Office 365 Instantly
Before anything else, download the software on your local computer. Once you're done with it, follow the instructions given below-
In the first step, open the program, and select Emails categories and other as per your will

Secondly, fill the requirements with your Admin and Application credentials

Finally, click on the Start Backup to have a backup of the Office 365 mailbox.
Conclusion
To make Office 365 clutter-free, you need to delete all emails from Office 365. So, here, we have mentioned the workarounds for the same. However, if you have plenty of time, and want to do it on your own. Then, you can go with a manual strategy that has been described above. But, in case, if you are planning to do it quickly. Along with deleting you want to have a backup for your future uncertainties. Then, we would recommend you to settle upon the SYSDaddy Tool to make it work. All you have to do is download it and implement the guideline mentioned above.
FAQ
Q- Will I be able to mass delete emails from Office 365 account with the mentioned tool?
Of course, yes, once you download a copy of it. You can process the deleting procedure to clean the Office 365 account.
Q- Is this software works on Windows 11 also to remove or delete all emails from Office 365 procedure?
Certainly yes, this software is well-designed by the developers. So that, it is compatible with all Windows OS versions i.e 11, 10, 8, 7, and below.