Office 365 eDiscovery Export Tool Not Working – Export Failed with Error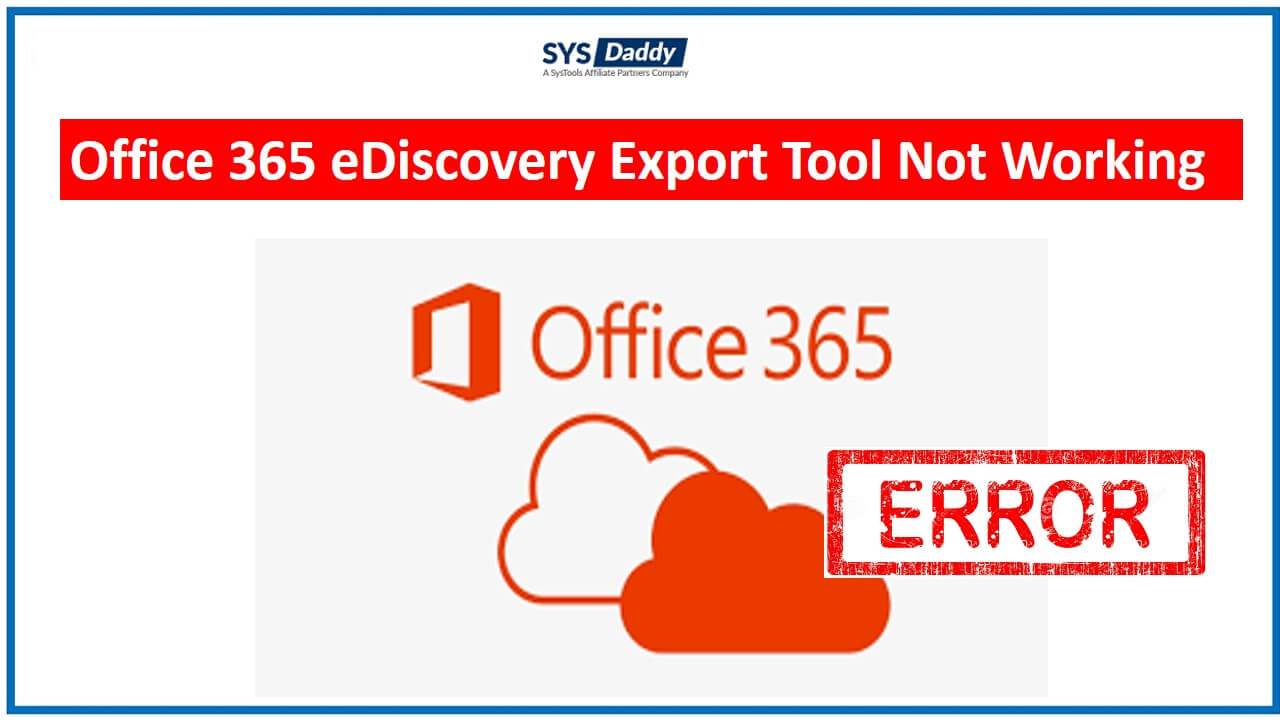 Microsoft 365 apps for enterprise (formerly known as Office 365 ProPlus) occasionally errors out. When you create an eDiscovery mailbox in Microsoft Exchange. Then, you tap Export to PST file to complete the task, and you can install the eDiscovery PST export tool. But, when you install it, you may face errors while opening it. As such the Office 365 eDiscovery export tool not working. Or eDiscovery export failed, with error Object reference not set to an instance of an object. It cannot be exported. Make sure the export content is not finished yet.
The reasons for the same query we will be discussing below.
Why Microsoft eDiscovery Export Tool Cannot be Started?
However, there can be many reasons for the accident that results in the crash. Most of the time, the tool works initially but crashes suddenly. Therefore, it is difficult to share the exact reason when Microsoft Office 365 eDiscovery export tool not working. But, we are sharing a few possible reasons for it –
You may not be using the latest version of the Windows Operating system.
Similarly, this happens when you use Internet Explorer 9.0 or later, but you don't have MS .NET Framework 4.5 or later installed on computer.
Likewise, when you use an outgoing proxy server, your connection may exceed the time limit during that time.
Additionally, this can happen if you do not set the exact settings in Internet Explorer.
Manual Solutions When Office 365 eDiscovery Export Tool Not Working
Due to the above reasons, you might be facing any one of them. Here, we are going to share the possible solutions to fix them all manually–
If your Internet Explorer is 9.0 and .Net Framework 4.5 is not installed on your PC, then you can fix it by installing the .NET framework 4.5
As mentioned above, it might occur because of the local internet zone settings setup. Therefore, to set this up you can try – Go to Internet Explorer, here, select the Tool option, check the Internet option
– From the security options, choose Local internet. Once you choose this, just click the Sites and then the Advanced option
– After doing all, add https://outlook.live.com/owa/, and close.
To fix it, you can try this one out. Here, if you have been using a third-party browser and click the browser extension not installed option. This means you need Click-one Extension installation.
If you are using the proxy server, then fix it by using the netsh command-line tool. This will open port 8080 on the proxy server. You need to perform these steps-
– First of all, open the Command Prompt window, netsh winhttp show proxy (to verify current proxy configuration)
– After this, run command – netsh winhttp set proxy proxyservername:8080
Microsoft o365 eDiscovery PST Export Tool Failed – Use Alternative
However, the eDiscovery export tool is a suitable way to transfer the crucial data of Office 365 to another. But, sometimes, there are chances that the above solution fails. Hence, to overcome this dreaded situation when the Office 365 eDiscovery export tool not working, we have you covered. To help you out, we've come up with a reliable and pre-tested expert solution.
When you are not able to start the Microsoft eDiscovery PST export tool from the Exchange admin center in Exchange Online. Choose SYSDaddy Microsoft Office 365 Backup Wizard. By using this software you will be able to move your data without losing a bit of data.
For more information, download the free version of the software. With this free demo version, you can check and export the data for a try before proceeding with its licensed version. Either you can use the Microsoft Office 365 migration tool to share the data into other platforms.
For Windows
For Mac
Guide When Office 365 eDiscovery Export Tool Not Working
Initially, download the software from above to make the most out of it. Then, follow each step one by one as mentioned below –
Then, select Office 365 categories as per your choice

Now, enter your Email Address and Application ID to fulfill the requirements

Finally, mouse-click on the Start Backup to create a download copy of your Office 365 emails.
So, with these simple and quick steps, you can transfer your all MS Office data to the file format as per your will. This amazing application provides different other features.
Features of the Software
Lets' know what benefits will this program provide you –
When your Office 365 eDiscovery export tool not working then you can use this tool to export the emails in bulk into PST format at once.
Along with it, if you want to have a copy of the Office 365 archive mailbox then it can be possible with this amazing utility.
Likewise, if you want to transfer your multiple MS office 365 mailbox items to Outlook data files. Then, it is also possible with this automated software.
Moreover, if you need only a few Office 365 mailbox emails then you can opt the Date Filter option. It will help you to select the only data that you want.
Also, there are category filters for specific files to export. It will save emails, contacts, calendars, and all other items.
In addition, this tool is compatible with both Windows and Mac operating systems with all versions.
Conclusion
However sometimes, under certain circumstances, the MS Office 365 eDiscovery Export Tool crashes. Along with this, there are many other reasons which make this thing more distressful. Hence, in this article, we have shared solutions to fix the issue when Office 365 eDiscovery export tool not working. However, you can try the inbuilt tool provided by Microsoft. But, here, we have also mentioned an alternative as an automatic software. Eventually, you can try them and decide for the best solution as per choice.