How to Export Office 365 Emails to PST File Instantly?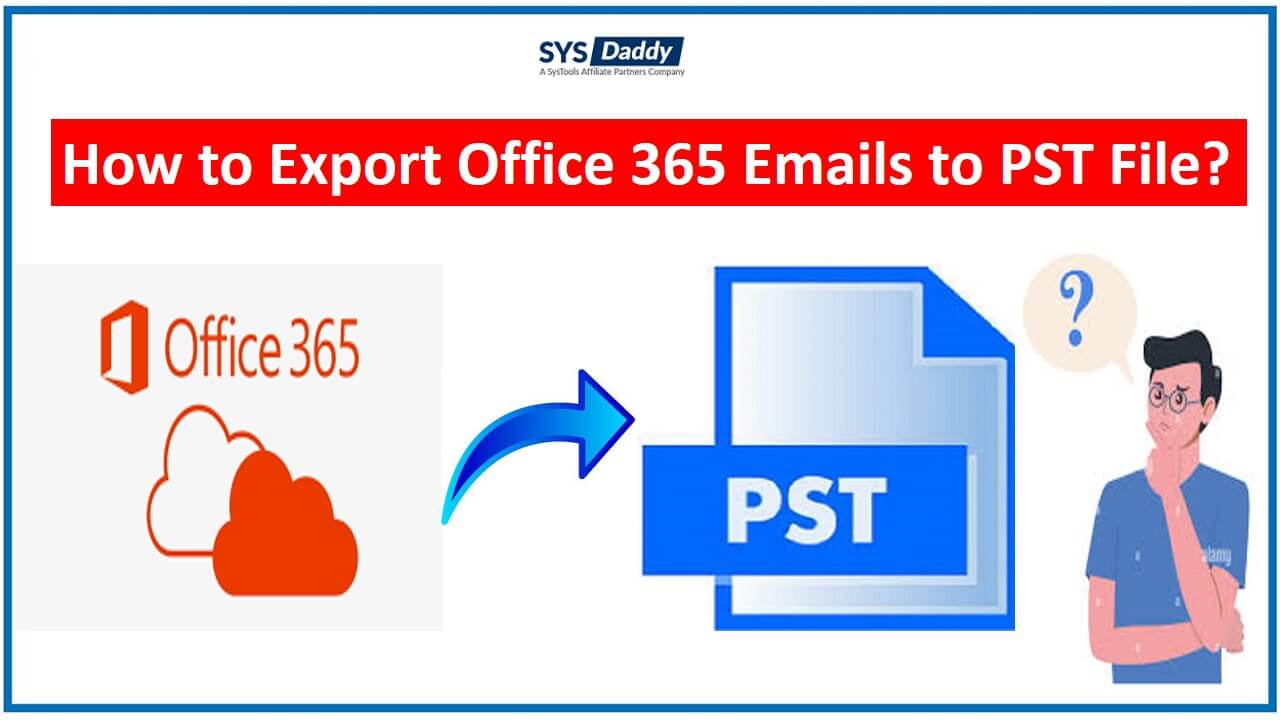 These days, the demand for the best email clients and their services has increased and become the most popular services for all. Both Office 365 and Outlook (Microsoft's brand name) have their own distinctive services, but may grow for some reason that convinces users to export Office 365 emails to PST. On the other hand, the Office 365 does not provide the option to take a hard backup of their data. Hence, it becomes the need to export them into the .pst format.
So, today, in this write-up, we will discuss the need for doing this task. Here, you will get all possible solutions to export your crucial Office 365 group emails to PST.
Brief About Microsoft 365
As we have already discussed the fact that Office 365 is Microsoft's brand name. It includes Microsoft Office and many other services, like email and association, from the cloud server. Also, the Office 365 contain many several features like Publisher, Skype, OneNote, Access, etc. by which Office 365 have become popular within a short term of time.
Whereas an e-mail client launches as a part of Microsoft Office suite i.e. Outlook mostly useful to email, maintain calendars, taking note, etc. Along with it, the Outlook preserves the information and data in two file formats – OST and PST. So, today we will be discussing how you can export emails from Office 365 to PST format.
Needs to Export Office 365 Emails to PST
Below are some scenarios when you may want to access the emails from Office 365 to Outlook PST. However, the Office 365 doesn't provide any built-in option to export emails from Office 365 to PST file.
Maintain Office 365 Emails on Local Computer – By exporting emails from Office 365 to PST file, you can preserve the Office 365 emails to any local drive and as per your requirements of work.
Decrease the Size of Office 365 Emails – Moreover, by doing this, you can also reduce the size of your Office 365. As a result, it will reduce the occupied storage space. So, it will be clutter-free and you can organized it accordingly.
How to Export Office 365 Emails to PST?
Do you need to maintain the Office 365 emails into the PST format? If yes, then we are providing you two options here –
Now, let's just understand both methods one by one in detail to complete this task.
Export Emails From O365 to Outlook PST Instantly
The manual method which is described below is quite a tiring process to perform. Hence, to overcome this issue, we have come up forward with an efficient solution. This method is really helpful you can trust on. This proficient and pre-tested by top technicians method is known as SYSDaddy Office 365 Backup Wizard.
With this program, you can maintain Office 365 emails easily. Moreover, you won't need to install any other application to use it. As this standalone software will help you in exporting emails along with attachments of Office 365.
It comes with the Windows and Mac operating system compatibility of all versions. So that, you can use the free demo from below to export Office 365 emails to PST.
For Windows
For Mac
Additional Features of the Tool
This software permits you to export Office 365 emails to PST and to few other file formats.
Moreover, this program has an option of Include Folder to export selected O365 emails. So that, you can select any email folder of Microsoft 365 and export it into PST format.
Furthermore, there is an option as Delete after download. By using it, you can easily remove all your Office 365 information from the panel.
Likewise, this standalone tool assist you to import Office 365 contacts to Thunderbird
Not only this, but this utility is highly compatible with all the version of Mac OS and Windows OS.
Guideline to Export Emails from Office 365 to PST
With this solution, you can easily export Office 365 emails to PST. Download and run the above mentioned software on your PC. Then, just follow the given steps to perform this easy method –
First of all, fill the valid information of your Office 365 admin center

Then, choose the PST option from the category menu to proceed further

Here, provide the destination location at where you need to preserve your resultant file

Lastly, just mouse-click on the Start Backup option to start the process
Once you're done with the task, just navigate to the destination folder and verify your exported items.
Manual Method to Export Office 365 Emails to PST File
To do it manually, you need to follow each steps carefully as mentioned below. Also, remember not to skip any of them –
First of all, login to Office 365 Account with your valid credentials
Once it's done, navigate the Admin and choose the Exchange option
Then, tap on Permission from the left side. Here, navigate the Admin Roles and choose the Discovery Management
Afterwards, direct to the Discovery Management option and hit the + sign to add the Roles
Just after this, hit the email Export/Import option to proceed further
Under the Members dialog box, hit the + sign again and tap on the name of the user
Now, just hit the Save button after finishing the above steps
In this step, go to the Compliance Management >> in-place eDiscovery and hold and hit the New(+) button
Now, under In-place eDiscovery & Hold dialogue box, fill the name and hit the Next button to proceed further
Just select all the emails by clicking on Search all E-mails. Or you can also select the specify emails by clicking on Specify emails to search option
By doing this, a new dialogue box In-place Hold Settings will appear. Here, you can describe the number of days for which the emails are to be kept before deleted from the server
Then, hit the Finish button
You will get a confirmation message for the completion of the task, just click and Close button
Eventually, all your generated search are listed. So, you can now click on the downward arrow to save your .pst files.
Some Consequences of the Manual Method
Below we are describing a few of the drawbacks of the manual method that you will face.
Firstly, the manual method to export O365 emails to PST takes a lot of time and is a very lengthy method to perform.
Moreover, it only permits you to export emails; you cannot export selective data such as contacts, calendars, etc.
Along with these, if you use this method, then you will not be able to filter the items that you need to export.
Not only this, but it requires technical assistance to download Office 365 emails to PST format. So, if you're a non-technical person, then you may find it difficult to use this method.
Final Words
This article is all about how to export Office 365 emails to PST file. However, there are many reasons why you need row Microsoft 365 emails in PST file format. So, through this article, you can get a complete knowledge about both manual and proficient methods to choose accordingly. But to export emails from Office 365 to PST manually you will need hard-core technical knowledge. On the other side, the proficient tool permits you to export Microsoft 365 emails to Outlook PST instantly. Also, it doesn't need any technical knowledge. So, you can perform this task effortlessly.