Export Office 365 to Apple Mail Mac – In 5 Minutes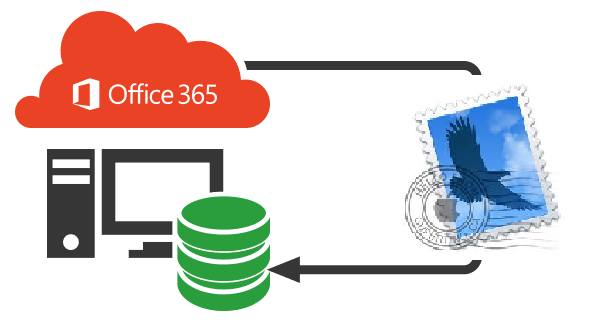 Are you searching for a brilliant solution to export Office 365 email to apple mail? If yes then you are on the right platform. In this write-up, you will learn to preserve the complete mailbox from Office 365 to apple mail.
This is the easiest and convenient method to save Office 365 emails to apple mail. Here we provide you the exact steps to export Office 365 data.
Introduction of Office 365 and Apple Mail
First, let's have a quick intro of Office 365 to Apple mail
Microsoft offers a subscription-based service i.e. Office 365 that contains software like Word, Excel, PowerPoint, etc. in Office 365 the software is updated automatically during their period of Office 365 subscription plan.
Whereas Apple mail is an email client included by Apple Inc. with the operating systems macOS, iOS, and watch OS. Also, it is prefigured to work with most commonly known email clients like Yahoo! Mail, Gmail, Outlook, etc. and it supports Exchange server too.
There is no direct method provided by Microsoft to transfer Office 365 email to apple mail. You can configure your Office 365 account in Mozilla Thunderbird email client. Then you can convert the inbox in apple mail using IMPORT/EXPORT plugin in thunderbird.
Office 365 Email to Apple Mail using Automated Tool
This is an all in one method to transfer Office 365 data using an expert approach. User can transfer Office 365 email to apple mail using these steps:
Download and launch Office 365 backup tool
Enter the required credential of your Office 365 account to the panel
Navigate the Export format option to choose the desired file format
Browse the location of your resultant file
Click on start backup button to start the process
Additional Features of the Tool
Permits the user to transfer contacts and calendars to ICS and VCF file format.
Preserve the original structure of the file and folder during the whole process.
Permits the user to delete the data from the server using delete after downloading option.
Assist you to import Office 365 contacts to Outlook
Allow taking a backup of Office 365 Outlook.
Additionally permits the user to pause and resume the ongoing process.
Possible Ways to Migrate Office 365 Emails to Apple Mail
You can also opt for this method to move Office 365 to Apple Mail by set-up Office 365 account in Apple Mail. Follow the steps given below:
Open Mail
Navigate the Mail Menu and choose Preferences
Select the Create an account option by clicking on ('+') plus symbol
Choose Exchange
Now, enter the required details and hit the Continue button
Name: Here you need to enter your name or user's name.
Email: Please enter your email address.
Password: Enter the correct password of your email account.
Note: If you receive a warning message that "Internet Account couldn't log in to the Exchange Server" then follow the given steps:
Description: provide a description of your account.
User name: Enter your email address.
Password: Fill the valid password of your email address.
Server Address: Enter outlook.office365.com.
Hit the continue button
Choose the software you want to link your Office 365 email address, and hit Done
Conclusion
 The above article is for the users who are searching for how to migrate Office 365 to Apple mail without any technical assistance. In this write-up, we explain both the possible ways to get the task done. The all-in solution will assist you in many ways, one can follow the above steps of the automated solution for the effortless conversion process.