How to Unprotect Excel Sheet VBA Without Password 2021, 2020, 2019?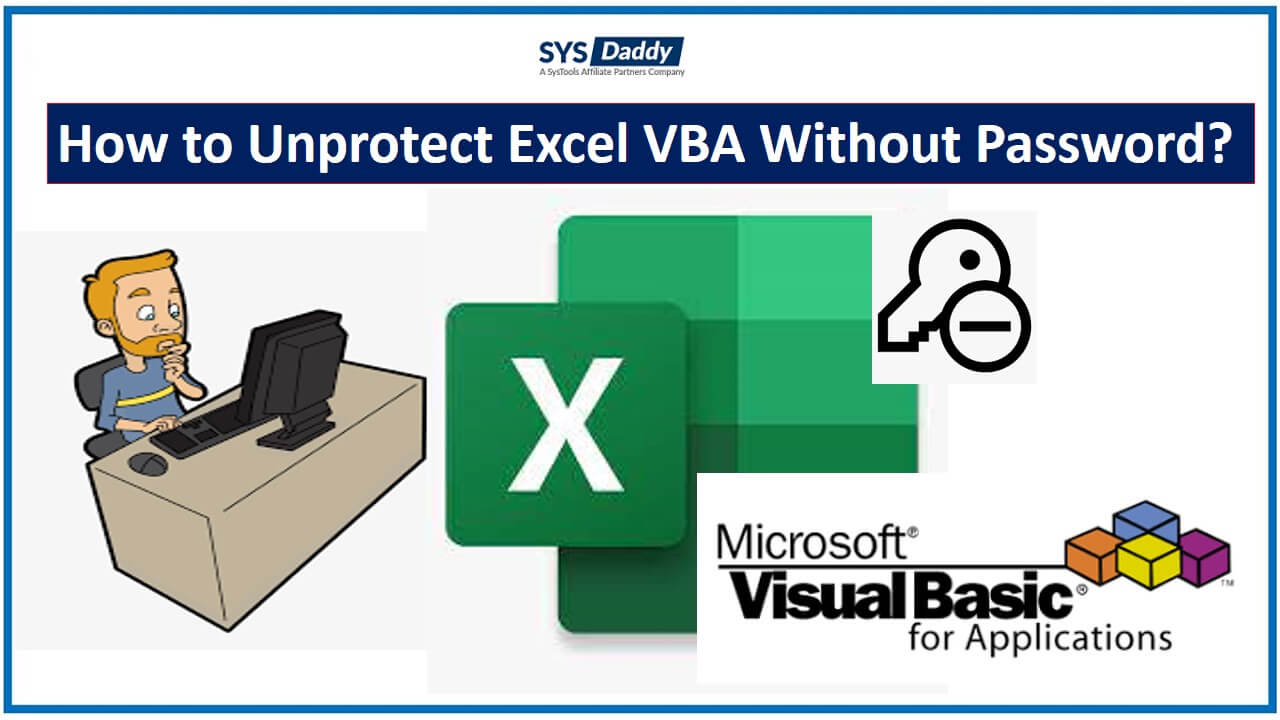 When it comes to Excel files we know how important it is to secure the data safely. But sometimes being a human it is very common to forget the passwords. So, the problem arises at the time of unlocking them. Same here, we will be discussing the way on how to unprotect Excel VBA without password 2021, 2020, 2019, 2016, 2013. Read the article, to know about it, to unlock it when you forget the password.
The VBA files are imperative and used to store important data. So, usually, we always protect them by applying passwords.
Hey, I am Sahil, working as a Manager. One of my staff members has left lately. So, my other junior has to update the file. But, he is not able to do it, as it is password protected. Though we have tried to contact that staff but he was not responding. I need the updates of the file on an urgent basis. So, could anyone out there help to find the solution to unprotect Excel sheet VBA without password?
Solutions to Unprotect Excel VBA Without Password
To resolve this query, there are two methods that are very helpful. To unlock Excel VBA without password, these methods are –
So, try them out by understanding both methods one by one.
How to Unlock MS Excel Sheet VBA Without Password Manually?
In this method, we will explain how you can unprotect Excel VBA without password 2021, 2020, 2019, 2016 with a manual solution. So, follow the guideline to understand the manual method-
Before doing further task, open the Microsoft Excel application
Then, press the Alt + F11 keys to open the VBA dialog box
Now, from the Microsoft VBA screen, mouse-click on the Insert menu and then choose the Module option

Once, it opens just enter the following code in the Window. Then, press F5 to proceed

In this step, select the Excel file to unprotect and hit the Open option
Once it's done, you will get notified with the password from the file has been removed successfully. Hit the OK button

By doing so, the encrypted file will be opened on your screen
Now, go to the File menu tab
From the next screen, in the Info option > click the drop-down option of Protect Workbook. Here, choose the Encrypt with Password option to protect the file

When you do this, a pop-up arrives, here, clear out the password and hit the Ok button
So, now whenever you open a file, you can easily open it without any password.
Limitation of Manual Strategy to Unprotect
Though the manual strategy charges nothing in monetary terms, but it does charge you in terms of data. This means by using it, there is a high chance of risk of losing your crucial Excel data.
Moreover, if you're a non-technical person, then, it would be such an exhausting process to perform. Because it requires such technical coding and other terms. So, keep in mind a technical expert to use this method.
Along with it, the manual way is too lengthy to perform. So, even if you're aware of some technical knowledge it would be a long and tiring process to unlock Excel VBA without password.
Hence, it is not considered as the perfect solution to do this task.
Unprotect Excel VBA Without Password Automatically
As of now, you got to understand that it is a kind of distressing way to unlock Excel VBA without password manually. Hence, to ease this task, we have brought a reliable and automated solution named SYSDaddy VBA Password Remover Tool. This software has been designed after being tested by top technical professionals. So, by using it you will not have to face any exhausting situations.
Not only this, it is the most secure and easiest way to perform this task.
In addition, this advanced software is qualified enough to unlock the VBA project of Excel Sheet if you forgot your passwords in the 2021, 2020, 2019, 2016, and below versions. So, it removes all the existing and old passwords from the Excel Workbook and sets a new one.
Few Advantages of the Automated Non-Technical Method
However, it comes with some amazing features that help to remove VBA password from Excel 2021, 2020, 2016, 2013, 2010, 2007-
This software helps you to easily unprotect Workbook VBA without password. So, if you don't remember your passwords it really does not matter.
Moreover, this application is compatible with all the Windows OS versions i.e. 11, 10, 8, 7, and all.
On top of this, this automated solution can remove any length of password effortlessly.
Also, it demolishes all the old passwords and set a new one to unlock Excel VBA without passwords.
In addition, it comes with its free trial version, so, before going for the license version. You can choose the trial demo version and get to know more about it.
Steps to Unprotect Excel VBA Without Password Directly
Before anything else, download the software on the PC. After this, follow the steps as mentioned below-
Firstly, click on the Add File(s) or Add Folder to add the MS Excel Workbook

Now, browse the required file on the software panel and click Open

Finally, click on the Reset button to unlock Excel Sheet VBA without password.
Conclusion
However, how to unprotect Excel VBA without password 2021, 2020, 2019, 2016 is such a big concern. In this article, we have discussed the technical and non-technical strategies to unlock the Excel workbook when you forgot the passwords. Hence, we have focused on removing and unlocking the Excel VBA project here without password. But, if you don't want to go for the technical way then an automated way has also been mentioned as SYSDaddy Utility. So, try them out to resolve this query.