Methods of Saving Outlook 2016 Emails to Hard Drive with Attachments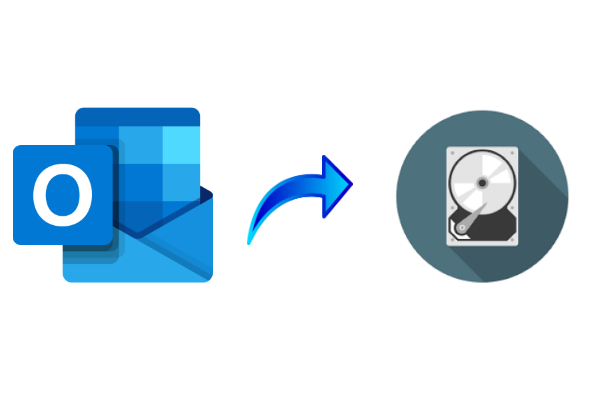 "My organization uses MS Outlook as the email client but I do not have MS Outlook in my home system. But often, I am in need to access those emails for reference. I have tried saving the emails in MSG or HTML format, but none of these was able to fulfill my needs. Can anyone suggest me the method of saving Outlook 2016 emails to hard drive with attachments?"
There are many users like this, who are in need to save their Outlook emails in hard drive with attachment. Unfortunately, there is no manual solution available for this. So what you need to do is to try some smart software that can get the job done for you.
There are various applications in the market but not all of them are equally effective. SysTools Outlook to PDF Converter is a software that has already gained popularity for its awesome features. It can save all Outlook emails into PDF with attachments as their original format. Let us tell you how to save Outlook emails to hard drive with attachments.
Ways of Saving Outlook 2016 Emails to Hard Drive with Attachments
If you are a Windows user and want to store the email data with attachment in HDD, this software is a feasible option. Follow the steps one by one to complete the migration.
1. Download the software from the link below and install on your computer.
2. Open the tool and click on Add File button.
3. If you want to save emails from a single file, choose File and for multiple PST, select Folder.
4. After the files are loaded, preview them and click on Export button.
5. Select the folders that contain the necessary emails.
6. Apply additional settings and date filter options.
7. Choose the location for saving the PDF files.
8. Click on Export button to start saving Outlook 2016 emails to hard drive with attachments.
Benefits of the Tool for Saving Outlook Emails in PDF with Attachments
The software comes with a number of benefits to the users, Let us get familiarized with the features:
Generates Generic PDF: This application converts Outlook emails to PDF with attachments to save in hard drive. The PDF files are generic in nature and can be opened on any computer running on Windows or Mac OS. Therefore, opening those files do not involve any software dependency.
Simple Yet Smart Tool: Users these days look for applications that are easy to use but delivers error-free results. This application comes in a user-friendly GUI that anyone can operate without facing difficulty. At the same time, the tool saves your emails without any data loss.
Advance Scan Option: Even if you have Outlook data file that is damaged already, try this software. The Advanced Scan feature of this utility will make the tool corruption-free at first, and then end up saving Outlook 2016 emails to hard drive with attachments.
Load Old Scan Result: The tool also offers an option to save the PST file scan results. Users can save them and the next time they proceed to save the email from that PST file, they can simply load the scanned data and save time.
Bulk File Addition: Using Add Folder option, users can store all the PST files in a folder and then add it to the tool at a go. Then they can save emails from all the PST files at the same time without any trouble.
Date Filter: With the date-filter options, users can enter a date range. The tool will save emails received during that date range and skip the rest while saving Outlook 2016 emails to hard drive with attachments.
Additional PDF Settings: While using this software, users can apply some PDF settings such as Bates Number and Date Stamp. Other settings like Internet Message Header, Page Margin, Paper Size, etc. can also be set from the software interface before saving the emails.
Outlook Not Needed: Even if your Outlook is not working or you do not have Outlook on your computer, emails can still be saved in hard drive with attachments using this application. It collects data straight from the PST file and save them into PDF format.
Try the Free Demo Now
To use this software, you do not have to purchase it. You can download the demo version for free and test how it works. Once satisfied, you can buy the full license of the tool. There are three types of license: Personal, Business, and Enterprise. Choose the one that suits your need.
Concluding Words
It is now possible to access Outlook emails when Outlook is not working or the tool is not installed. For these situations, saving Outlook 2016 emails to hard drive with attachments is a great solution. This will enable users to open emails with attachments from Outlook even when the Outlook is not around. This blog suggested a software that can save the emails in PDF with attachments. Since PDF files can be opened on any computer, this software will be proven beneficial for the users.