How to Open OLM File in Apple Mail For Mac Manually?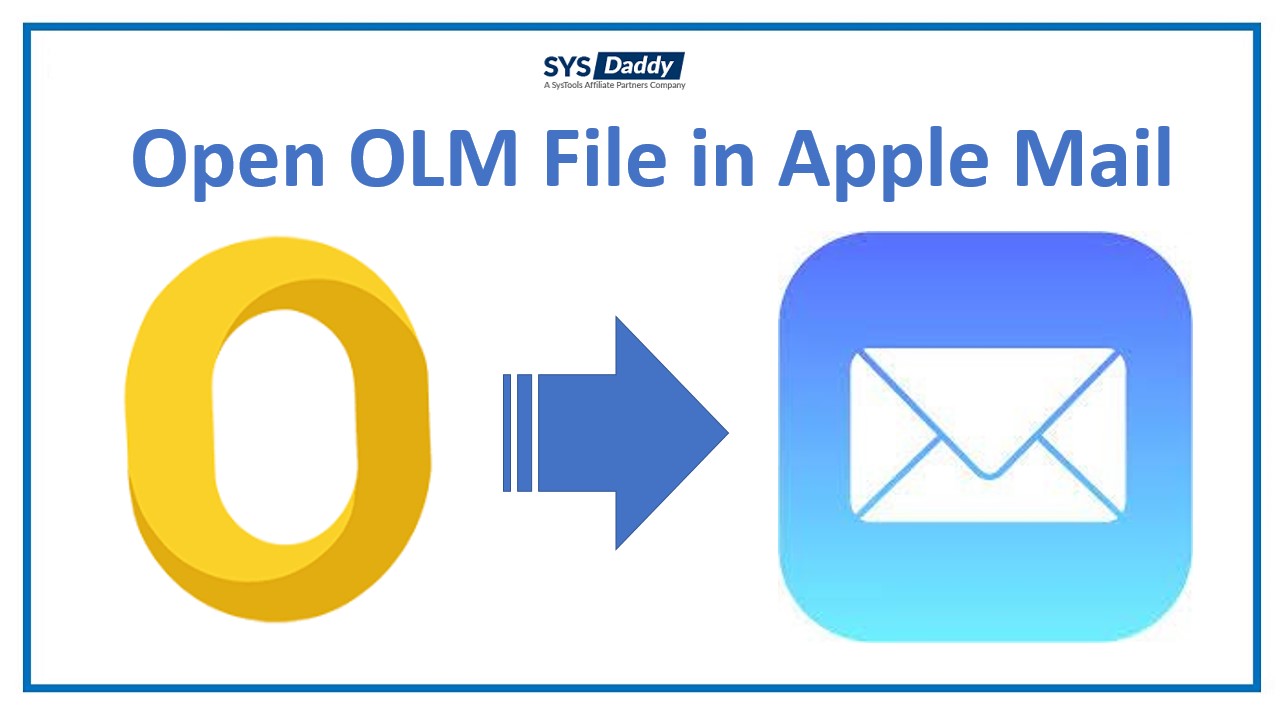 MS Outlook is one of the best user-friendly desktop-based email clients available for both Mac and Windows platforms. And this write-up is all about Mac Outlook. Because of some reason, many Mac Outlook users want to open OLM file in apple mail. But the concerning point is that both the email programs support different file formats.
That's the reason you are unable to do this directly. Therefore you need to convert Mac Outlook OLM file into MBOX format supported by Apple Mail.
However, we will discuss different approaches that can easily transfer Outlook OLM file into Apple Mail.
Read More to Learn- Migrate Mac Outlook to Windows Outlook
But, before moving directly to the conversion process we first need to understand some real-life situations which are based on Mac Outlook to Apple Mail conversion.
User Query
Hey, I am a Mac Outlook user for many years. But from the last few months, I feel that the working of the Mac Outlook became so slow. So, to overcome this problem I uninstall and reinstall Mac Outlook but the problem remains the same. Therefore, I started using Apple mail and I found it more easy and simple than Outlook for Mac. Hence, I am planning to transfer my entire Mac Outlook data into my Apple Mail account but I am unaware of the procedure. Can anyone suggest me any reliable solution to open .olm file in Apple Mail? Any suggestions will be appreciable.
Solution:  If a user needs a simple and convenient solution to open OLM file in Apple Mail then they should try this ultimate professional solution. Mac OLM Converter is one of the best applications which help you perform OLM to MBOX conversion in a very short period.
Apart from this, we have another manual solution described in this article. After reading both the solutions choose which one is best for you.
Best Solutions to Open OLM File in Apple Mail
Here, in this blog we will going to discuss two best solutions that can help you to easily transfer Outlook file into MBOX file format. So, these are:
Why Switch From Outlook Mac OLM to Apple Mail
However, there are multiple reasons responsible for why you will need to open .olm file in Apple Mail. Some of them are listed below:
First reason could be to Manage multiple OLM files into a reciprocal Apple Mail email client.
Another reason is the reoccurrence of similar errors in Mac Outlook is the biggest reason for migration.
Many of you out there may excited to use the Apple Mail functionality and being bored with Mac Outlook.
Along with this, when you are changing an organization might be the reason for this conversion.
Manual Method to Open OLM File in Apple Mail
To transfer Outlook file to Apple Mail you need to follow the below-mentioned steps. Follow the steps carefully-
To initiate the process, open Outlook on your Mac machine
Then, select the mailboxes which you need to migrate from Outlook to Apple Mail
Now, you need to drag and drop the selected mailbox to your desktop interface. It will automatically save in MBOX file format
Repeat the above step till all your entire mailboxes are converted into MBOX file format
After this, preserve all your MBOX files into one folder
Close Outlook and open Apple Mail
Navigate the File menu and choose the Mailboxes option
After clicking on Mailboxes a new dialog box will appear on your screen. Choose MBOX file format from the dialog box and hit the continue button
Afterwards, navigate the folder that has all your MBOX files. Tap on Choose to continue the process
By doing this, a new window pop-ups, here you can preview all your .mbox files. If you don't want to import any individual mail then uncheck the box of that mail
Finally hit the Continue button to complete the process.
Automated Solution to Open Mac Outlook Files to Mac Mail
As of now, you may have find that the Manual method is more lengthy and complicated. Therefore, in this situation you must opt the best SYSDaddy OLM File Converter Software. It is specially designed to open .olm file in Apple Mail in a few clicks. Apart from this, it is capable to export the .olm file into more than 9 file formats. You can convert OLM to CSV fileand also you can convert OLM file to Text, and other formats.
For Windows
For Mac
Addtional Features of the Utility
Here, following are some features that are additionally provided by this given application, give a look to them:
This application allows you to export mailboxes of Mac Outlook in bulk.
On top of this, you will be capable to transfer selective OLM file data into different file formats as required.
Moreover, this tool generates a complete report of the process after the completion of the conversion process.
Along with this, you will be enable to export selective mailboxes using the date filter option of the utility.
Additionally, it provides you an option to split the large PST file into smaller ones without a hitch.
Furhtermore, this utility supports all the versions of Mac Operating system.
Steps to Export and Open OLM File to Apple Mail
Download the software on your computer and follow the steps mentioned below to know the working of the tool-
First and foremost, click on the Add File/ Folder option to upload your file and mouse-click the Next button

From the new window, select the MBOX file format from Select Export type

Then after, Navigate the destination folder for you resultant file

Finally, hit the Export button to begin the process.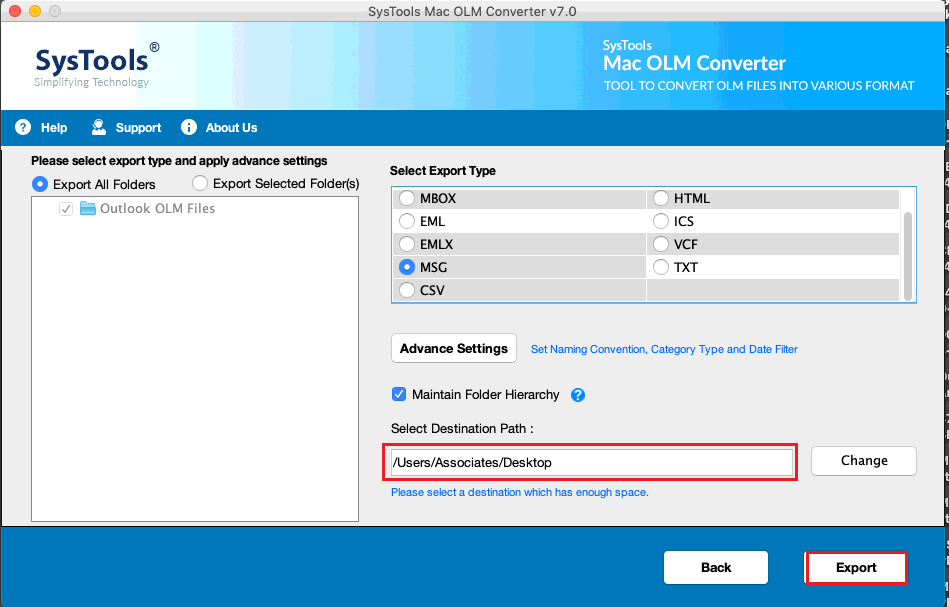 Once the software completed the process, go to the destination folder and access the resultant file. Now, you can easily import the converted MBOX file into Apple Mail.
Limitations of Manual Method
The above method doesn't enable you to transfer your entire OLM file into Apple Mail. So, it has many limitations. Some of them are mentioned below:
You will not be able to import bulk OLM files into Mac Mail with the help of the manual method.
In addition, it will take your a lot of time to complete the whole process.
Not only this, if you have any orphan .olm file and you want to migrate it into Apple Mail, then you will not be able to do this migration as well with the manual method.
Conclusion
In this article, we have described both the methods to open OLM file in Apple Mail. However, the manual method has its limitations. So, to overcome this you need to choose an automated approach SYSDaddy Software to transfer OLM files to Apple Mail. This all-in-one utility is tested by experts and able to export Mac OLM file into 8+ file formats without any trouble.
Moreover, the interface of this tool is designed in such a way that even non-technical guys can easily able to transfer Mac OLM file to MS Outlook, Apple Mail, Thunderbird, and other leading email clients. Also, you can download the demo version of the tool for free to migrate the files in a quick way.