How to Export Recent Addresses Outlook 2011, 2016, 2019 Mac OS?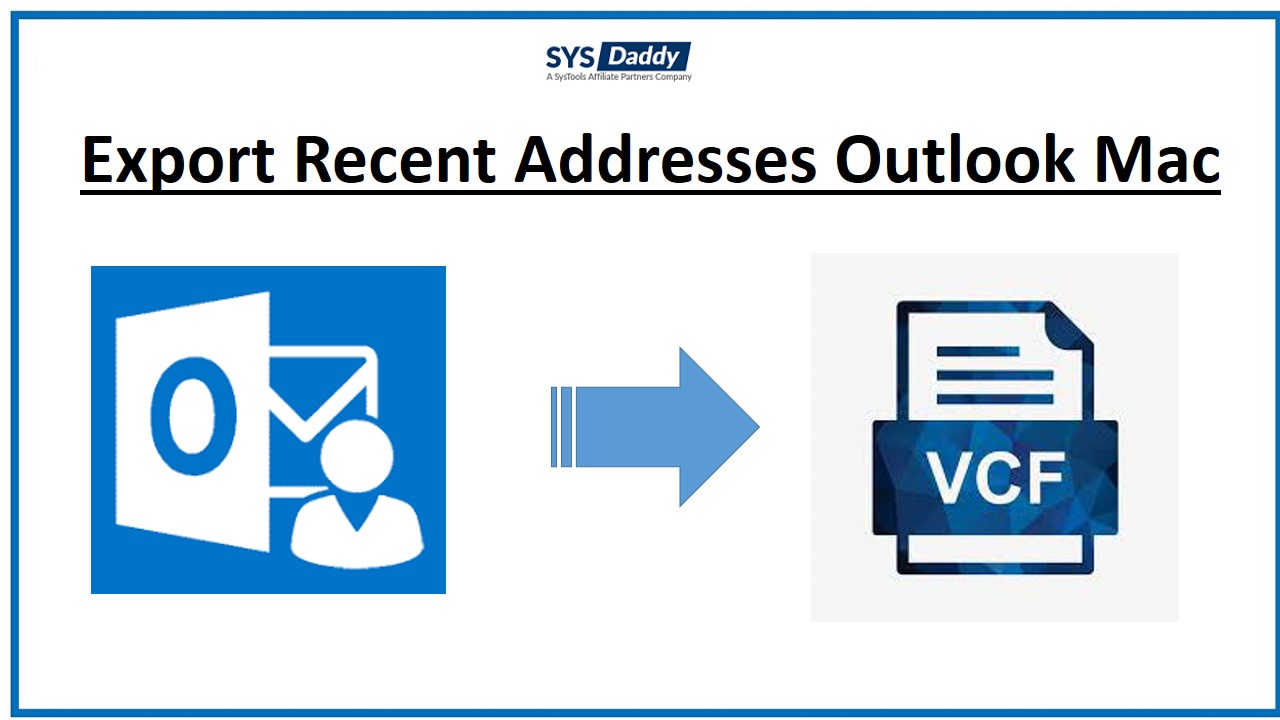 Do you want to export Recent Addresses Outlook Mac to PST / VCF / MSG / PDF / TXT/ HTML formats? If you want to export autocomplete list of Mac Outlook 2019, 2016, 2011 to any of these format then, you are at the right place!
This mentioned software has been designed especially for the Recent Addresses feature in Mac Outlook. Also, you can use an OLK converter tool. Because autocomplete lists or recent addresses are made of OLK file format.
Then, why have we made this tool dedicated to recent addresses only? Because OLK converters can transport all of your Mac Outlook files related to emails, calendar, general contact list, etc. and this makes it expensive. Especially when you just want to export cached contacts of Mac Outlook. So, this is the sole reason we have come up with this dedicated and trustworthy software. So, try the SYSDaddy Mac Outlook Cached Contacts Recovery Software. It is made for your convenience and to save your money.
You can download this tool For FREE which will export 10 items per profile or identity of Mac Outlook.
For Mac
Purchase Now
For Windows
Purchase Now
Note: Moreover, in this write-up, we have used other terminologies for recent addresses like Cached contacts and Autocomplete List. They are all the same.
Export Mac Outlook Cached Contacts to Various Platforms
This tool provides numerous file formats in which you can export recent addresses. Here is the list of all the file formats and platforms that supports them:
PST – File type supported by Windows Outlook application. After exporting to PST, you can import the PST file to Windows Outlook.
VCF – Virtual contact file which contains the name, address, email, the phone number is human-readable text and can open in Notepad of Windows and Text edit of MacOS.
MSG – supported by Windows Outlook and Exchange Server
PDF – Portable document that can be open on any operating system.
TXT – Notepad, TextEdit or any other word processing application
HTML – Web Pages
How to Export Recent Addresses Outlook Mac?
Initially, download and install the tool for MAC Outlook on your Mac framework. Furthermore, it is an easy-to-use tool with a self-explanatory interface. In just three simple steps you can export Mac Outlook autocomplete:
After this, click on the Auto Location option or physically peruse Outlook 2011, 2016, 2019 Profiles/Identities
Now, choose Profiles / Identities from which you want to export recent addresses
Now, select your desired export format option. Also, hit the Change for destination path
Finally, click on the Export button to initiate export recent addresses Outlook Mac process.
Now, in the next section of the tutorial we will talk about the advanced features of this stand-alone software.
Top of the Line Functionalities – You Won't Get Anywhere Else
It is a unique software that is solely made to Export Recent Addresses Outlook Mac OS. There are no other tools in the market like this till now. To know more about this tool, all the features are listed here:
1. Automatically Finds Recent Addresses from Profiles and Identity.
The tool gives you options to either manually browse for all the Mac Outlook profiles or it will automatically locate them for you to save your efforts.
Moreover, it can easily search identities of the 2011 Mac Outlook and 2016 / 2019 or Office 365 profiles.
Eventually, it searches both OLK 14 Recent Addresses & OLK 15 Recent Addresses files.
2. Also Fix the Cached Contacts / Recent Addresses Bug
If your recent list has disappeared or lost, then you have not to worry about it because it will easily return them to you.
Not only this, the software was initially designed for the fixing the bug of cached contacts. So, you don't have to buy expensive software to fix any recent addresses related issues.
3. Create Different vCard Versions
In addition, this tool provides you an options to make vCard 4.0 / 3.0 / 2.1 version
By default, it will create a 4.0 version.
You can also create a single VCF file for all the recent addresses or separate VCF files for each recent address.
4. Creates Single PDF Document
Just like vCard, it can create a single PDF file for all cached contacts or separate PDF files for each cached contact.
Export Recent Addresses Outlook Mac – Conclusion
Now, you must be glad that there is actually software that is made for only an autocomplete list of Mac Outlook. Usually, people have to buy an OLK converter to export them to a new format. But, no more! Now you have this SYSDaddy Software that can export recent addresses Outlook 2011/ 2019 / 2016 / O365 to PST / VCF / MSG / PDF / TXT / HTML.
Moreover, you can also export recent addresses and get them back on your system. It's an all-in-one software that can fix the bug as well as export.
So, before you purchase the license key of the software, you can try its FREE demo version.
FAQs
Q – I am using Windows 8, will this software work in Windows 8 OS?
Yes, of course. It does not matter what Windows version you are using. This tool is compatible in all the Windows version. But you have to launch the software "As an Administrator".
Q – Do I have to install the MS Outlook in my computer? ​
Certainly yes, MS Outlook should be properly installed and configured in your system in order to use this application. It won't matter whether is for Outlook 2019, 2016, 2011 Mac.
Q – Is technical knowledge is must while using this application?
No, not at all, this software is well-defined and simple to use. So, it does not matter if you don't any technical knowledge. You can operate its user-friendly interface to export recent addresses Outlook Mac.