Solution to Outlook MAC 2016 Autocomplete Not Working Problem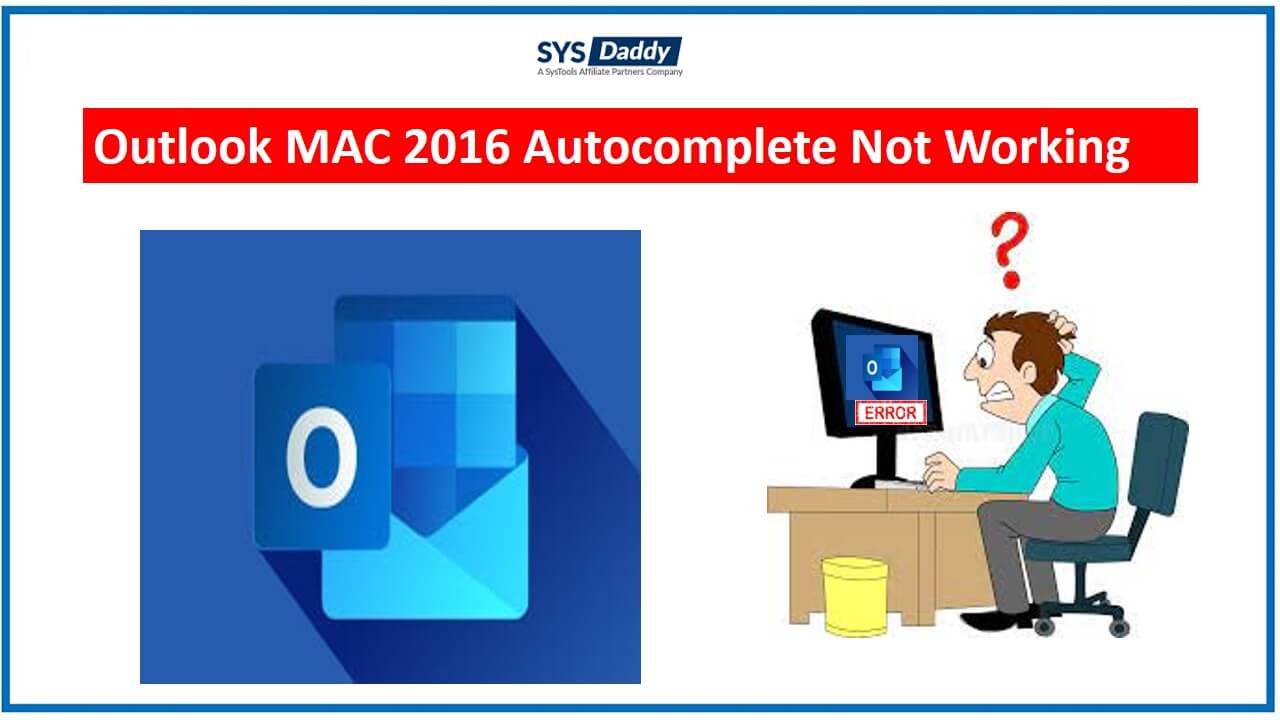 Some people have this problem that their Outlook MAC 2016 autocomplete not working properly. They have lost all their cached email addresses. And now they want it back!
When you type something in the 'To', Outlook autocompletes the whole email address. This makes it easy as you don't have to type the full email address.
Mac Outlook stores its data in a local database in OLK or OLM file format. and every MAC system creates its own local database of Recent Addresses. Also cannot be sent to the Microsoft exchange server. That is why if somehow you lost them then it will be very difficult to get them back manually. In Mac Outlook 2016 these recent addresses are stored in this location:
\Users\\Library\Group Containers\UBF8T346G9.Office\Outlook\Outlook 15 Profiles\\Data\Recent Addresses
There can be many reasons why Mac Outlook autocomplete not working. The most common reason is corruption which can be caused by malware, sudden system shutdown, and a lot more.
If the Outlook email address autocomplete not working problem due to corruption, then you can recover autocomplete list in Mac Outlook 2016.
Now the question arises, how can you restore Outlook autocomplete list?
The simple answer to the question is a recovery tool. There are many software out there that claim to recover cached email addresses. However, depending on what gives a reliable and accurate result, it is a complicated task for users to find. Most of the tools do not give accurate results and the user has lost their data.
Well, what's to be done next?
To make it easier for you to find the perfect software, we share the tool recommended by experts after tried and tested several tools.
Solution for Outlook MAC 2016 Autocomplete Not Working Issue
SYSDaddy introduced the effective software, especially for Mac Outlook autocomplete feature called Outlook Cached Contacts Recovery Software for Mac OS. With the help of the tool, you can recover cached contacts and export them into various file formats on Outlook Mac 2019, 2016, 2011.
It is the perfect solution to resolve Mac Outlook autocomplete not working problem. Because with the help of this tool, you can rebuild your Outlook cached contacts very easily and instantly.
In the coming sections, we will see how to rebuild Outlook Mac's recent addresses using this tool. Then I will talk about its features.
Steps to Fix Mac Outlook Email Address Autocomplete Not Working
Step 1. Download and Install this tool on your PC.
Note: To run this software make you have JDK & JRE 8 installed in your Mac Machine. You can install it from here.
Step 2. Choose the Auto Location option or manually browse Outlook 2019/2016 Profiles.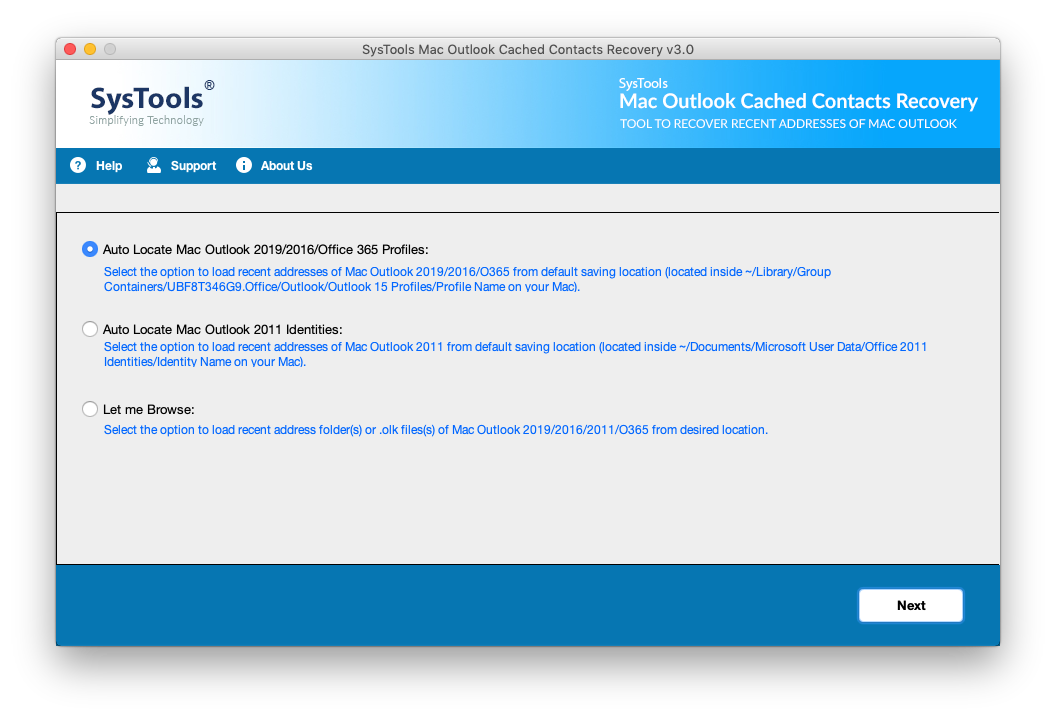 Step 3. Select all 2016 Mac Outlook profiles from which you want to retrieve the autocomplete list.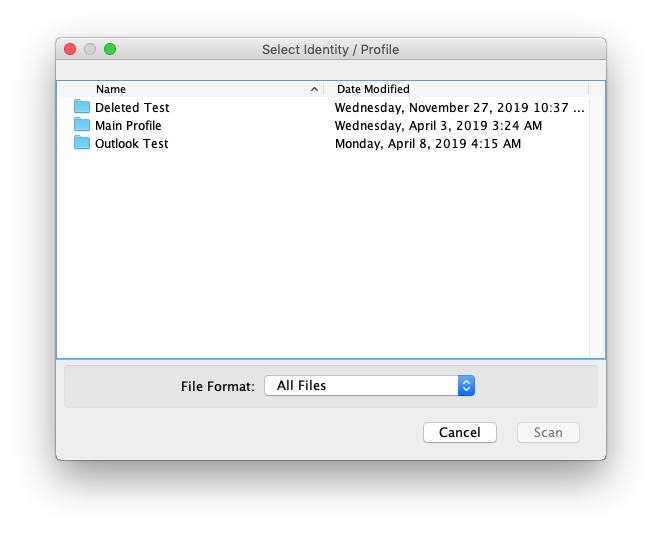 Step 4. Choose any export format option and press the Export button.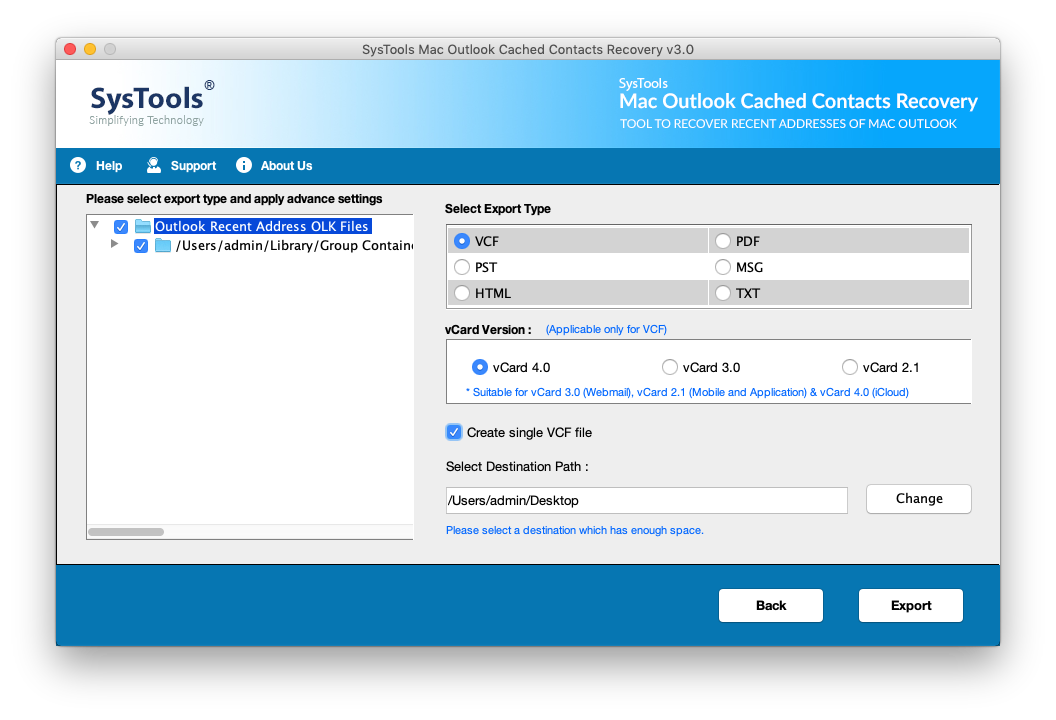 Done! Your cached email address recovers within a few minutes.
This is how it is easy to remove corruption and fix Outlook Mac recent addresses not working issue.
Read More:
Other Functionalities You Get With This Utility
This software has been can restore lost autocomplete list of Outlook for Mac email addresses. These features make it the perfect solution for Outlook Mac 2016 autocomplete not working problem.
1. The tool provides two ways to search Outlook profiles & identities – you can either manually or automatically search MAC Outlook 365 / 2019 / 2016 and identities of the 2011 Mac Outlook.
2. Moreover, this software is compatible with both OLK 14 & OLK 15 files and swiftly process them.
4. Also, you can export recovered email addresses to these export formats: PST / VCF / MSG / PDF / TXT/ HTML
5. Along with this, you have options to make all vCard adaptations: 4.0 / 3.0 / 2.1 version (by default tool generates 4.0 version).
6. In addition, this tool gives two different ways to make PDF and VCF records:
Generate separate PDF/ VCF files for each autocomplete email address.
Generate a single PDF/ VCF file for all autocomplete list of email addresses.
Resolved – Mac Outlook Email Address Autocomplete Not Working Issue
This is the only tool available in the market that is designed to restore cached contacts and fix Outlook MAC 2016 autocomplete not working error. This not only saves money but also ensures a smooth recovery. You can download the free version of SYSDaddy Software and check its efficiency before making a decision.