Can You Export Task List from Outlook PST File? [Solved]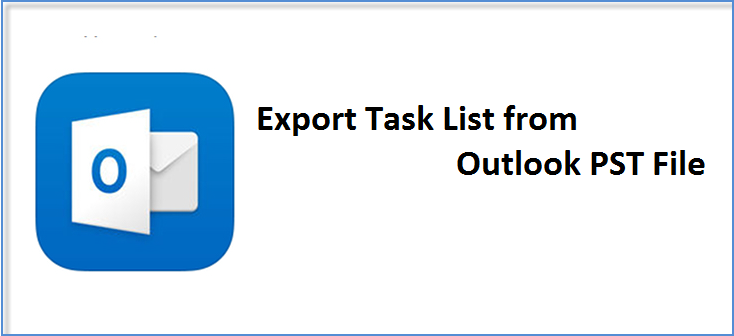 Outlook provides many services other than sending and receiving emails. It authorizes scheduling meetings and creates notes. Along with it, it permits to make a to-do list and create a crucial task in a trouble-free manner. Whereas when you want to export task list from Outlook and want to switch from one email client to another, you need the best solution to do so.
Many of you who are not aware of the method to export Outlook task list and searching for a simple and most reliable solution. This guide is for you.
In this article, we will going to answer all types of questions. After reading this article, you can easily export task from Outlook with the help of the given method.
Therefore, give a complete reading to this guide to know more in a precise manner.
However, working with the manual method you should take care of everything during a process because a small mistake could ruin everything.
As we talked about the automated solution, you need to browse the Outlook data file and the software automatically export the task file. After that, you can easily import that file into any other leading email client such as Thunderbird, Apple Mail, etc.
Related Blogs: Open PST File Without Outlook
Method to Export Task from Outlook 2019, 2016, 2013, 2010
Use the expert recommended and most demanded PST converter tool to export task list. This is an advanced utility that helps you to export task list from Outlook PST file to multiple file format such as TEXT, PDF, CSV, etc. The best part of this tool is that it work on both Windows and Mac Operating System. It allows you to transfer Outlook PST file with all items including task.
You can free download the tool that allows you to move 25 items from PST file for free. If you have more items to convert, you can purchase the tool from below-
For Windows
For Mac
Steps to Export Task List from Outlook for Windows OS
First and foremost, download and install the utility in your Windows system. After then, follow the given steps below to know how to export task list from Outlook-
Step 1. Following that, click on Add File to add the PST file having task list
Step 2. Afterwards, Preview Outlook task and click on Export
Step 3. Now, select the desired file(PDF) format to export Outlook task
Step 4. Finally, set destination for saving output and click on Export button to start the process.
Once the process is completed go to the destination folder and access the resultant file. This is how you can export task list from Outlook in a trouble-free manner.
Steps to Export Task from Outlook for MAC OS
Step 1. First of all, click on Add File or Add Folder option from the right panel in appearing window
Step 2. Secondly, browse the task list PST file and then tap Next button to proceed further
Step 3. Following that, preview the file and select any desired file(PDF) format
Step 4. Last but not least, select the destination location and hit the Export button to begin the export task lists process.
Key Features of the Utility
In this section, we will go to explain why we choose the this tool over others available in the market to export task list from Outlook PST file.
Through this application, you can export Outlook PST files into 8 + file formats.
In addition, it keeps original folder hierarchy throughout the export task lists process.
Furthermore, it authorize you to export selective data using date-based filter option.
Additionally export Outlook contacts into VCF file and calendars into ICS file format.
Amazingly, it runs on all the latest version of the Windows and Mac Operating system.
Author Suggestion
So, with the help of this suggested tool, you can easily export task list from Outlook PST file on Windows and Mac operating system. On top of that, the utility does not require any supportive application to execute this task. It is capable of migrating outlook notes, emails, contacts, calendars, into 8 + file formats.
With the help of this tool, both technical and non-technical people can easily execute such a difficult task effortlessly. Moreover, it is tested and verified by experts.
FAQ
Q- My data is crucial, so I am worried should I use this tool or not.
You should not worry about anything, because this application provides your the full security of your datafiles.
Q- I have maintained the task lists folder hierarchy in my datafiles, will my data hierarchy be maintained in this tool?
Certainly yes, whatever hierarchy you have maintained in your datafiles, you will get it as it is after export task lists from Outlook
Q- Does this software provides any option to export only selected task lists?
Yes, there is an option called date filters, by using it you can export selected task lists from Outlook 2019, 2016, 2013, 2010 easily,