Ultimate Guide to Move Outlook Mac to New Computer!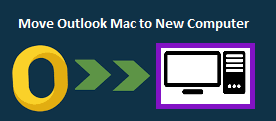 Summary: Many people are searching for a full guide solution to move Outlook Mac to a new computer but don't get any applicable results. Don't worry!! In this write-up, we will provide you the full guide solution to move Outlook Mac to new computer in a trouble-free manner.
It is easy to import a file (.pst) into applications for Mac Outlook users. But it seems to be a difficult task to transfer Outlook Mac to the new computer (Windows Outlook). In the upcoming session, we will discuss two methods of moving the Outlook Mac to a new computer.
Selected Items to Move Outlook Mac to New Computer
Click on the Categorize button in the mid of the toolbar in Mac Outlook, then choose Edit Categories/Add New and click on plus(+) sign
Give the suitable name for your converted file
Choose the items which you want to move from the category
Hit the Edit option from the Outlook menu and select All from the options
Click on the Categorize button and names to move the items
For moving multiple data you need to press Ctrl key from the keyboard
If you need to include contacts, tasks, etc you need to mention them in the category as well.
Read More: Export Mac Outlook to Mac Outlook
Move Outlook Mac to New Computer Manually
To transfer Outlook 2011 Mac to new computer on to Windows Outlook user may use the import features of Mac Outlook by just following the process are mentioned below:
Move PST file to your Mac machine
Navigate the File menu in the Mac Outlook and choose Import
Note: If you need to move selected items then check the checkbox of the items that are available in category option, and choose the items from the drop-down menu.
Choose Outlook for Windows Data File, and hit the right arrow
Browse the file on your computer and click on Import
Wait till the import process is completed, click on Done. Your imported data will be displayed under On My Computer
Drawbacks of Using Manual Method
The manual method is very complicated and time-consuming, users may skip some steps during conversion.
It only allows you to transfer the data of OLM files to Windows Outlook.
The file may get damaged or destroyed during conversion by which the user may lose his data
Expert Method to Move Outlook Mac to New Computer
Users can transfer Outlook for Mac to another computer by using an error-free solution i.e. OLM to Converter Tool. The tool assists you to convert Mac Outlook OLM files to several file formats. Follow the step-by-step procedure of transferring Outlook Mac to Windows Outlook:
Download and install OLM to PST Converter Tool for Windows and Mac.
For Windows
For Mac
Click on Add File button to add your OLM file.
Choose the required file format at which you want to move your Outlook Mac files.
Browse the destination folder for the resultant file.
Click on Export button to initiate the process.
You can now see a Conformation window on your screen. Save your resultant file by providing a suitable name and location and click on the Save button. Your file location will be displayed. Move to the location and verify the items. Now you can preview your PST file in Windows Outlook.
Features of the Automated Tool
It allows you to move Outlook Mac to a new computer.
This tool also permits you to transfer OLM Archive to Email folders to PST.
Users can instantly preview all the emails.
Supports all the versions of Windows Outlook.
Provides more than eight file formats to move Mac Outlook.
Author Suggestion
Mac Outlook and Windows Outlook are mostly used email clients but if we compare both the email clients then Windows Outlook used more in comparison to Mac Outlook. In this write-up, we provide the convenient and the simplest solution to move Outlook Mac to new computer without any data corruption or data loss concern. The automated tool does not need any technical assistance and even a non-technical user can move their Outlook data to a new computer without any extra efforts by using our automated Tool.