Export Mac Outlook to Windows Outlook in 10 minutes? Read This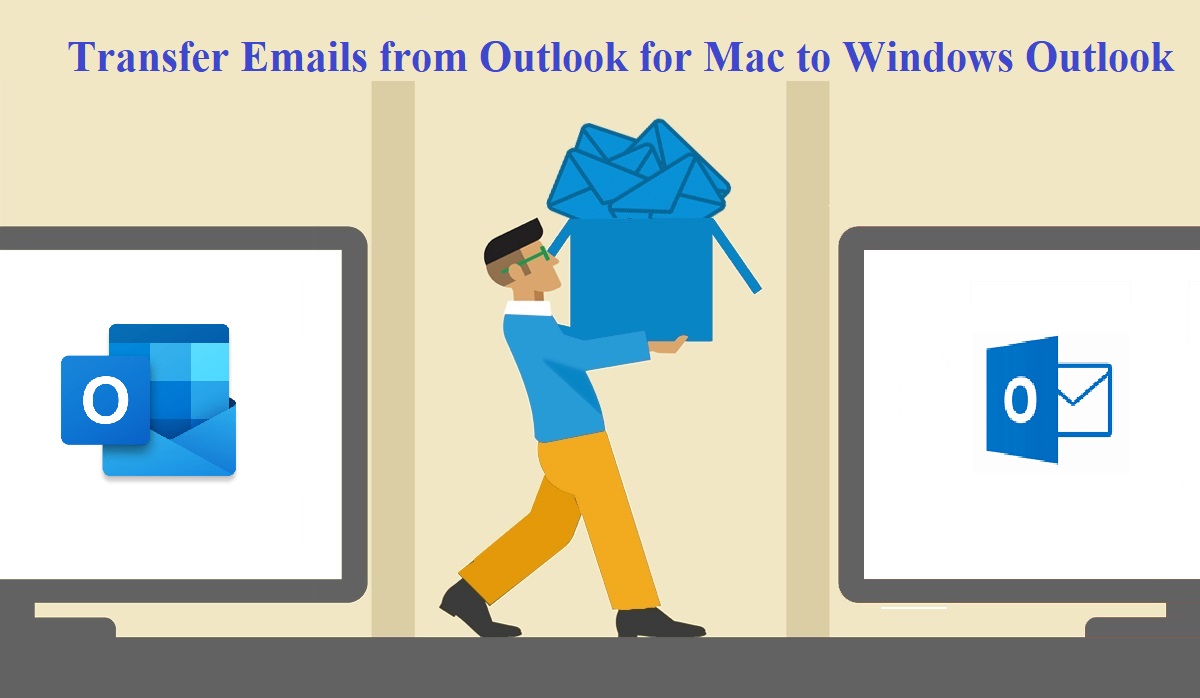 Summary: 'How do I export Mac Outlook to Windows Outlook?' If you are looking for the same, then you are in the right place and here you will get a complete solution to your problem.
Before discussing How to export emails from Outlook for Mac to Windows, let's have a short introduction to Microsoft Outlook.
Microsoft Outlook
Microsoft Outlook is an email client service. It is available for both Windows and Mac. It provides incorporates a user-friendly interface and also provides advanced filters, high-security protocols, etc. Outlook generates a PST file to preserve all its mailbox components.
In this write-up, we discuss the manual method and automated tool i.e. OLM to PST Converter to transfer emails from Outlook for Mac to Outlook for Windows. Migrating emails from Mac Outlook to Windows Outlook is such a complex and tough task because Mac Outlook generates an OLM file whereas Windows Outlook generates a PST file.
Mac Outlook
Microsoft offers Mac Outlook for Mac machines to overcome all the drawbacks of Apple Mail and the Mac inbuilt email clients. All the Mac users are satisfied by using Mac Outlook which has been not possible with other Mac mails.
Outlook for Mac 2011 is the recent version of Mac Outlook which fulfills all the needs on which Mac Outlook 2008 lacks. This version is similar to MS Outlook 2010.
Windows Outlook
Windows Outlook has a strong and standalone existence on the entire globe. Many users are giving preference to using Outlook of most recent versions such as MS Outlook 2013.
But while comparing Mac Outlook and Windows Outlook, Windows Outlook will win with high friction. Well, this will not a point for Mac users to migrate to Windows Outlook, but it will be a point to an individual who uses Windows on the virtual machine.
How to Export Mac Outlook to Windows Outlook Manually?
Open Mac Outlook, Navigate the File menu and select Export from the menu.
A new Export Wizard will display, choose Outlook for Mac Data File (.olm) option and items.
Choose the items to transfer such as Mail, Contacts, Calendars, Notes, etc. and hit the Next button.
Select the option of No do no delete items if you want to preserve your original items after conversion.
Give the suitable name and browse the desired location for your resultant file and hit the Save button.
It will start transferring the selected mailbox items to the OLM files.
Note: Once the process completes you can see the message of "Outlook has finished the exporting process". After it, you need to convert OLM file to PST file, which you need to import in Windows Outlook. For this, you need to follow further steps.
Open MS Outlook, navigate the File tab and choose Open & Export option
Tap on Import/Export in the Open & Export wizard
Choose Import from another program or file and hit the Next button in the Import and Export wizard
Choose Outlook Data File (.pst) and hit the Next button
Hit the Browse button and navigate your PST file
Now Click on Finish button.
Done! These are the manual steps to export Mac Outlook to Windows Outlook. But wait, there are limitations associated with the manual approach.
Drawbacks of Manual Method
It is a long and complicated process so the user may skip some steps during conversion.
It only permits you to transfer email data of OLM file to Windows Outlook
The file gets damaged or destroyed during conversion by which the user may lose his data.
Automated Tool to Transfer Emails from Outlook for Mac to Windows Outlook
The professional Tool is very simple and convenient to use. It provides support to convert Mac Outlook data file .olm to Outlook Windows .pst file format.
For Windows
For Mac
The software has many additional features and some of them are listed below:
It transfers emails from Mac Outlook to Windows Outlook.
Users can export OLM Archive to Email folder.
Permits you to instantly preview all the Emails.
Compatible with all the versions of Outlook for Windows.
Permits to export Mac Outlook emails to Gmail account.
Steps to Export Mac Outlook to Windows Outlook are;
Download and install the tool on your machine.
Hit the Add File button to add an OLM file.
Now browse the location and hit the Add file option to start file scanning
Tip: Users can preview all the emails in the Normal Mail view tab after the file scanning completes.
Select the PST file format to which you need to transfer Mac Outlook data files.
Note: You can split your large-sized PST file into smaller ones by the advanced options tab.
Browse the destination folder for the resultant folder.
Hit the Export option to start the process.
You can see Confirmation Window once the process is completed. Open your resultant folder and verify all your items. Now you can import your PST files in Windows Outlook via Import/Export option.
Need of Email Clients
Email services are the most affordable means of exchanging information in multiple modes like one-to-one and one-to-many. This is very useful in organizations for their professional and personal usage.
Because email clients are based on multiple platforms, emailing has become easier the quickest way in comparison with other online ones that always need signing while accessing the mailbox. And also email clients preserve a copy of the original mailbox locally and permit you to access the mailbox even without internet connectivity.
Hence, the user must be very careful about the security of their mailboxes because everything is accessible locally which leads to crucial data stealing. Therefore, users who need to transfer emails from Outlook for Mac to Windows Outlook one needs to follow the steps which are given below.
All Together
Transferring emails from Outlook for Mac to Windows is always a difficult task. Although in this article, we will reveal the manual and simplest error-free resolution for your question on How do I export Mac Outlook to Windows Outlook. Users can also download the demo version of the tool. By using the automatic solution on can transfer emails from Mac Outlook to Windows and the tool also accommodate multiple additional characteristics.