How to Convert OLM File to TXT? – Complete Solution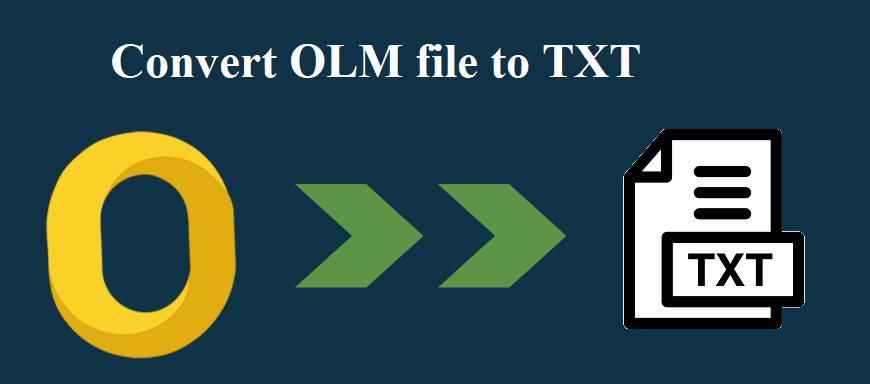 A TXT file is a standard text type format that consists of unformatted text. Also, it is accessible in any text editing or word processing platform. But, if we talk about the conversion of OLM file to TXT then it may be tough task to do.
If you are also worried about the conversion, then don't panic. We have got the solution to your problem. So, to help you out from this situation, here, we will be discussing a convenient method to convert OLM to TXT file i.e. Automated Solution.
Read More:
Difference Between OLM and TEXT File
OLM file:  Mac Outlook export OLM files for storing emails, contacts, calendars, and attachments along with other information that was configured in Mac Outlook.
TXT file: Text file is compatible with all the editors and used to store large no of data and permits to export them into all the major text editors that support TXT file format
After conceding what is OLM and TXT file formats. Now have a look at how OLM to TXT converter for Mac works and why to choose this tool over no of tools obtainable in the market and if you were distracted or not sure to convert OLM file to text format! Read the future section.
Why It is Needed to Convert OLM File to TXT?
However, there are many possible reasons that you might need to export an OLM file. So, a few of them are discussed below:
Converting OLM file to TEXT permits you to preserve the data without any formatting and special characters.
After the conversion you don't need any other application to access the data. Because you can easily open the .txt file with any word processor like MS Word, Notepad, etc.
Moreover, it permits you to share their OLM file after converting them into TXT format.
Along with this, the TXT files are small in size compare to OLM emails.
Steps to Convert OLM File to TXT Using Automated Tool
To perform OST file to TXT conversion, Download and install SYSDaddy OLM File Converter on your system. After, follow the listed steps:
For Windows
For Mac
Firstly, click on the Add File option to add your OLM files

Now, select the TXT file format from Select Export Type

After this, locate the destination folder for your resultant file

Finally, click on an Export type to start the process.
Why We Provide An Automated Solution Over the Manual Method
We advise you to choose an automated solution because there are many consequences of using manual methods. Some of them are described below:
The manual method permits you to convert a single email. It lacks when it comes to converting the emails messages in bulk then you will need to drag and drop every email.
Not only this, but it is very complicated to understand and time-consuming method. So, eventually you will going to waster your precious time.
Moreover, you must have a high level of technical knowledge to do the conversion using manual method.
Furthermore, your crucial data may lose or corrupt during the process as the file gets damage during the process.
Additional Features of the Tool
Through this tool, you will be allowed to convert Mac Outlook files in 6+ file formats.
The applicator ensures you to conserve the structure of the original folder throughout the process.
Also, this tool doesn't need any supportive tool for conversion.
Along with this, this software permits you to convert Mac Outlook contacts from OLM to CSV file, and vCard file formats.
In addition, it doesn't require any technical assistance. So, any non technical person can easily use this software.
Author Suggestion
Many of you out there may be searching for a complete solution to convert OLM file to TXT file format. Therefore, in this write-up, we provided you with the safeguard SYSDaddy Software as an automated method to convert OLM to TXT format in bulk. Here we suggested the best OLM file conversion tool because it is easy to use and convert the file in a trouble-free manner.