OLM to CSV Converter for Mac – Export Mac OLM to Excel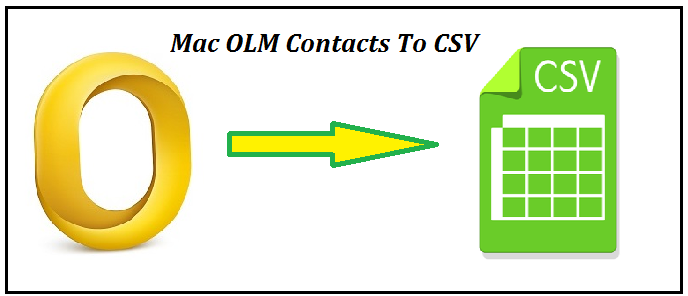 Summary: Many users searching for OLM to CSV Converter for Mac OSX. If you are looking for the same then you are in the right place. Here, in this article, we have introduced the expert method to convert Mac Outlook OLM file to CSV. You can read more about the tool in the below section.
Before learning about the method let's have a look at what exactly the OLM file and CSV file are?
OLM file: Mac Outlook export OLM files for storing emails, contacts, calendars, and attachments along with other information that was configured in Mac Outlook.
CSV file: Stands for Comma Separated Value used to store a large no of contacts and permits to export them into all the major email clients supported CSV file format
After conceding what is OLM and CSV file format. Now have a look at how OLM to CSV converter for Mac works and why to choose this tool over no of tools obtainable in the market and if you were distracted or not sure to convert OLM file to CSV format! Read the future section.
Working of OLM to CSV Converter for Mac
This tool is a recommended solution by most IT experts to convert OLM file into CSV format. This is because the Mac Outlook OLM Converter tool is not only designed to convert Mac Outlook contacts to CSV files but also authorizes a user to export OLM files into 8+ file formats.
Read the upcoming section and follow the steps below to convert Mac Outlook contacts to CSV.
Method to Convert Mac Outlook OLM to CSV
Step-1: Migrate all your Outlook Contacts
Open Outlook for Mac and navigate Tool option, Choose the Export option and open Export Wizard
An Export Window pop-ups, click on Outlook for Mac data file option.
Select the items which are available in Export wizard such as Contacts, Mail, Tasks, etc. You can only convert contacts by check the checkbox of contacts
Enter the specify name of your OLM file and browse the destination for your OLM file.
Wait till as the OLM to CSV Converter for Mac completed the process, and then navigate the location which you have selected for your resultant file and follow the given steps.
Step-2: Convert OLM file to CSV File Format
Download and install OLM to CSV Converter tool
Click on Add file/folder button to add the OLM file
Choose CSV file format from the Export type menu
Browse your destination folder to save your converted file
Hit the Export button to start the process
As the tool completes the process navigate to the destination folder and access the CSV file.
Added Functionalities of Tool
The tool precisely converts Mac Outlook OLM file to CSV without any file size limitations and additionally provides many features let's have a look below.
Permits to convert Mac Outlook emails, contacts, calendar, notes, etc
Approve to preview emails with attachments before conversion
Additionally, split large PST file into small size
Hold original folder hierarchy throughout the process
The standalone application doesn't require an additional tool for the conversion
Authorize to save emails from Mac Outlook as MSG with dates
Capable to export Mac Outlook data to PST without Installation of MS Outlook
Reasons to Convert Mac Outlook Contacts to CSV?
In case if someone wants to export contacts from Mac Outlook to Microsoft Excel, Windows Outlook, Android Phone, Google Spreadsheet, etc. This OLM to CSV Converter for Mac will help you to export Mac Outlook OLM contacts to CSV file format. Along with that, there are many reasons why the user needs to convert OLM file to CSV some of them are listed below;
CSV files are easily accessible as they are supported by any spreadsheet programs such as MS Excel, Open Office calc, etc.
We can import CSV contacts file in various email services or email clients like MS Outlook, Gmail, Google Apps, etc.
There is no storage limit restriction in CSV file i.e. one can store unlimited data with complete details.
CSV file simply uses columns and rows to store data like plan text so it can be easily understandable by both technical and non-technical users.
After knowing the reasons why one should need the automated tool. Let's have a look at the procedure of conversion.
Warping This Up!
The OLM to CSV Converter for Mac is tested and validated by specialists. Users can also download the demo version of the tool and after complete fulfillment, they go with the full version to convert Mac Outlook OLM file to CSV format in a trouble-free manner. The tool is designed in such a way that even a non-technical guy can easily operate the tool.