How to Import Contacts From Excel to WhatsApp Instantly?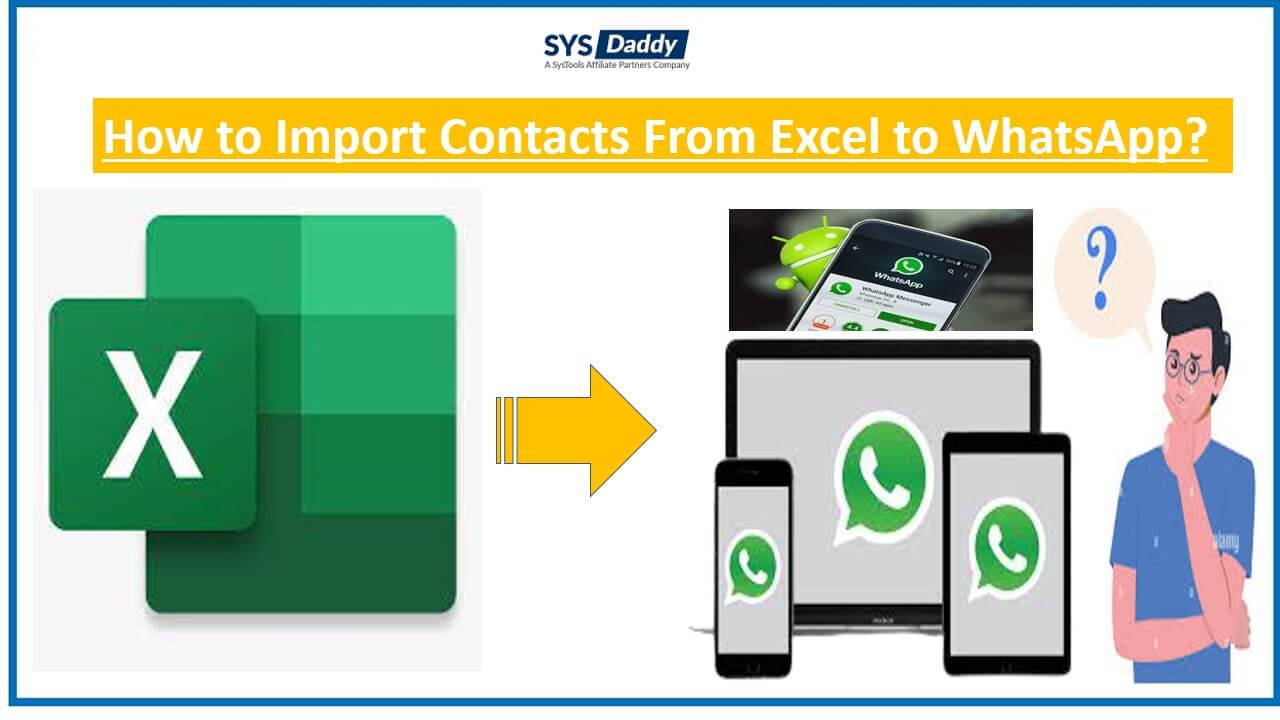 Nowadays, almost everyone is using WhatsApp for day-to-day communication. It has become the top-most usable application for us. There will be hardly a person who is not using WhatsApp. Apart from using WhatsApp, big organizations like to store the contacts in Excel sheets. As it is most convenient to use and manage. Because of its tabular form, one can easily manage a person's contact details. But sometimes the question arises of how to import contacts from Excel to WhatsApp.
User Query
I have been using Excel Sheet to maintain my official contact numbers. But, yesterday I needed to send some information to a few people. So, to do so, I wanted to use them on WhatsApp. As most of my clients use the WhatsApp application only to communicate. Can I import contacts from Excel to WhatsApp application? If there is any possible solution, then please let me know. This will be very helpful for me.
Just like this above user query, many of you out there must be in need to do the same task. So, here, in this tutorial, we will be discussing a perfect technique to copy contacts from Excel to WhatsApp.
Need to Add Contacts From Excel to WhatsApp
As we know, being a worldwide application, WhatsApp is not only working on smartphones but on Android, IOS, Windows, Symbian. You can send docs, images, videos, and more easily with it. So, the Excel user can easily transfer their contacts in a VCF file and use that one on WhatsApp.
There are many reasons behind importing contacts from Excel to WhatsApp. A few of them are-
The most annoying thing for all of us is Ads while using anything online. But on WhatsApp, you won't face such an issue. It is free of Ads. Hence, used by many.
Also, it has been updated to the latest version. Where you get a payment option also to transfer money to anyone from your contacts.
Unlike Excel Sheet, here, you can easily send your location to get in touch with your friends, family.
Moreover, it provides a function to send and receive voice calls, video calls, and more.
In addition, you can get to know about your Excel contact numbers, who are using WhatsApp or not with this application.
Apart from these, there are other reasons so. But, now, let's discuss the solution to transfer your contacts from Excel to WhatsApp.
Solution to Import Contacts From Excel to WhatsApp
Traumatically, there is no manual solution is available for this query. So, in order to accomplish this task. You need to first move your Excel files contact list into VCF format. After doing this, import the resultant file into the WhatsApp application.
We have a better solution to do this task. Use SYSDaddy Excel to VCF Converter Tool to copy contacts from Excel sheet to WhatsApp. With the help of this utility, you can easily access the Excel contacts on WhatsApp desktop or smartphone.
It gives you a free demo version that you can try. So, to use and try it download the software from below-
How to Copy Excel Contacts into vCard File Instantly?
To execute this task, first, you have to download the software on your desktop. Then, follow the steps to import contacts from Excel to WhatsApp-
First of all, mouse-click the Browse button to add the Excel sheet contact list

Secondly, after adding, Preview the contacts list and hit the Next option

In this step, Map the Columns of all the contact lists. Now, tap the Next button

At last, decide the Location Path of the Excel contacts file. Then, hit the Convert button to accomplish it.
As of now, you have the Excel contacts in the vCard file format. So, all you just have to do is import this output file into your WhatsApp application.
Steps to Move vCard Contact List in WhatsApp
In this step, you need to import your vCard file into WhatsApp, so to perform this task follow the steps given below-
Before anything else, open the Contacts application on your Phone

Then, go to Settings of Contacts > Manage your Contacts

Now, hit the Import/Export Contacts Option to proceed further

After this, click on the Import option to add your Contact list

There will be a vCard file on your device, select that one

Afterwards, click on the To button where you want to save the vCard file

Finally, select the account and click on the Import button to finish the process.
Import Contacts From Excel to WhatsApp – Wrap Up
We know most of you because of the business deals like preparing excel sheets for contacts. As it is easy to maintain. But, to use those contacts and to send & receive messages you have to transfer the contacts to WhatsApp.
However, because of the need to add contacts from Excel to WhatsApp. Here, we have introduced the perfect solution for the same. As there is no manual or free method available. But the automated SYSDaddy Software is the best one to use.
FAQ-
Q- I want to send the bulk Excel Sheet contacts to WhatsApp contacts. Is it possible to do so?
Yes, it is possible. For this, first, you need to import the contacts from Excel to WhatsApp. Then, you can make a broadcast list and send whatever message you want to send.
Q- Is there no direct method to add my Excel phone numbers list to WhatsApp?
No, there is no such direct method. Because both applications are supported by different file formats. So, you will first transfer the excel contacts into vCard format.
Q- Do I need any other application also to use this software?
No, not at all. This software is a standalone tool. So, you just need to download this one and follow the above steps.