How to Import Excel Spreadsheet to Mailbird Account?
Do you want to import Excel spreadsheet to Mailbird? Also, looking for a solution to export contact data from an Excel spreadsheet (XLS/XLSX) to a Mailbird account? Then you are definitely in the right place as we have come up with the relevant methods to perform this task efficiently.
Contact management is an important process, especially when managing business contacts. Users use different apps to manage their different accounts and use different devices to access their accounts. To do so, users must be able to manage contact details from these various platforms and devices. While reading some forums, I found that some users have query to import contacts from Excel to Mailbird. First, let's look at the query.
"Hello, one of my employees shared a large files of Excel . I'm in the marketing team. So I need this address book data to contact my team. Is there a way to import these contacts into my Mailbird account? I've read about manual techniques for importing Excel contacts into Mailbird. However, it seems a bit long and difficult, and I'm also missing important data. So now I want a professional way to import Excel contact list file into Mailbird without any data loss. Any advice & help you can provide would be greatly appreciated. Thank you!

After reading the query above, I started researching and came across a discovery that helps users import Excel contacts into Mailbird. Now read this article for the best solution to move contact table from Excel to Mailbird.
Solution to Import Excel Spreadsheet to Mailbird
There is no direct way to import contacts from Excel into Mailbird. For the import process, you need to follow the below-mentioned method step by step.
#1. Convert Excel Contact File to vCard Format
Now we have excel contacts in xlsx, xls, xlt or xlstx format. In this step, we convert Excel contacts file to VCF format. For this you can use Excel to VCF Converter Tool. The software allows to convert Excel contact files into VCF format, which contains information like name, phone number, email address etc. The utility exports the contact files in three versions of vCard format, viz. 2.1, 3.0 and 4.0.
Free Demo: The trial version of this application allows users to export only the first 25 contacts from Excel file. However, if you want to transfer unlimited Excel contact data, you must first activate this program by purchasing the appropriate license from official website. The overall functionality of this utility is very simple and efficient as any non-technical user can understand it better by following these simple steps:
Download and Open the Software
Click the Browse button to Select any Excel File type
Then the application will preview all Excel contacts file
The tool will now provide the option to map fields. You can now map Excel file fields to vCard fields
After matching the fields, click the Add button. This tool will display the matching properties. Now, click on the Next button
This software will provide many advanced features and you can select these options according to your requirements
Allow Import of Empty Email Addresses: Check this option to easily convert contacts with empty e-mail address fields
Single vCard File for All Contacts: Select this option to create one vCard file for all contacts
You can also choose which version of the vCard file to export if you wish
Next, Pick the Convert Option to start the process
After the process is complete, the software will display a confirmation message.
The software will create separate VCF files for each contact and save the files in the location you choose during the conversion process.
#2. Import the vCard Contact File into Mailbird
First, you Need to Open the Mailbird Email Client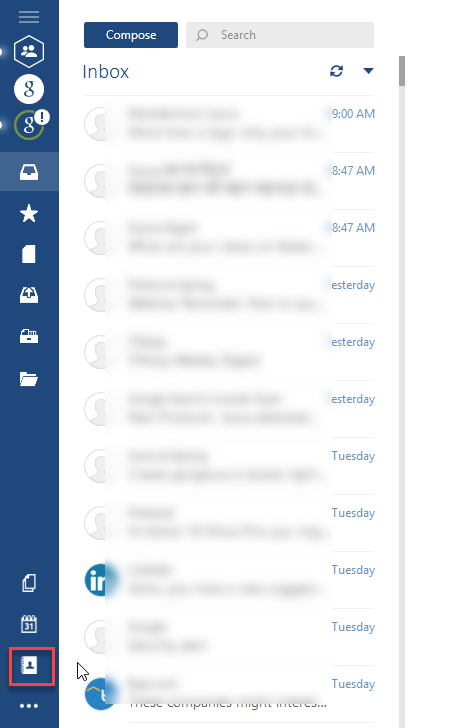 After that click on the contact icon on the left side panel. Then, the application will display a list of all contacts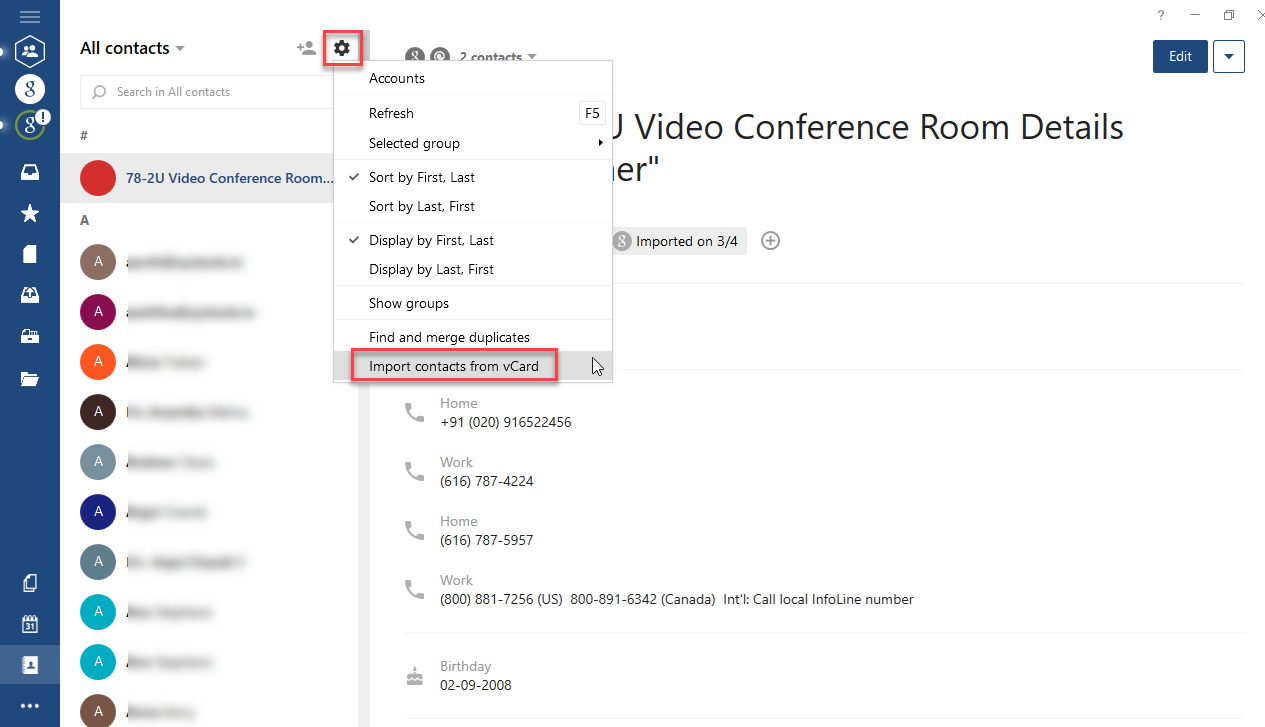 Next, Press on the gear icon at the top. Tap it to see the "Import vCard Contacts" option to import contacts from Excel to Mailbird
Click the Browse button to browse the data in the exported vCard file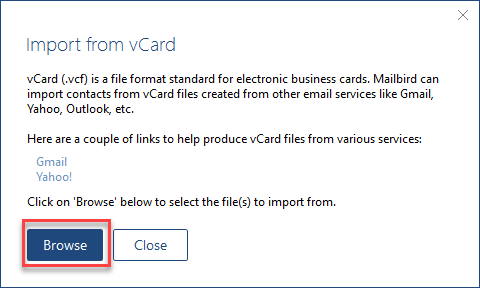 From this screen you can select one VCF file to import >> and click Open button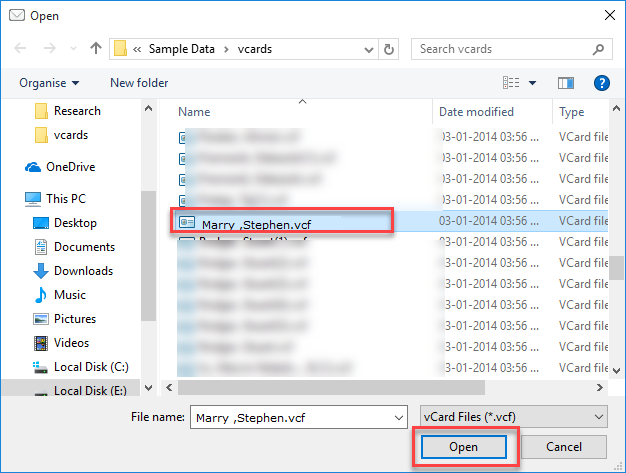 To view imported vCard files, click the All Contacts drop-down menu. Now go through the imported VCF contact file. It will be saved with the meeting date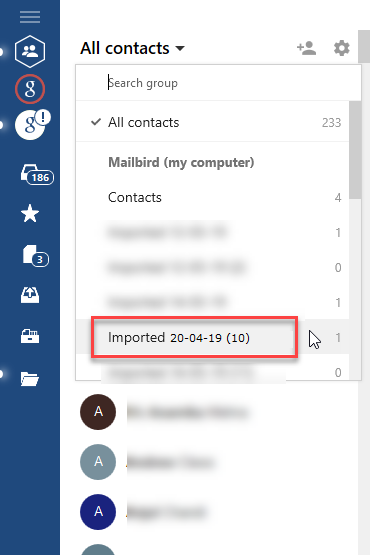 Now, click on the file to view all contacts.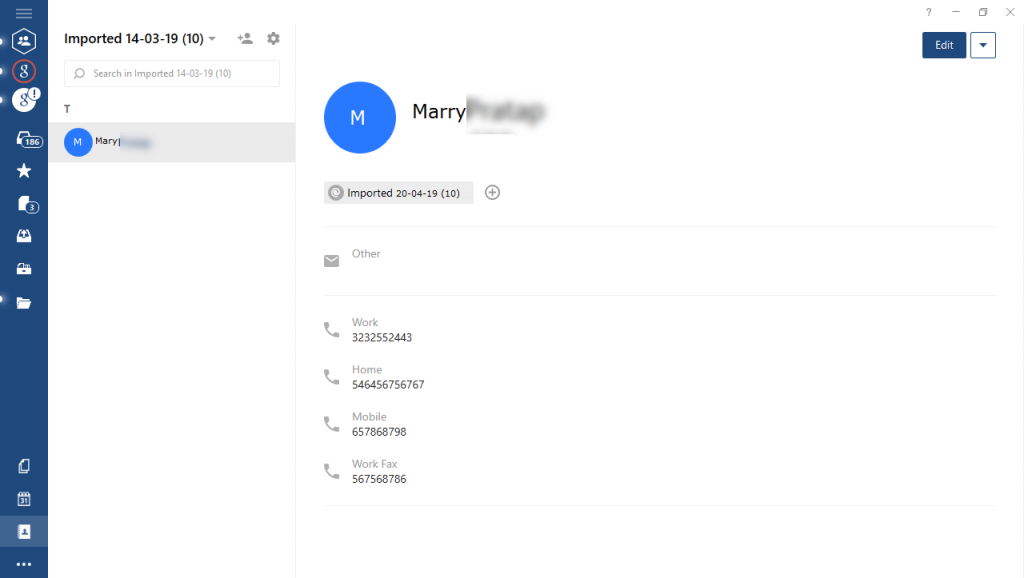 Using this method, you can successfully import a single VCF file to your Mailbird account.
Conclusion
In this article, we look at how to quickly import Excel spreadsheet to Mailbird account. With the help of Excel Contacts Recovery tool to Mailbird Converter software which gives 100% accurate results. This tool is smartly designed for both technical and non-technical users. Users can evaluate the free DEMO version before purchasing the application. If you need further assistance, then contact our professional technical team.