Import AOL Mail to Outlook 2019, 2016, 2013 with Manual and Alternative Solutions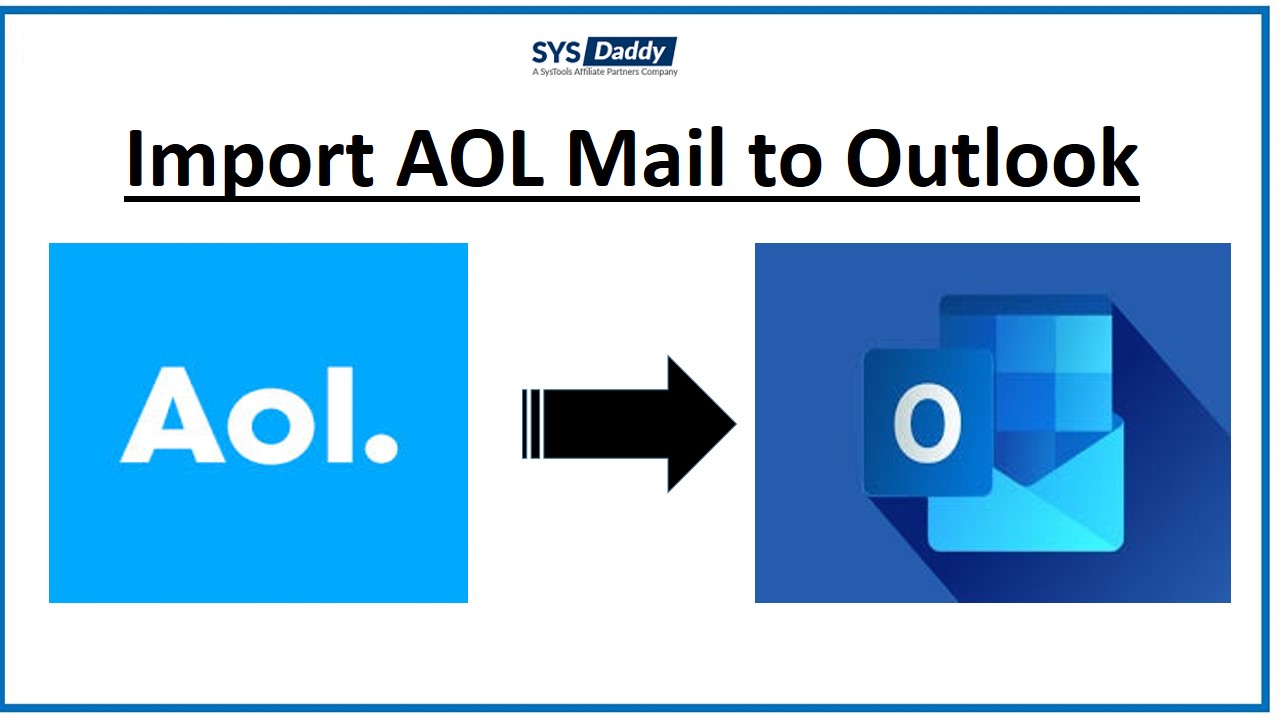 AOL is an email client which stores all the information on its server. On the other hand, the MS Outlook stores all the information in a PST file, which is the default file. Because of the different storage variations, you cannot access the AOL emails in MS Outlook directly. So, you need to import AOL Mail to Outlook.
Here, in this article, you will get the solutions to export email from AOL to Outlook fluently.
There was one who asked about this conversion process. Let's give it a look-
I'm a user of AOL mail for the last few months and am still unable to understand this completely. On the other hand, MS Outlook is easy to use, so now I need to export my AOL emails to Outlook as soon as possible. Can anyone suggest me a solution?
Why it is Needed to Export AOL Emails to Outlook
However, the MS Outlook application is the most used email client these days. As it comes with many advanced features. So because of the many reasons, most of you start planning to export AOL Mail to Outlook 2019, 2016, 2013, and other versions. Some of the features we are listing below-
MS Outlook is the most secure and also compatible with cross-platform functionality.
Also, it provides you the great collaboration with other MS Office programs.
Solutions to Import AOL Mail to Outlook
Here are two possible solutions we will be going to introduce you to today. These techniques are-
Now, let's understand both methods in a precise manner in the next part of this article.
Manual Method to Add AOL Email to Outlook
Follow the steps given below to forward emails from AOL to Outlook-
First of all, go to the File in the Outlook menu bar
Then, Info option > Account Settings
After this, from the appeared window, select the Manual setup or additional server types. Now, click on the Next button to proceed further
Now, select IMAP/POP from the given options
To verify the server information: – Account: IMAP
–Incoming Mail Server: imap.aol.com
– Outgoing Mail Server: smtp.aol.com
Then enter the following terms in the login –
-User Name: email address of AOL email address
-Password: AOL password
Afterward, click on More Settings
In the next step, click on the Outgoing Server from the Internet E-Mail Settings window
Now, do check SMTP requires authentication box and enable use same settings for incoming mail server
Following this, hit the Advance button and verify these details
Finally, press the OK button
By doing so, you will receive a congratulations message, if everything you entered is correct then close it. Now you can use your AOL account through MS Outlook.
Limitations of the Manual Methodology
If you have followed all the steps carefully then you may be able to import AOL mail to Outlook. But this method is prone to some drawbacks. Let's give them a look-
This method won't work if you are planning to import bulk emails.
Moreover, this method is required technical knowledge to initiate the process.
As it will take more time while configuring and importing the AOL mail data. So, that's why it is a very lengthy process.
In addition to this, there are chances of data loss if you miss anything unintentionally or intentionally.
Now, you will be worried about what to do now. So, to protect you from these limitations we have come up with a prominent Alternative solution. Let's know about it in the next section.
Import AOL Mail to Outlook 2019, 2016 via Alternate Solution
If you want to export AOL email to Outlook and don't want to use the manual method. We will suggest you to go for the SYSDaddy AOL Email Backup Software for Windows and Mac OS. It is the most dynamic automated solution with advanced technologies. Moreover, the manual method will not be feasible if you have multiple emails to import. But this alternative solution is the outstanding to go for without any further thought. Because with the help of this tool you can easily export AOL email to PST for Outlook 2019, 2016, 2013, and other versions.
You can download the software from below and know the working of the tool. This tool also provides you the demo version that you can use-
For Windows
For Mac
Steps to Export AOL Mail to PST Without Outlook Instantly
Download the software on your desktop to import AOL Mail to Outlook. Follow the instructions provided you to know the working-
First of all, click on the Login button after adding your AOL account credentials

Then, select the PST file format to export AOL emails to Outlook

Now, in the next step, click on the Apply filters and apply them

Lastly, hit the start button to initiate the transfer of AOL mail to Outlook process.
Finished. These are the few simple steps that you will need to follow. After conversion, you can import the resultant PST file in Outlook application.
Key Features of the Automated Software
This utility provides many facilities to you that can be advantageous to you in every manner. We are going to mention some of the properties that you will get-
This tool has an in-built naming convention option for exporting AOL Mail to PST for Outlook.
Moreover, you can preview all the AOL Mail items without any issue.
In addition to this, if you want to export some specific AOL mails then you can do it with this tool. As it has the in-built option to do so.
Also, unlike the manual method, there is no requirement for any technical knowledge. You can easily use this software because it has been designed in a manner while keeping both technical and novice users in mind.
The Final Note
In this write-up, we have explained the solutions on how to import AOL Mail to Outlook. Here, we have shared both the manual and automated solution as its alternative. The automated which is described as SYSDaddy Utility is the best one to choose because it gives you the result in a short period.
With the help of this alternative solution, you can export AOL email to PST for Outlook 2019, 2016, 2013, and other versions effortlessly. On the other hand, the manual method is not quite easy to perform. Hence, we recommend you to go for a professional solution. But the final choice is yours.