How to Save AOL Email as PDF Format Using Manual and Professional Solution?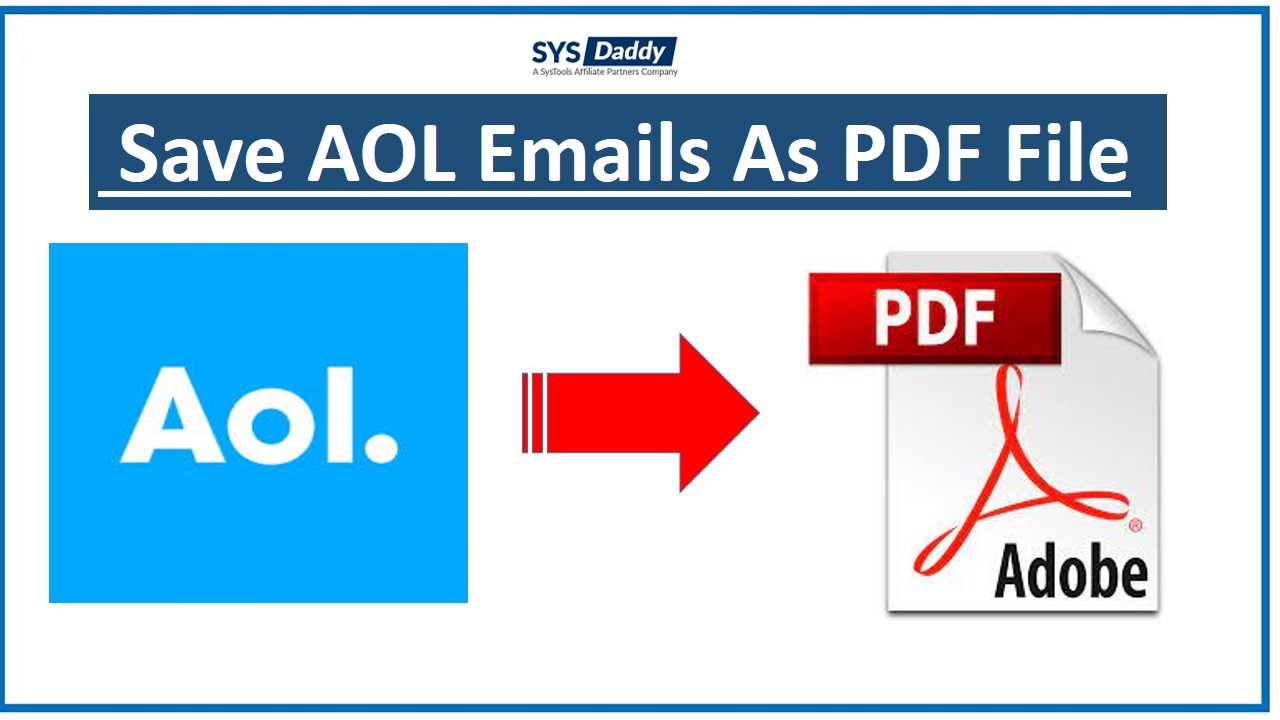 Did you get exhausted while finding a perfect solution to save AOL email as PDF documents? Are you searching for the easiest and quickest solution to convert AOL Mail to PDF files into the desktop? But, didn't find any? No worries. Now you will get it all.
However, AOL mail provides the straight option to print the emails as PDF files. But saving the AOL mailbox to a portable document file is not as simple and quick as it seems. Hence, here we will introduce you to the best solution to convert the AOL mailbox without losing any data.
As we know that AOL mail is a web email service so people may face buffering issues while using it via the internet. So, they like to prefer to save their important data in offline mode. And the PDF format is the best option for this. Because it saves your large important files and as well as small email data files along with attachments.
Related Article to Learn:
To understand this in a better way let us have a look at the practical user query.
Users Query
Hey, I'm Sam. I am seeking for a solution to save my AOL emails as PDF document. Because I have been using AOL email for a long time and now I'm flooded with lots of emails. So, I need to save them as an offline backup. And I thought the PDF file is the best option to do so. But I don't have any idea how can I do this process. Please, someone, suggest me its solution.
Hi, I have tried the manual method to convert AOL email to PDF but got one. That method is so tiring and such a time-consuming method. Now I'm in hurry. So, I am looking for a professional and trustworthy solution. That can help me in just a few minutes. So please anyone out there suggest me an appropriate solution.
Like them, we are sure many of you out there needs a solution that can work rapidly. So, without wasting a minute let us know about them.
Methodology to Save AOL Email as PDF
There are two methods that you can try to convert AOL email to PDF. These two top methodologies are –
Now, let's learn about both methods in a precise manner. So, let's have a look.
Manual Way to Convert AOL Email to PDF Document
For saving the few AOL mail emails you can follow the instructions given below. However, by using this method you will have to perform the procedure for each email individually-
First and foremost, login into your AOL mail account
Then choose the particular email that you need to save in portable document file format
Now, from the appeared email. Select the More option dropdown
Afterwards, click on the Print Message option
In this step, apply the additional settings as per your needs and click on the Print button
After this, choose the destination path for the PDF file to save it on the desktop.
Lastly, hit the Save button to complete the process.
This was the complete manual procedure to save AOL email as PDF document file. But, this method comes with some drawbacks. Let's know about them.
Drawbacks While Processing the Manual Method
By using the manual method, you may not be able to convert multiple AOL emails to PDF document at one time.
Also, there is no option available to save selective AOL emails in a portable document file format.
Moreover, if you wish to export the data from your AOL email account to another file format then it also will not be possible with this method.
In order to perform the above method, you will require technical expertise.
How to Convert AOL Mail to PDF File – Use Professional Solution
Due to the above-mentioned drawbacks of the manual method, you must go for the professional and uncomplicated method. The most effective solution is SYSDaddy AOL Email Backup Software. Using this solution anyone can save AOL email as PDF document effortlessly.
This is the most trustworthy solution if you want to save the AOL data in bulk and do not want to waste your precious time.
Moreover, it comprises the multiple benefits that make it the top-most utility.
You can download this utility from below and know how to use it to save your AOL mail emails.
For Windows
For Mac
Additional Highlighted Features of the Utility
This application helps you to convert multiple AOL emails at a time. You don't require to perform the same process for each email individually.
Moreover, you can use its unique remove duplicate mail feature to remove multiple email copies as PDF.
Also, with the help of this software, you will be able to save the specified and selected AOL emails as a portable document file format.
In addition to this, it provides you a facility to save the AOL email attachments as PDF file in just a few minutes.
Not only this but to use this utility you will not need to be a technical expert as it is such a well-designed software. It's easy to use because of its simple user interface.
Guide to Batch Save AOL Emails as PDF Using Automated Solution
Download the software on your computer and follow the below-mentioned steps to convert your AOL data to a portable document file effortlessly-
Firstly, click on the login button after adding your AOL account and password

Then in the next step, select the PDF file format

After this, click on the Browse button to save the output PDF file on any location

At last, click on the Start button to begin to Convert AOL emails to PDF file process.
Conclusion
In the above tutorial, we have discussed both the manual and the professional solution on how to convert AOL Mail to PDF file. Whereas the manual method needs some technical knowledge in order to use it. But, on the other hand, the automated solution does not require any of these. Even a novice user can make the most out of it.
So, to protect you from the drawbacks of the manual method we would recommend you to go for the professional solution as mentioned as SYSDaddy Software to save AOL emails as PDF. Because it has more integrated facilities along with it. So to ease yourself you decide what method is best to go for.
FAQs
Q- I need to save only a few particular AOL emails as PDFs. Does this above-mentioned application help to convert them?
Yes, of course, this is an outstanding application that will help you to convert specific AOL emails to PDF format.
Q- What do I have to do to save AOL emails as PDF quickly?
You just have to perform the above-mentioned steps of the professional method to save your AOL data quickly. Because you just have to perform only four simple steps and you are good to go.