Pen Drive Not Showing in My Computer on Windows 10, 8.1, 7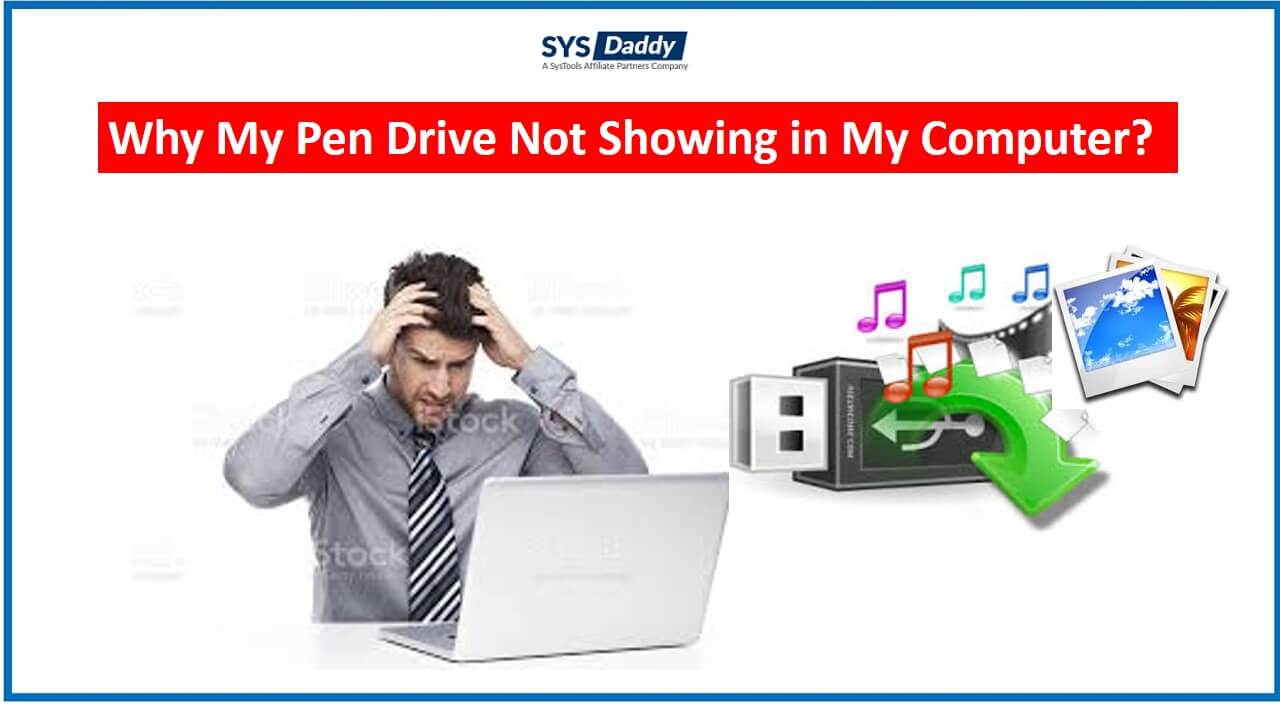 Summary: Are you frustrated while finding a solution for Pen drive not showing in my computer Windows 8.1? Do you want a expert solution to fix why is my Pen Drive not showing in my computer bug? If you are one of them, then, this article is for you. So, read it carefully till the end.
As per the survey, pen drive is a proficiently used storage device across the world. Its name suggests a secure digital storage device in comparison to others. But, sometimes, you might be facing issues while using it. For that, you may be searching "Pen Drive not showing in my computer on Windows 10". However, this is a cumbersome situation for any user. Almost all of you must have faced this problem once in your life.
Mainly, pen drive not detected problem occurs due to corruption, damaged, etc. So, we have considered this issue and mentioned some effective techniques to solve it. Moreover, this is a common problem that can be solved without interruption. Simply, follow this guide why my pen drive is not showing up in my computer.
Methods to Resolve Pen Drive Not Showing in My Computer Issue
Here, you will get different solutions to resolve the issue such as why my SD card not showing up. So, you can execute any one of them to fix the SD card not detected the error.
Now, let's understand all the methods and try to solve why Pen drive not detected in my Computer issue.
Assign New Drive Letter For Pen Drive
When you insert pen drive in computer, it won't show up because your computer does not have a drive letter. In some circumstances, the pen drive assigned a drive letter and still you get to face an error like please insert the disc into removable disk, it means that the pen drive is not visible on the computer. To solve this you can try this method as changing the drive letter of the pen drive. Let's get started:
Firstly, right-click on the Start button and choose Disk Management from the context menu
Now, find pen drive in disk management and right-click on it select Change Drive Letter and Paths option
Finally, click on the Change button from the prompted menu. Here, opt a drive letter from the drop-down menu then hit on OK button. If the pen drive does not have any drive letter, then, you should click on the Add button.
?
Remove the Write-Protection From Pen Drive
Sometimes, you write-protected your Pen drive without knowing the fact i.e., if once it is set to be write-protected then, it cannot be detected by the desktop. So, follow the below stated steps to remove it.
Primarily, press Windows +R keys together to open the Run wizard. Then, type devmgmt.msc and click OK button to proceed ahead
Now, navigate and expand Disk Drives option and search Pen drive
Here, right-click on the card and select Properties
At last, turn off write policy option and hit on OK. If you are unable to find out such an option, then, find it under the Policies tab.
?
Fix Pen Drive Not Showing in My Computer Issue Using Expert Method
In case, if you lose your crucial data after performing the above manual ways to fix Pen drive 64gb not working issue. Then, try this amazing software named SYSDaddy Pen Drive Recovery Tool. It can recover deleted and corrupted data from PD.
Also, you can download this software on Windows OS of any version. As it supports Windows 11 and all earlier versions. Try its free demo version from below-
Also, this tool can instantly recover permanently deleted data from Pen drive. Mainly, it is programmed with enhanced features like it retrieve all types of data such as documents, video, audio, text etc., from pen drive. Apart from this, it does not integrate with any kind of compatibility issues.
Moreover, this application permits recovery formatted video from Sony USB drive of all size i.e., 4/ 8/ 16/ 32GB etc.
Steps to Fix Why Pen Drive Not Detected in My Computer Bug
Initially, download the software on your computer. Then, follow the instructions to solve why is my Pen drive not showing in my computer-
In the first step, select the Pen drive and click on Scan or Formatted Scan

After this, Preview all the folders and files

Now, mouse-click on the Save button to save the resultant file at any location

Eventually, it will display Export Completed Successfully on the screen.
Author Suggestion
Just like you, many out there may be worried about this bug. So, here, why is my pen drive not showing in my computer query has been discussed. This blog highlights the top 3 techniques to resolve this query. However, the two manual methods might not detect the pen drive data.
Hence, we recommend you to go for the SYDaddy Solution. It is tested by technical experts and a trustworthy method. So, you can use it without any hurdle.
Thus, you can utilize any method as per your comfort and necessity. So, choose smartly.