How to Recover Deleted Photos from SanDisk Pen Drive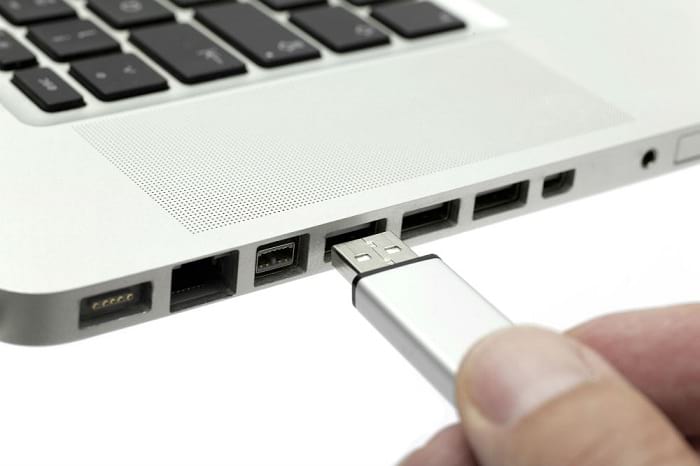 "I am using 64 GB SanDisk pen drive last one year. Today in the morning I want to access my precious and what I see that my SanDisk pen drive is empty. There is no data in it. This is my wedding pictures it is very important for me. Now, I need to recover deleted photos from SanDisk pen drive. But, I don't know how to do this perfectly. Please, suggest me the best alternative to retrieve deleted photos from SanDisk. Thanks for the help."
Is It Possible to Recover Deleted Files from SanDisk Pen Drive?
Yes, it is possible, to regain shift deleted data files from the SanDisk pen drive. But, there is no free solution is available over the internet. That's why here, we come up with instant and reliable software to recover deleted photos from the SanDisk pen drive without any obstruction. This is named Pen Drive Recovery Software. This application is a stand-alone utility to restore deleted, formatted, and corrupted data from pen drive without any hassle.
It is prominently tested by professionals for the recovery of permanently deleted files from SanDisk pen drive. This pen drive recovery utility does not associate with any type of compatibility issue. This utility supports recovery from all brands of pen drive without any size issues. Furthermore, it is equipped with enhanced features, some of which are stated in the upcoming segment. Let's have a look:
How to Recover Deleted Files from SanDisk Pen Drive – Step by Step
Here, are the easiest measures to recover deleted files from pen drive within a few clicks. All the steps are discussed in a descriptive manner. You just to all of them step-by-step to get a perfect output:
Step 1:- Download and launch the recovery tool into your Windows machine the home will display the list of all attached pen drive to your system.
Step 2:- Then, the recovery tool displays you two options to scan your pen drive. Select the scan option for scanning the deleted & corrupted files recovery.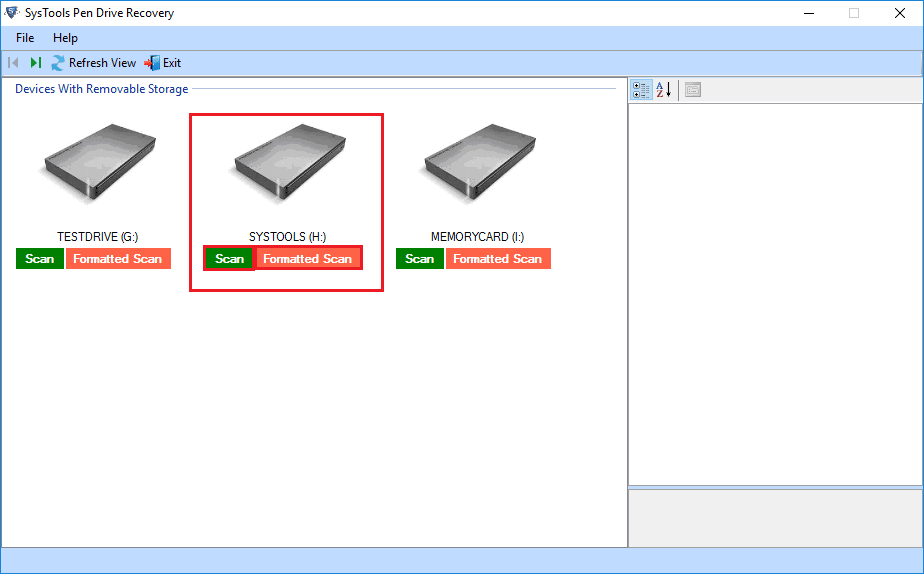 Step 3:- This application will automatically highlight the permanently deleted data by red color. So, for you, it becomes quite simple to recognize the permanently deleted files and folders.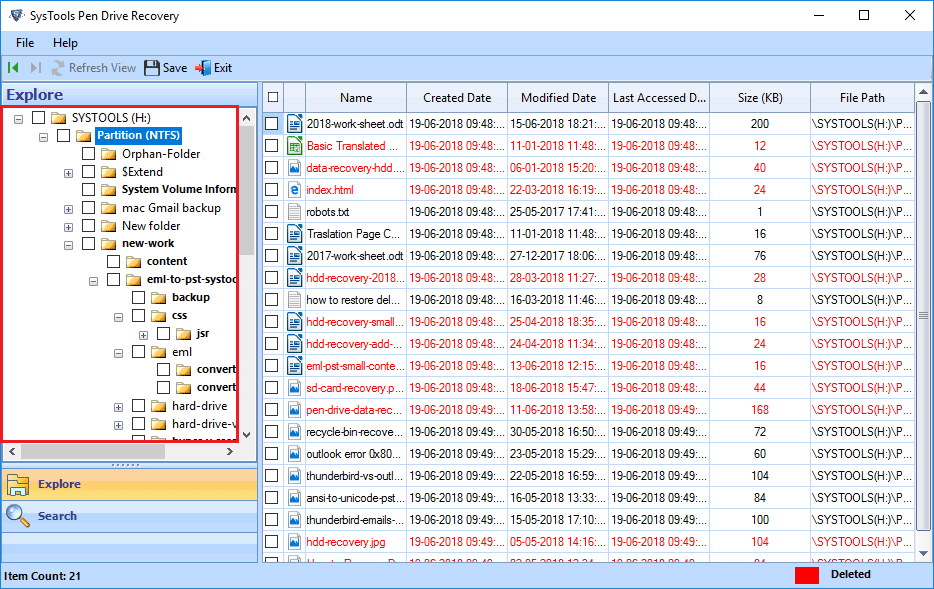 Step 4:- The software will provide you with two options to store the recovered data which are save selected data and complete recovered data. You can opt the option as per your need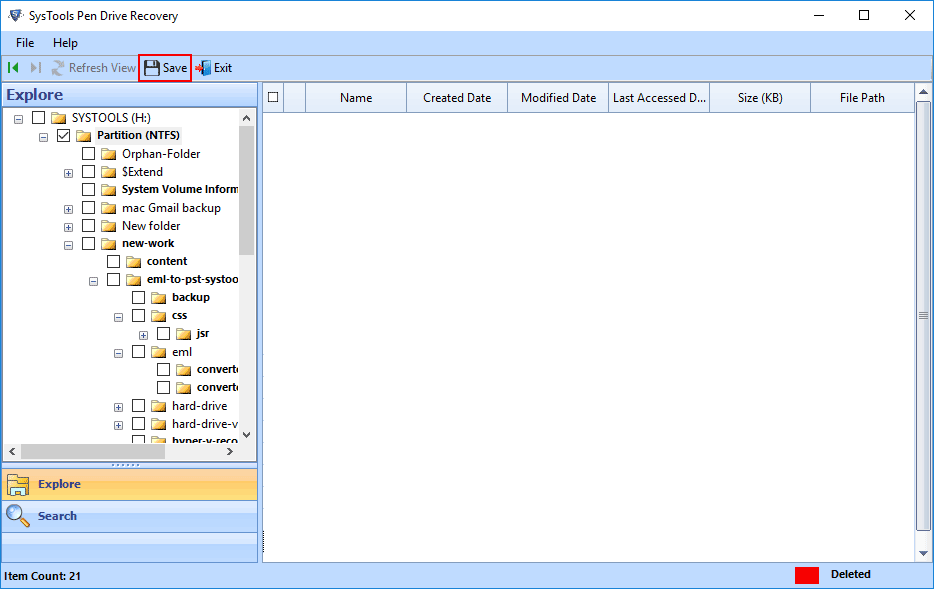 Step 5:- Finally, after completion of the export procedure, the application will notify you by a prompt-up message that says Export Completed Successfully. You just need to click on OK and proceed to view recovered data.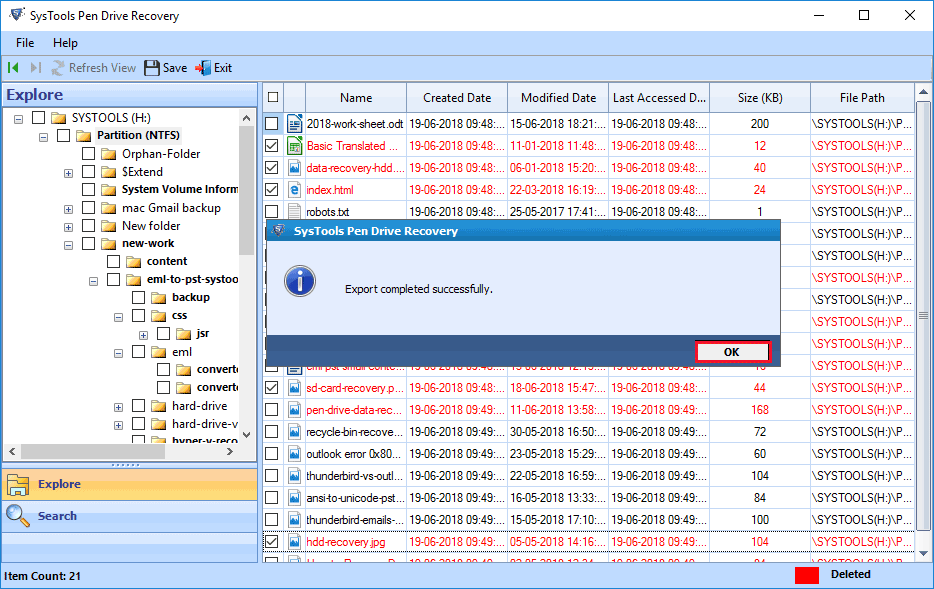 Supreme Features of this Software
Quickly recover & restore videos, images, etc. from pen drive
Support recovery from exFAT, FAT, and NTFS formatted pen drives
It provides filter based advance search option to find specific data
It allows the separate option for a formatted scan and normal scan
Recover permanently deleted files from pen drive within a few clicks
Utility to recover or preview the entire data with integrated attribute
Compatible with all upgraded and below versions of Windows OS
Users Queries

"Yesterday night I was deleting some unused files from my SanDisk pen drive. Because so many unused data in my pen drive. I don't know when I did deleted my important files from pen drive. Now I don't know how to recover deleted photos from SanDisk pen drive. Please help me and suggest me the best way of data recovery."

"Today morning I were editing my wedding photos accidentally I permanently deleted my wedding pictures from pen drive. Now I am very upset because that is my best moment pictures I have not any backup of this please help me and suggest me better solution to retrieve deleted photos from SanDisk"
Attention Note

There is few important measure that users have to see while users are working with the USB drive.

Take care and assure that viruses, malware etc., does not impact your pen drive data. To keep them away, you have to scan the pen drive regularly with an upgraded anti-virus antivirus
When users make a decision to delete any file or folder from pen drive think twice before implementing this.
Take a backup on an every day basis because the backup is forever a good exercise and it assist in future references.
Final Words
There are multiple recovery software's exists on the internet. But, we know that you are smart enough to choose the prominent one. As we all know, that there is no direct solution to recover shift deleted files from the SanDisk pen drive. So, using the tool is the only way to utilize the process to recover deleted photos on SanDisk. Thus, in this write-up, we highlight the best recovery utility. You can utilize this product without thinking twice.