How to Recover Files From A Flash Drive That Needs to Be Formatted Instantly?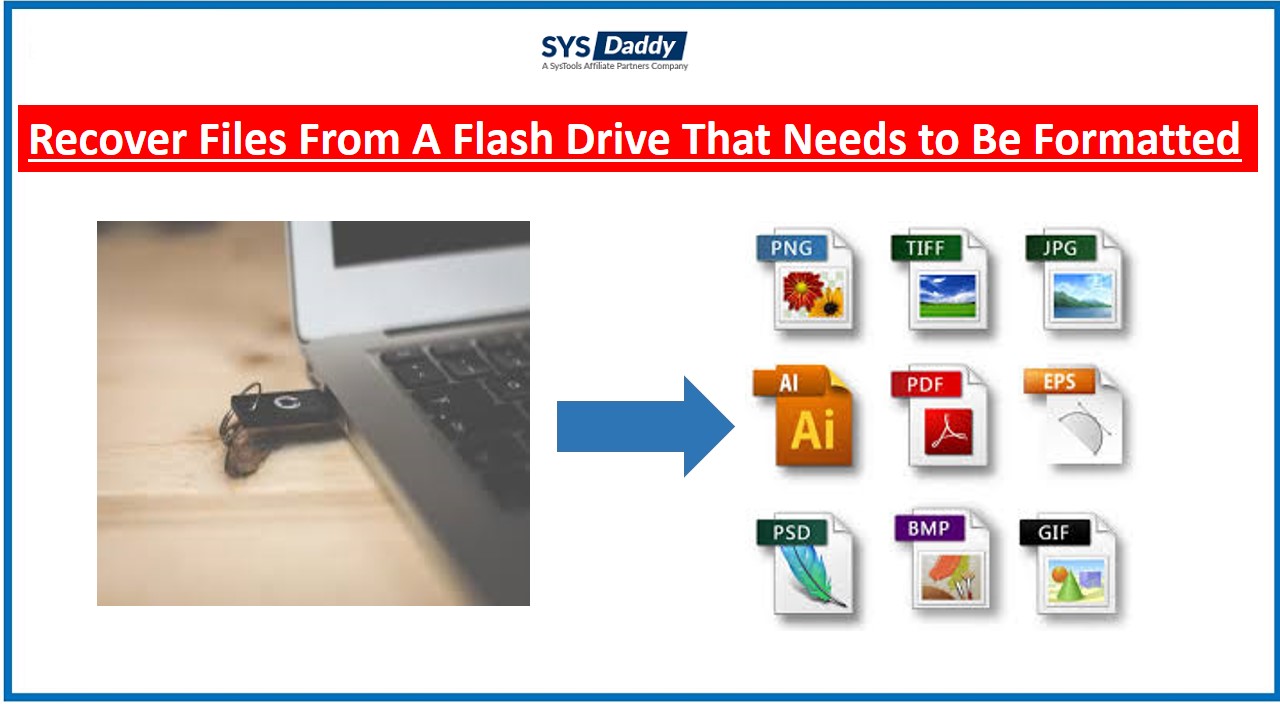 Flash Drive displays "drive not formatted", "drive needs to be formatted", and something like this error messages when it is inaccessible. But, it doesn't mean you must format the flash drive to use it further. So, here, we will be discussing the solution on how to get rid from this "recover files from a flash drive that needs to be formatted" problem instantly without losing data.
Let's understand with the help of a user's query.
Practical User's Query
"My flash drive says that it is not recognized, and needs to be formatted. So, if I format the drive, it will delete my all data, as I saved all my documents, photos, videos, and other crucial files. What should I do to resolve this issue? Please someone help me out."
Have you ever come across a similar situation, wherein your crucial data saved on the flash drive is at risk due to the error message "the drive needs to be formatted"? Well, you are not alone! Now, let's discuss the solution to fix this bug instantly.
You need to format the drive before using it. Also, there is no manual method available to fix this bug.
Recover Files from a Flash Drive That Needs to Be Formatted Using Automated Solution
If you lost your data after formatting the drive. Then, there is no free solution capable to restore data from pen drive. So, download SYSDaddy Pen Drive Data Recovery Tool. You can use this application to recover deleted, lost, corrupted, and formatted video from Sony USB drive.
You can download the demo version of the software from below and know the usage of the tool.
Moreover, this application allow you to restore all file formats like HTML, OST, XLS, PST, PPT, PPTX, etc. Also, this utility has the ability to retrieve deleted photos from SanDisk for all brand flash drives. The best thing about this tool, it supports recovering data in multiple languages.
Steps to Recover Files From A Flash Drive That Needs to Be Formatted
Initially, download and run the application on your Windows machine. Then, follow below-mentioned easy steps to recover deleted excel files from USB that needs to be formatted.
Step 1. First Connect the formatted Flash Drive
Step 2. Choose Formatted Scan option to recover your formatted data
Step 3. Now, Preview all restored data files in the software panel
Step 4. Lastly, in this step, click on the Save button to saving recover files from a flash drive.
Key and Beneficial Features of the Software
This software helps you to recover videos, excel files, pictures, personal and professional documents, etc. from flash drive.
Moreover, this tool supports recovery from exFAT, FAT & NTFS formatted portable storage drives.
Furthermore, it can recover & preview your all data with associated attributes.
Not only this but this utility allows you to recover from all external storage devices like flash drive, pen drive, memory card etc.
In addition, you get a Filter Based Advance Search Option: Find items within recovery outcomes.
On top of this, there is a separate option for Formatted Scan and Normal Scan.
Likewise, this application gives refresh view option to find newly connected documents.
Also, with the help of this software, you can restore limitless files from flash drive without any file size limitation.
If you want to retrieve only selected and virus infected data from flash drive, then this utility has the ability to do in just performing a few steps.
Bottom Line
For anyone who have experienced damaged files because of any reason. Then, this post is a must-read. Here, we have discussed on how to recover files from a flash drive that needs to be formatted query. It doesn't matter what the symptoms of flash drive data file loss or corruption is.
This SYSDaddy Software will successfully restore all types of loss data. Also, this tool is available for both demo and full versions, so you can also try the demo version before purchasing the software license.