How to Recover Deleted Excel Files From USB? Three Solution to Resolved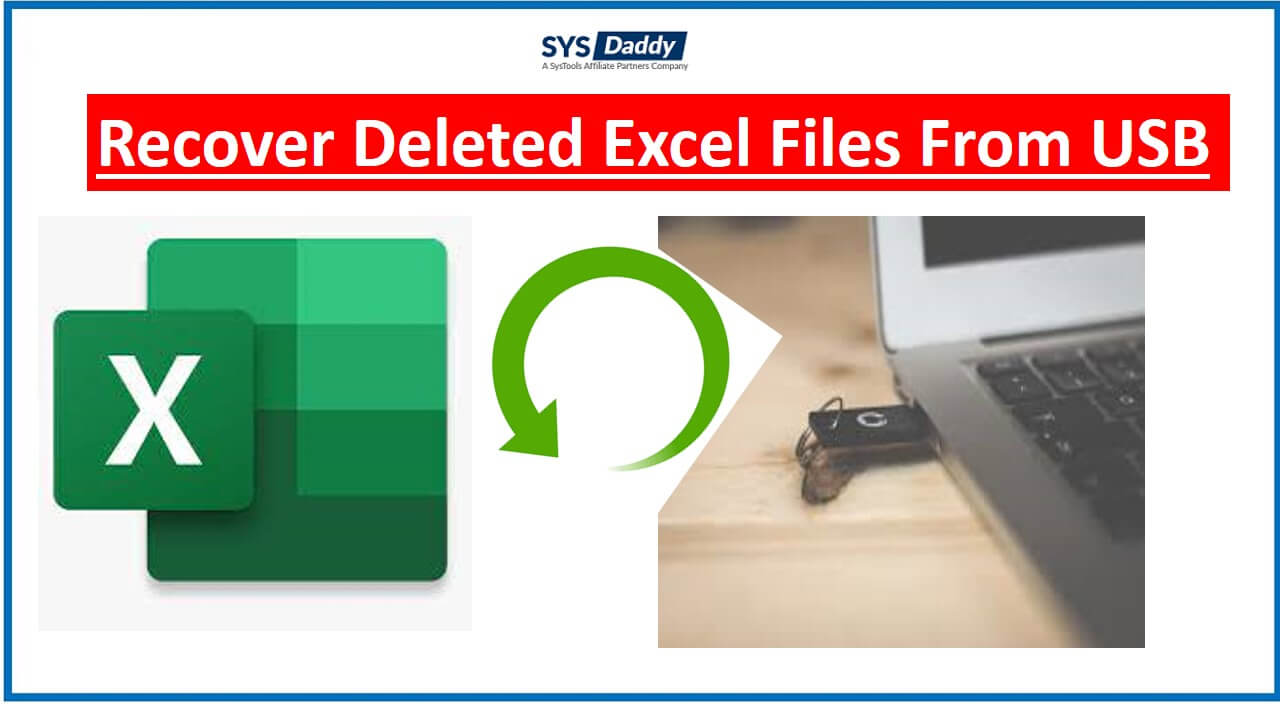 Are you frustrated about the lost excel files from USB? Did your excel files got deleted unintentionally? However, this is a worst situation when you delete your excel files unintentionally. And if it is your important official data, it is more than worse. So, here, we will be going to discuss the required solutions to recover deleted excel files from USB?
It will no longer be an issue if the lost data could be recovered. Users are so fortunate because you precisely could find them back. So, what you all need is trust-worthy recovery software.
These days, external storage devices like USB drive, memory card, pen drive, external hard drive and external SSD are becoming an essential part of our life. It stores your crucial files like data, pictures, documents, multimedia, videos, etc.
But sometimes unpredicted files loss disasters origin by definite reasons can make you lose all your important data just in seconds. Hence, to rescue your data, you need to know how to recover deleted excel file from USB.
USB Drive Data Loss Causes
It's elementary to know the origins of the loss of files before things go bad. And you can better solve your problem if you know the basic.
However, there could be different reasons which cause the loss of data from USB Drive. A few of the reasons are-
USB files are Damage
Formatted USB Drive
Software Corruption
Viruses & Malware Attacks
Human Errors
Now, let us move to the solutions that you can use to overcome this situation. There are three methodologies to fix this bug. You can use any.
Method 1: Recover Deleted Excel File from USB Using Excel Older Version
Firstly, on the folder that consists of your deleted Excel data files and then selects the Properties option.
After that, click on the Previous Versions tab. Then, a prompt up message displays into your screen that says Previous Versions come from File History or from restore points.
At last, a list of previous versions of data files will show. Here, users have to choose the file edition which one you are searching for then click on the Restore button to begin the deleted Excel files recovery process.
Method 2: Restore Deleted Excel Files from USB Drive Using CMD
Firstly, in Windows version 10, 8.1, 8/7, navigate to the Run by pressing on Windows + R keys.
Now, type CMD to open Command Prompt wizard.
Then, add this following command ATTRIB -H -R -S /S /D F:*.* in the prompted field
Primarily, the letter F in the above-stated command is the USB drives a drive letter. So, you can simply change and replace the drive letter F according to your USB drive letter is shown on your desktop.
Method 3: Recover Deleted Excel Files from USB Drive Automatically
Well, after knowing the fact that all the above-stated manual way is not capable to recover permanently deleted excel files from USB. So, here we come up with an efficient and automated method named the SYSDadddy Pen Drive Data Recovery Tool. By using this amazing software, you can simply restore permanently deleted Excel file from pen drive.
This recovery application comes up with various enhanced features and functionalities which gives a safe and secure recovery procedure. Mainly, the software has an understandable user interface. It recover cut data from pen drive. So, a geek user can also avail of this product without thinking twice.
Moreover, this application will automatically highlight the permanently deleted files by red color. Thus, users can check all features of this prominent tool via visiting our official page.
Steps to Use the Automated Method
Simply, go all the below-listed steps consecutive to decently utilize the recovery process.
Firstly, download and launch the USB drive recovery software in your Windows system.
Now, the utility will give users with two options such as Scan and Formatted Scan. Here, users have to choose Scan option, because users have to recover permanently deleted Excel files instead of formatted.
After that, preview all the data items and then, search for necessary data files.
Finally, click on the Save button to export recovered Excel files from pen drive.
Final Verdict
After considering the above scenario thus, in this article, we have discussed all possible ways to recover deleted excel file from USB using command prompt in Windows OS. But, sometimes these manual ways have some restraint. Thus, in this article, we have recommended an instant solution to recover permanently deleted excel from USB drive. This is the best approach that assists to recover formatted and corrupted Windows data files without any risk or data loss.
FAQ's
Is there any manual method to recover deleted excel file from pen drive?
Yes, there are two manual methods. Both are mentioned above in the blog. But remember one thing if you are not technical background then, do not perform the manual method. Because if you do any mistake you lost your data permanently.
Is it possible to recover shift deleted excel files from USB Drive?
Read the above article and try SYSDaddy Software. It has the capability to recover normal deleted and permanently deleted data without any hassle