Software to Export Images From PDF Files Quickly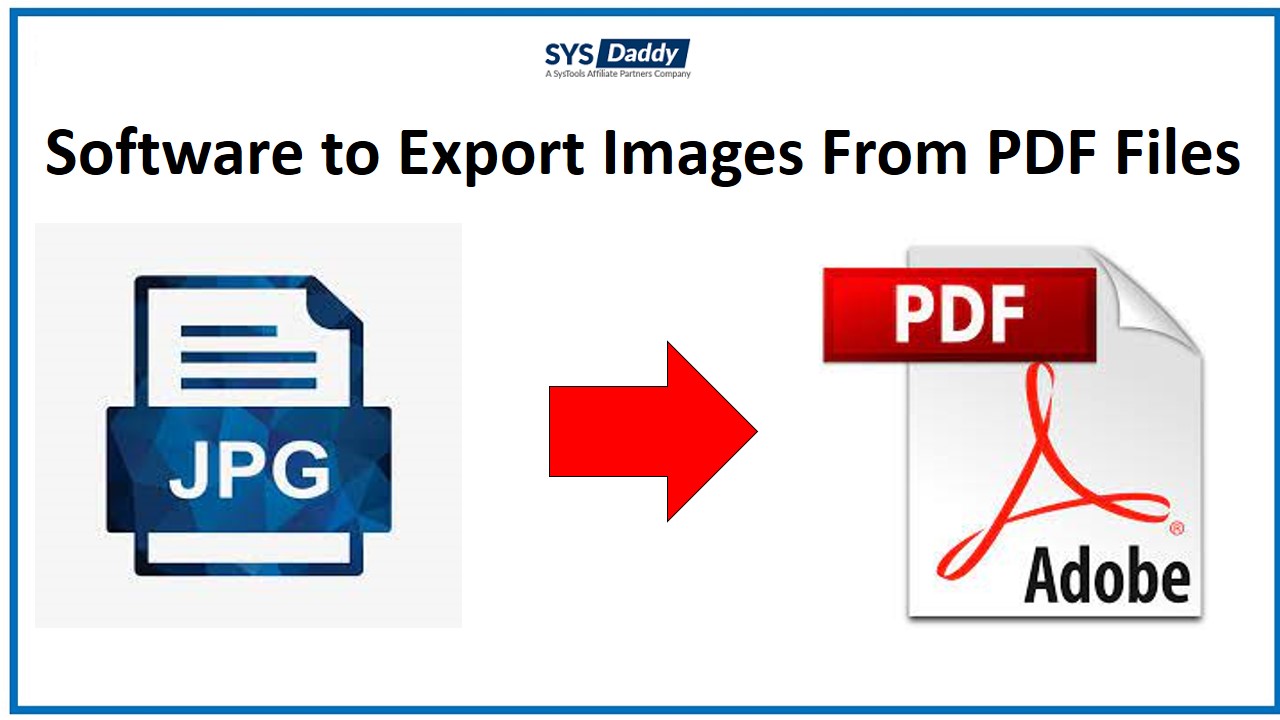 In this blog, I am going to talk about an amazing software to export images from PDF. You can also say it is a software to extract images from PDF. You can easily extract embedded or inline images. These are the images that are present inside a PDF document. After extraction, you can either export these images as PDF or in their original image format. This software also helps in extracting attachments from PDF files.
The best thing about this software is that it has many filter options. These filter options offer quite a handful of parameters to extract items from PDF as per your wish. I will talk about these filters in the later sections of the blog.
SYSDaddy download PDF File Extractor Wizard to extract images from PDF. Also, you can extract visual charts, graphics, or illustrations from multiple PDF files. It does not matter if you have a PowerPoint in the form of a PDF or a word document or an e-book. This tool will extract all kinds of images like .jpeg, .png, .gif, etc from all kinds of PDF documents.
For Windows
For Mac
To run this PDF tool on Mac OS you need to install JDK & JRE 8.
NOTE: Free demo edition can extract one item from 5 PDF files. The extracted images will have a SYSDaddy watermark.
Now let's have a look at its working! Along with this, I have also explained the tool's features in every step.
Steps to Use This Software to Export Images From PDF
This tool is easy to install and operate on your Windows or Mac system. You can download its free edition from above. After installing this software kindly follow these steps:
First of all, run the software and click on the "Add Files" / "Add Folder" option. This tool can handle multiple PDF files at once very smoothly

Then after, to export extracted images in a certain location, click on the Change button. Also, you can tick 'Create Single Folder Only' if you want all your images in a single folder. Then click on Next

Under 'Select Items type' there are two options: Attachments & Inline Images. Images that present as attachments in the PDF file you can choose attachments. If images are inside the PDF document then choose Inline Images.

NOTE: Inline Images option is given simply as Images for MAC version of this software.

Moreover, if your images are attachments then you can apply attachments filters. Under this, you get various sub-filters. You extract image attachments according to size and file type. Under 'File Type' you can choose either the 'Include' or 'Exclude' option. Then, you can specify the file formats you want to include or exclude

If you have inline images- under 'Apply Image Settings' there are 3 options: 'Save Inline Images Into PDF', 'Create Individual PDF', & 'Create Single PDF'. You can export inline images as PDF and create either a single PDF document or individual PDF files

Finally, after applying all the desired filters click on the "Extract" button to begin image extraction.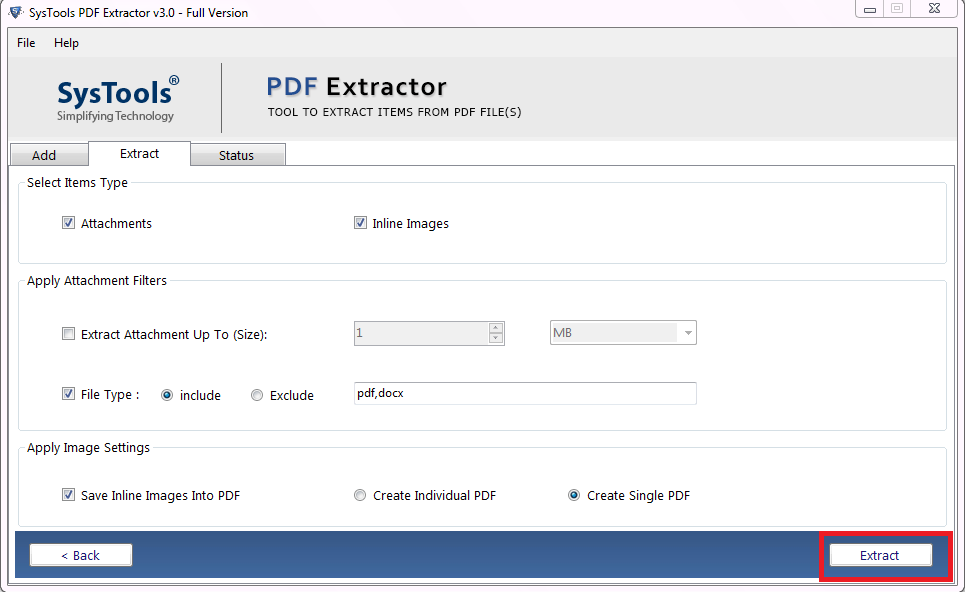 Note to Remember:

Through this tool, the quality of the images will be reflected as the original.
Also, you have to provide the password for protected PDF.
Moreover, this tool has the ability to process even restricted PDF easily.
Want to Extract Attachments? Try This Tool
However, this application has already multiple features. But, along with this, this software is also designed to extract attachments from multiple PDF files. Yes, you have read it right. With the help of this, you can extract various attachments. Such as, .ppt, .txt, .docx, .odt, .rtf .xls, .xlsx, .epub, .rar, .zip and so on.
Moreover, it can also extract other PDF documents attached to the main PDF file with in few simple steps.
You can apply the various filter as explained in 4.a step in the above section of the blog.
Extract attachments according to size.
Include and exclude file formats as you wish.
Final Words on Software to Export Images From PDF Files
as of now, we hope after reading this blog you have come to know why this is the best software to export images from PDF. With this PDF tool, you get many filter options. You can extract both embedded images or attached images easily by using this application. Furthermore, this software can also help you to extract attachments from PDF files of any size.
Not only this, but, here, you will not face any file size limitations while exporting images from PDF document. Also, there are two versions of this outstanding utility, one is for Windows OS and the other is for Mac OS X. Download them and enjoy the benefits.
Frequently Asked Questions
Q- I want to upgrade to Windows 11, so the above mentioned tool supports Windows 11?
Yes, of course, this is the outstanding tool that is compatible with Windows 11 and all earlier versions of the Windows.
Q- will be my data hierarchy be the same while using this application?
Yes, without a doubt, your all the data hierarchy be the same while using this application. You can easily export images from PDF files.
Q- Is there any other application I need to install along with this software to extract images from PDF files?
No, not at all. This is the stand-alone application. Therefore, you don't require any other third party application to install in order to extract data from PDF document.