Print Zoho Emails With Attachments in Just Few Steps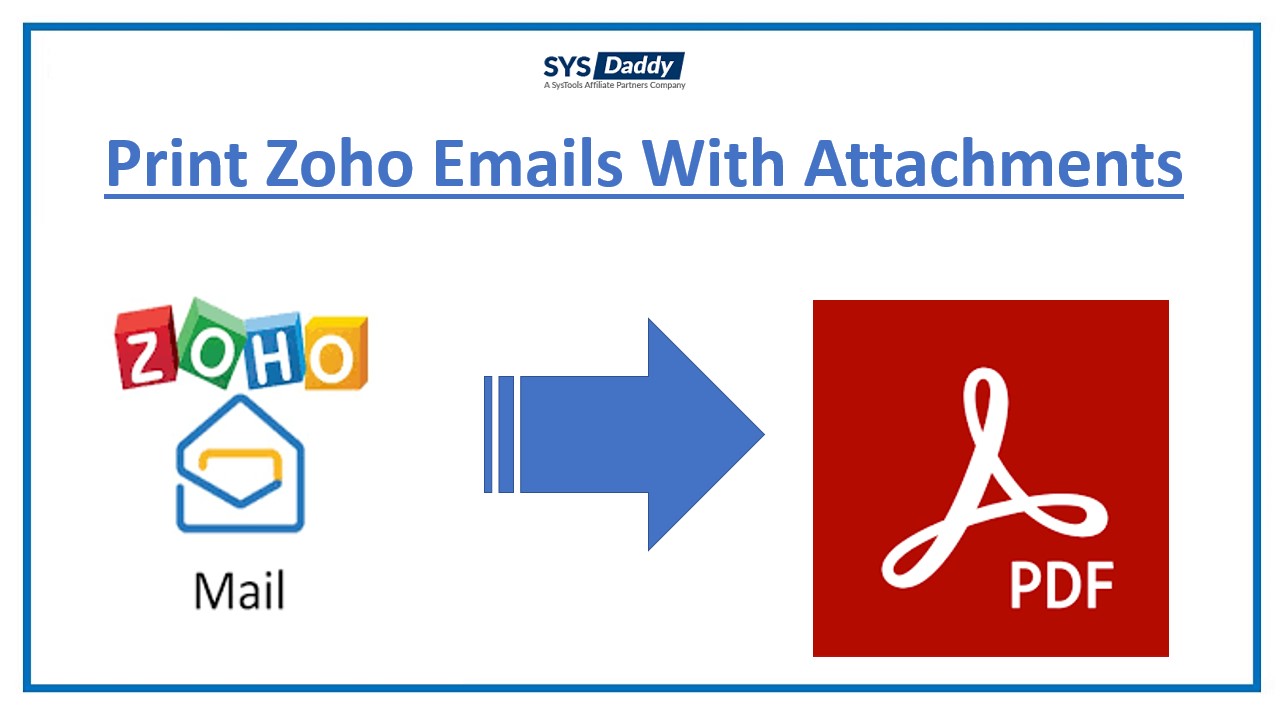 Are you looking for a solution how Zoho Mail print emails? Have you tried many ways to print Zoho emails with attachments but didn't find any? Do you want to print multiple Zoho emails along with attached files?
If yes, then you should not worry more now. Because here, you will get all your solutions. So, give a reading to this tutorial carefully.
Zoho Mail is the most popular email service that facilitates you to send and receive emails, save contacts, calendars, and more. It can be used for personal and professional work. Moreover, you can send attachments along with the emails.
However, Zoho Mail provides the import/export of emails and you can print them as well. But it doesn't provide any way to save emails from Zoho mail in PDF format.
Though it can be solved with the help of dynamic software. To know more about it in detail, read out the next section.
But, before getting information about the solution, first, let us know why to choose PDF file.
Why Choose PDF File?
However, there are numerous benefits of the Adobe PDF file, and a few of them we are sharing here-
The most portable format which is completely safe and secure to save any crucial data.
Likewise, the PDF file can be opened and accessed by any web browser, Like Google Chrome and other search engines.
In addition, if you want to print images in PDF, then you can do this also. Because the PDF file supports printing images along with attachments.
Along with it, if you are in need to share the document with others then the PDF will be the best way. Because the PDF file can be shared easily with anyone.
Solutions to Print Zoho Emails With Attachments
You can use any of the two methods to print emails from Zoho account. These two methods are-
More about both the methods in detail. Go through with the next part of the article.
Manual Steps to Print Zoho Emails
Now, let's know how Zoho mail print emails with the step by step guide –
First and foremost, log in with the Zoho mail account
Then, select any email that you need to print
After this, from the right panel of the email, select the Print option from the drop-down option
From the window, click on the Print option and you're done.
This was the traditional way and it is helpful only when you want to print a single email. But what if you want to print multiple Zoho emails together? To do so, follow the dynamic solution given below.
How to Print Zoho Emails With Attachments Using Automated Method?
Though Zoho provides you an option to print each email individually but when it comes to printing multiple emails together, the manual method fails. Hence, in this scenario, you must go for the best and time-saving solution. The most dynamic solution is SYSDaddy Best Zoho Mail Backup Tool. Try this out.
Moreover, you can try this software by downloading from below and know about its worthwhile feature-
For Windows
For Mac
Steps to Save Multiple Emails from Zoho Mail With Attachment
In order to use this advantageous tool, download and run it on your computer and follow the steps given below-
First of all, login with your Zoho email credentials

Secondly, from the next window select the PDF file option

Then, click on the Browse button and select the location of the resultant file

Finally, hit the Start button in order to print Zoho emails with attachments.
You're done. This was the most adequate way to solve your problem in one go.
Advantages of this Utility
There are many benefits you get in this utility in order to print Zoho emails with attachments. These are-
In this utility, you will get a very simple and user-friendly interface, so, even if you're not a skilled person then there will be no issue.
Moreover, you get an option to print only selected emails along with attachments.
Along with this, this super dynamic software is compatible with all Windows versions (Windows 11 and all earlier versions).v
In addition, after the successful process of zoho Mail print emails with attachments, you can download the report of the process.
If you are afraid of using this tool, then let us tell you one thing. Here, you can delete data after downloading to ensure that your data is safe.
So, what are you waiting for? Just download this tool and enjoy all the benefits.
Concluding Words
If you are planning to print Zoho emails with attachments but are unable to do so. Then, in this article, you will get all your answers how Zoho mail print emails. Here, we have described the manual and automated methods in detail.
However, you can use the manual method if you have only a few emails to print. But if you have thousands of Zoho emails to save, you must go for the dynamic SYSDaddy Software solution that is mentioned above. However, the choice is yours. So, choose wisely.
Have Doubts? Do Through with Frequently Asked Questions
Q- Is it possible with the help of this software to save Zoho mail emails with attachments in a different formats?
Certainly yes, you can save emails from Zoho Mail is given different file formats. Use the tool to know more about it.
Q- I want to print Zoho emails with attachments but I do not want any changes in my data hierarchy. Is it possible with this tool?
Yes, in this too, your data hierarchy will be the same as it was before. So, don't frustrated.
Q – Will this application save my account credentials?
No, this application never saves any of your account credentials. So, your data is fully secure in this tool.